Weeknight Wonder: Chicken Shawarma Bowls

When I think of a Weeknight Wonder Meal, I want the meal to be fresh and fast but with a lot of flavor. This recipe for Chicken Pita Shawarma bowls really meets all of those requirements, and I honestly love it. When making this for the family, I normally use fresh chicken breasts that I cook on the spot. But I have also used leftover rotisserie chicken, thanksgiving turkey, or even 2nd day ground turkey or chicken and had it still turn out just as good. I think it's all about the sauce.
If you are wondering what Shawarma means, do not worry you are not alone. Shawarma is a middle eastern dish of meat (be it chicken, pork, lamb, or beef) slowly roasted and shaved off into a pita. The reason I call this recipe Chicken Pita Shawarma Bowls is because I use the same spices used as the traditional marinade for the meat as well as a traditional tzatziki dressing. I think you will love it!
Chicken Pita Shawarma Bowls
Prep time: 1 hour
Cook time: 15 minutes
Total time: 1 hour 15 minutes
What You Need
For the Chicken:
2 lemons juiced
1/2 cup olive oil
6 cloves garlic peeled and minced
Kosher salt and freshly cracked black pepper
2 teaspoons ground cumin
1/4 teaspoon chili powder
2 teaspoons paprika
1 teaspoon dried oregano
1/2 teaspoon red pepper flakes
2 pounds boneless skinless chicken breasts or thighs
For the Bowls:
16 oz spring mix lettuce
1/2 cup chopped Parsley
2 cups Compari Tomatoes halved
2 Cucumbers peeled and diced
2 Avocados diced
Naan bread, for serving (optional)
For the Tzatziki Dressing:
1 1/2 cups plain Greek yogurt
1 cucumber finely diced
Juice of 1 lemon plus more if needed
2 cloves garlic finely minced
2 tablespoon chopped fresh dill
1 tablespoon light olive oil
Kosher salt and freshly cracked pepper to taste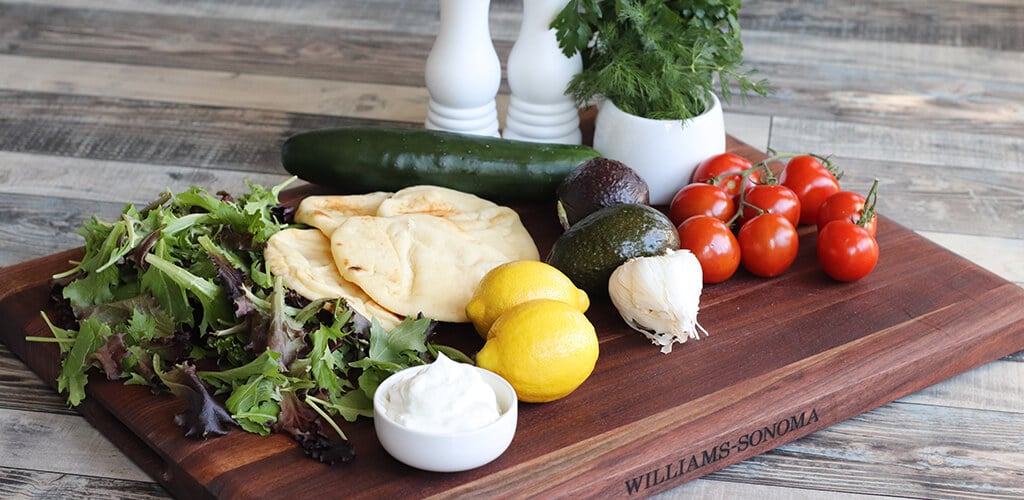 What you will do
For the Tzatziki Dressing:
In a large mixing bowl, combine the Greek yogurt, diced cucumber, lemon juice, garlic, olive oil, dill and salt, and pepper. Stir to combine, cover and place in the refrigerator while you assemble the rest of the meal.
For the Bowls:
In a large Ziploc bag, combine the lemon juice, 1/2 cup olive oil, garlic, salt, pepper, cumin, chili powder, paprika, oregano, and red pepper flakes. Add the uncooked chicken, zip the top of the bag, and give it a quick shake to combine.
Refrigerate the chicken and mixture for at least 1 hour and up to 24 hours.
Preheat a skillet to medium-high heat. Add 1 tablespoon of extra virgin olive oil allow to heat.
Remove the chicken from the marinade and grill the chicken for 4-5 minutes on each side until done. Remove and set aside to rest.
Slice the chicken against the grain into thin strips and transfer back into the skillet and sauté for 2 minutes until just slightly crispy around the edges.
Transfer the chicken to a large bowl and toss to combine with the spring lettuce mix, parsley, Campari tomatoes, avocados, and cucumbers.
Place the salad mixture into individual bowls.
Drizzle with the tzatziki sauce or serve it on the side. Make sure to serve this with the toasted Naan on the side as well.
Recipe Tips:
For the Tzatziki dressing. If you make too much. Serve immediately or store in an air-tight container for up to 3 days.
I like to serve this meal with some toasted Naan bread. This adds a different taste and texture to the meal while also making it pretty filling. If you want to add this, you can pick up Naan bread at most stores but if you can't find it, ask as it might be in a different section.
Now the last thing you have to do as my daughter would say is Eat, Eat.
You may also like
Simple Shrimp Tacos