Thanksgiving Side Salad: Butternut Squash Spinach Salad with Bacon and Goat Cheese

Every Thanksgiving I feel I always must make a salad as a side dish option. I think I can blame the health-conscious mother in me that always has this urge.
However, as it is a special day, I give myself a little more room for flavor and fun over the pure focus on calories. I like to focus on the idea that all the food is fresh and not prepared. This salad is loaded with healthy fats and nutrients and is low-carb. Even though this salad is robust, with the goat cheese vinaigrette, and hearty thanks to the filling bacon and butternut squash, I find it to be the perfect partner to your Thanksgiving turkey to balance out the flavors. I even like to serve this salad before the actual meal to make the family stay satisfied until the full Thanksgiving dinner.
If you are looking for another perfect salad for the holidays, you must try my A Surprising Treat: Kale, Pear, and Prosciutto Salad.
Roasted Butternut Squash and Spinach Salad with Bacon and Goat Cheese Vinaigrette
Prep time: 15 minutes
Cook time: 30 minutes
Total time: 45 minutes
What You Need
For the Salad:
1 medium butternut squash, peeled, seeded, and cubed or cut into half moons
1 tbsp. extra-virgin olive oil
1 tbsp. garlic powder
Kosher salt and freshly ground black pepper, to taste
10-12 pieces of bacon, or 1 package, cooked, cut, or crumbled into 1-inch pieces
8 cups baby spinach
3 tbsp. shaved parmesan cheese, for garnishing
For the Vinaigrette:
1 shallot, minced
1 small clove of garlic, minced
⅛ cup champagne vinegar
1 tbsp. light amber agave
2 tbsp. fresh soft goat cheese
½ cup extra virgin olive oil
Kosher salt and freshly ground black pepper, to taste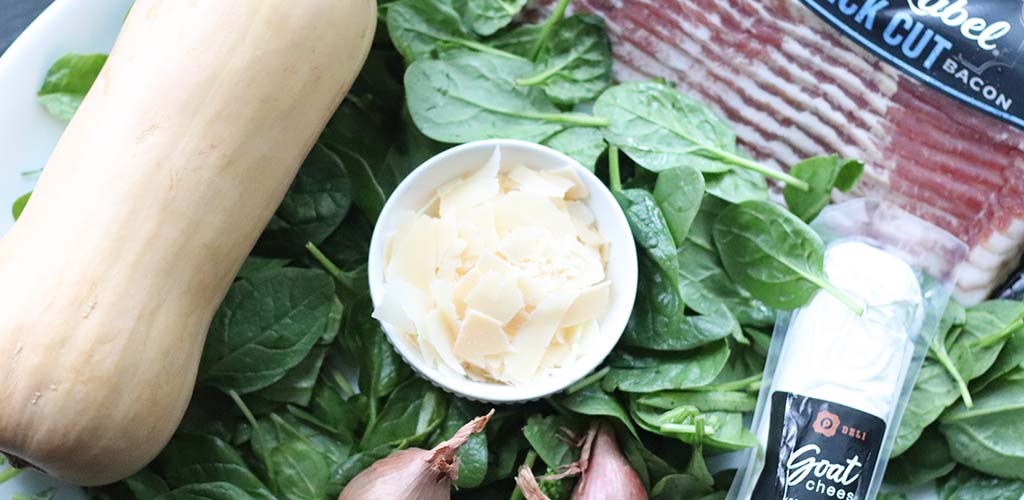 What You Will Do
For the Salad:
Preheat the oven to 425 degrees and line a baking sheet with aluminum foil.
To cut the butternut squash, I recommend using your sharpest chef's knife. You will cut thin circles off the end and then cut in half and remove the seeds. So, each piece will look like a half moon.
I leave the skin on the butternut squash, as I find it easier to remove after roasting in the oven.
Arrange the butternut squash on the prepared baking sheet, drizzle with olive oil, and season with salt, pepper, and garlic powder. Roast until golden brown. This will take around 25-30 minutes.
Remove the squash from the oven and allow to cool, place to the side, and simply remove the skin by pulling off at the ends.
On top of the stove, while the squash is cooking, bring a large skillet to medium high heat.
Place the cut bacon into the skillet.
Cook the bacon over medium heat until crisp, tossing with a spatula or a large spoon. This will take about 8 minutes. Transfer to a paper towel-lined plate and place to the side.
Place the spinach in a large salad bowl and top with the butternut squash and the bacon, followed by the freshly shaved parmesan cheese.
Drizzle the vinaigrette over the top of the salad and serve immediately.
For the Vinaigrette:
In a medium sized mixing bowl, place in the minced garlic and shallot.
Top with the champagne vinegar, light amber agave, and extra virgin olive oil and whisk till completely combined.
Next, place in the goat cheese and salt and pepper and whisk to completely emulsified.
Use immediately.
If you are not able to use immediately, keep at room temperature for up to 4 hours and simply whisk again before serving.
If you are not going to use the vinaigrette within 4 hours place into the refrigerator.
Recipe Tips:
This salad will last in the refrigerator for 3 days in an airtight container, the dressing will last for 24 hours if refrigerated in an airtight container as well.
Now the last thing you have to do, as my daughter would say is, "Eat, Eat."
I would also like to wish a happy and healthy holiday season from my family to yours! Happy Holidays!
You may also like:
Special Appetizer: Butternut Squash Hummus