A Surprising Treat: Kale, Pear, and Prosciutto Salad

If you need a seriously beautiful salad for any of your holiday gatherings, then you may want to check out this recipe. This is easy to prepare and easy to travel with, as long has you hold off on pouring your dressing over the salad till serving. With the sweet pears, salty prosciutto, chopped Kale lettuce, gorgonzola cheese, and a creamy vinaigrette – this one is definitely a crowd pleaser that you'll make over and over.
I personally like to also freeze the gorgonzola if I have the time, so that I can shave it right onto the salad, but you can definitely crumble it on too, as you see I did today. Just a reminder if you have never used Gorgonzola before, this is an extremely flavorful cheese so I recommend you use it sparingly. I think you will relish in how many people will choose to eat this salad over a lot of the comfort food being served.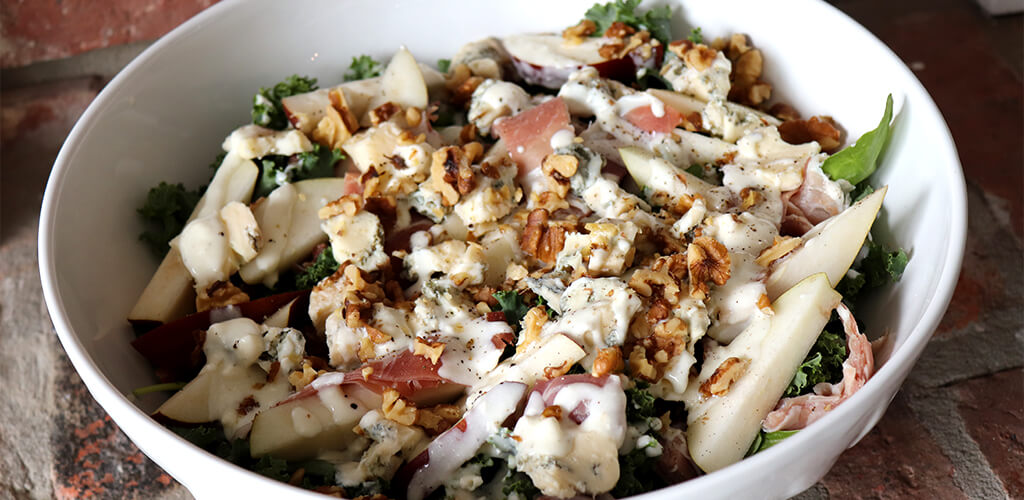 Kale, Prosciutto, and Pear Salad
Prep time: 15 minutes
Cook time: 8 minutes
Total time: 23 minutes
What You Need
1 cup walnuts, chopped
1/2 cup mascarpone cheese
1/4 cup apple cider vinegar
1 teaspoon lemon juice
1/4 cup extra-virgin olive oil
Salt and Pepper to taste
12 ounces (1 bag) chopped Kale
3 fresh red or green pears, cut into slices
4 ounces sliced prosciutto, cut (use kitchen shears as not to tear the meat)
One 4-ounce wedge of Gorgonzola cheese, frozen until solid, or fresh for serving crumbled
What You Will Do
Preheat the oven to 400° F. Spread the walnuts in a pie plate and bake for 8 minutes, until golden. Remove and set aside to cool.
In a very large bowl, whisk the mascarpone, vinegar, lemon juice, and olive oil together. Season with salt and pepper.
Add the toasted walnuts, kale, pears and prosciutto and toss well. If taking this to an event hold off on adding the dressing. You can drizzle the salad dressing over salad when you are ready to serve.
Taste and if needed, season the salad with more salt and pepper.
Using a vegetable peeler, shave half of the frozen Gorgonzola over the salad and serve right away, shaving the remaining cheese at the table. If you are not freezing, simply crumble the Gorgonzola on top to your desired liking.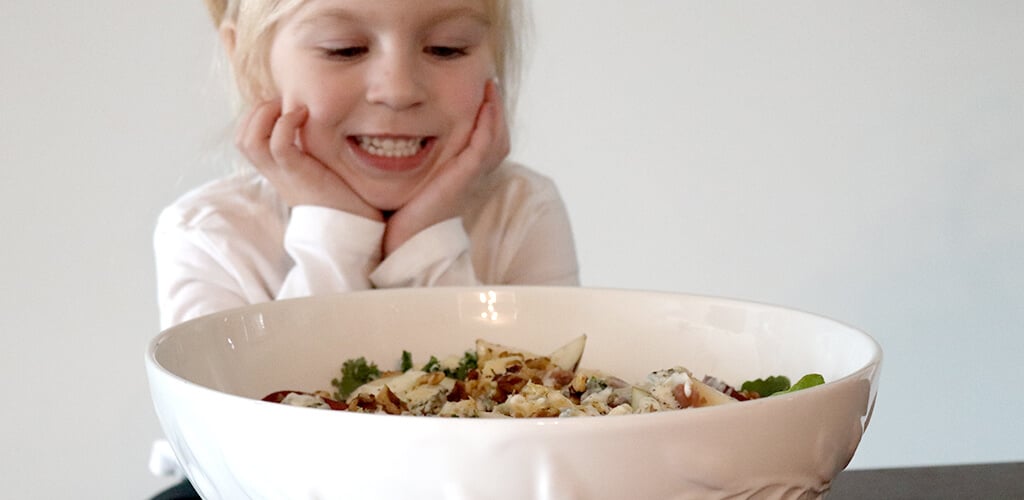 While I never started making this salad specifically for my children, they do really enjoy it. Mainly they love to pick off the walnuts, pears, and prosciutto anytime they see it sitting on the table waiting for my guests to arrive. Because of this I always make extra. The last thing you have to do as my daughter would say is eat, eat. Which don't worry she already has. 🙂
Happy Holidays!!!!
You may also like
Parmesan and Rosemary Mashed Potatoes