Butter Beans in Pesto Oil

I love making beans into an easy salad or meal. What is easier then opening a can of beans, warming them up with some savory garlic and tossing in my The Mighty Pesto sauce. You can use the traditional basil as the pesto base or substitute parsley and mint. Voila, lunch is served in less than 10 minutes!
As a matter of a fact, butter beans are packed with 21% of your daily fiber intake as well as 6 grams of protein in just one serving! So, not only is this meal easy you can feel good while eating it!
This is the perfect make-ahead meal for a lunchbox, I make this on Sunday for me to eat throughout the week!
Butter Beans in Pesto Oil
Prep time: 3 minutes
Cook time: 5 minutes
Total time: 8 minutes
What You Need
For the Pesto Herb Oil:
2 packed cups fresh basil leaves, or parsley or mint
1 cup grated Parmesan
1/4 cup pine nuts, toasted
1/2 teaspoon kosher salt
1/4 teaspoon freshly ground black pepper
2 cloves garlic, smashed
1/4 cup extra-virgin olive oil
For the Butter Beans:
2 tablespoons olive oil
2 garlic cloves, thinly sliced
3 (15-ounce) cans butter beans
1/4 teaspoon kosher salt and black pepper
1/2 cup chicken stock, vegetable stock or water
1/4 tablespoon herbs de Provence
Flaky salt, for serving (optional)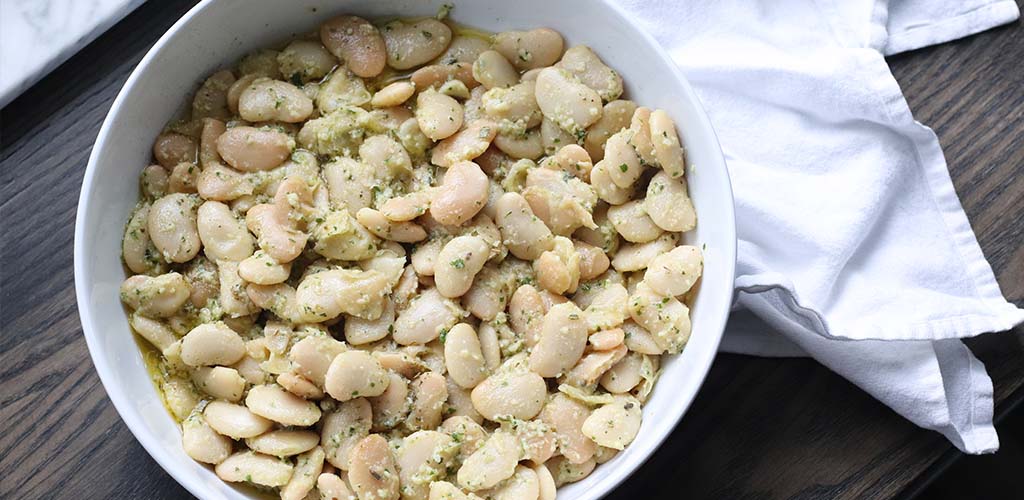 What You Will Do
In a blender or food processor combine all of your dry ingredients- basil, pine nuts, garlic, salt, pepper and Parmesan.
Pulsate the blender or food processor to chop up and mix the ingredients together. The texture will still be pulpy.
Begin to slowly drizzle olive oil into the mixture 1 tablespoon a time.
Your pesto is done when it is smooth and tangy with a salty bite of garlic. Once done or to your liking, put it aside.
In a large skillet heat the olive oil over medium-low heat. Add garlic and cook until fragrant, about 1 minute. Add beans to the skillet and season with salt and pepper. Cook, stirring occasionally, until the flavors have mixed. This only takes 2 minutes.
Add the herbs de Provence, and the stock and bring to a gentle simmer. Cook until sauce becomes creamy, about 1 to 2 minutes more.
Pour in the pesto oil and stir to combine.
Serve immediately.
Recipe Tips:
This will stay in an airtight container in the refrigerator for 3 days.
Now the last thing you have to do, as my daughter would say, is Eat, Eat.
You may also like
Zucchini and Asparagus Clean Spring Salad