You Scream, I Scream, We All Scream For...Avocado Ice Cream?

Avocado, in ice cream? Say what!? I don't blame you for the double take. It doesn't seem like a likely ingredient but avocados in smoothies add a great creamy texture and a dose of healthy fats so why not use them as a base for a healthier version of one of the most popular refreshing summertime treats?
Peanut Butter & Chocolate Avocado Ice Cream
Prep time: 2 hours 5 minutes
Cook time: 0 minutes
Total time: 2 hours 5 minutes
Servings: 6
Serving size: 1 large scoop (baseball sized)
Nutrition per serving:
Calories 150Fat 9 gCarbs 18 gFiber 4 gProtein 2 g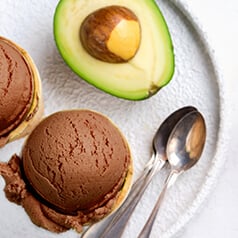 Ingredients
2 medium avocados, or 2 cups frozen avocado slices
1/3 cup maple syrup
1/2 cup full fat coconut milk or milk of your choice
Pinch of sea salt
1 tsp vanilla extract
1 tsp cinnamon
2 tbsp. cocoa powder (I prefer Dark)
2 tbsp. peanut butter powder
Directions
Place all ingredients in blender and blend until smooth.
Pour into container (loaf pans work well) and freeze for a minimum of 2 hours.
Let sit for 15-20 minutes before serving.
Top with optional mix-ins: chocolate chips, shredded coconut, or chopped nuts.
Additional flavor options: Swap 1 avocado for a frozen banana or any other frozen fruit and leave out peanut butter powder.
Be sure to check out our other for more delicious and healthy recipes.
You may also like: