10 Healthy Lunch Ideas for Back to School

Yesterday I looked at the calendar and was shocked to see a date circled red with 1st Day of School on it. Yikes! How did that happen?
When I was a kid, my mom made me a peanut butter and jelly sandwich with a box of fruit juice and a cupcake packed in a brown paper bag. Every day. For like, all 12 grades.
So, I was stumped when I first discovered that most schools do not allow any foods with peanuts due to the prevalence of so many kids with food allergies. Sunflower butter is a good substitute but check with your individual school's policy.
Today, grocery stores sell fancy lunch containers with different sized subdividers, which puts my brown paper bag to shame. My kids really love this type of container because it keeps their food from getting soggy. (One child, who shall remain nameless, is very particular about her foods not being allowed to touch one other…)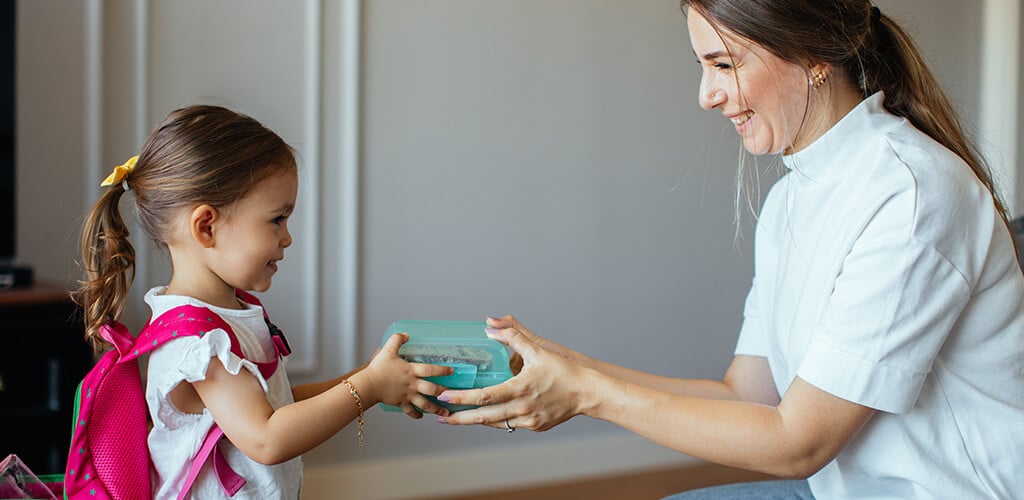 Here's a list of food ideas that are easy, nutritious, and offer a variety of flavors to keep your kid's lunch interesting:
Sunflower butter and jelly sandwich on whole wheat bread, apple slices, low-fat cheese cubes and celery sticks
Greek yogurt, baby carrots with hummus, whole wheat crackers and hard-boiled eggs
Tuna fish on a croissant, cherry tomatoes and orange slices
Mini banana muffin, blueberries, turkey, and cheese tortilla pinwheels
Cucumber tea sandwiches, raspberries, cottage cheese and whole grain crackers
Pizza (English muffin with tomato sauce and mozzarella cheese) and apple slices
Guacamole, tortilla chips, refried beans, salad greens and sliced tomatoes
Mini bagel with cream cheese, yogurt tube, granola, and melon balls
Rice cake with sunflower butter, strawberries, red peppers, and turkey slices
Ham and cheese on a pita, pineapple chunks, pretzels, and snap peas
As your kids get older, they can help to prepare their own lunch. It helps them to feel more in control of their meals and gives you one less chore to do!
Enjoy
You may also like
Back to School Dinner Meal Planning: Back to Basics