Winter Recipe: Chicken, Rice and Butternut Squash Casserole

Casseroles are a great solution to dinner during the winter months. They're hot, delicious and can be made ahead of time, making them a quick solution after a long day. This recipe does all of that and more – combining flavors that meld so well, you'll want to go back for seconds!
Chicken, Rice, & Butternut Squash Casserole
Prep time: 15 minutes
Cook time: 35 minutes
Total time: 50 minues
Servings: 6
Serving size: 1 1/2 cups
Nutrition per serving:
Calories 420Fat 2 gCarbs 27 gFiber 5 gProtein 15 g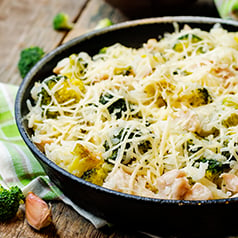 Ingredients
1 cup uncooked brown rice, quinoa, or grain blend
2 tbsp. olive oil
4 boneless, skinless chicken thighs, diced
1 medium yellow onion, diced
1 medium butternut squash, peeled and diced
1/2 cup pecans, finely chopped
1 tsp. kosher salt
1 tsp. black pepper
1 tbsp. chopped fresh thyme
1/2 cup freshly grated Parmesan cheese
Directions
Cook the rice according to package directions. For extra flavor, cook in chicken broth.
Preheat oven to 350 degrees F. Lightly coat a 9×13-inch baking dish with cooking spray and set aside.
In a large sauté pan, heat 2 tablespoons olive oil over medium heat. Add the diced chicken, sprinkle with salt and pepper, and sauté until the chicken is cooked through, about 6 minutes.
Add the diced squash, onions, and additional salt, and pepper. Sauté until the onion begins to soften, about 2 minutes. Cover and cook, stirring occasionally, until the squash is tender but still slightly firm, about 6-8 minutes. Stir in the thyme, and 1/4 cup Parmesan cheese.
Transfer the mixture to the prepared baking dish. Stir in the cooked rice. Add chopped pecans.
Bake in the oven for 20 minutes; remove from oven and sprinkle with the remaining 1/4 cup Parmesan cheese.
Bake additional 5 minutes, or until the cheese melts. Serve warm alongside salad or steamed broccoli.
Try this recipe next