Summer Food: Grilled Chicken Pitas

I made this recipe when my daughter started preschool because I wanted to make lunches at home seem just as exciting as the lunches I packed for school. However, I needed to make sure the meal not only seemed delicious so she would eat it, but good enough that adults (myself and my husband) would also be excited about the meal too.
You might need a few common ingredients from the grocery store such as chicken breast, cucumbers, yogurt, and herbs to make this satisfying pita sandwich, but it's not at all difficult to put together. It's a year-round favorite in my house and I am sure will be one of yours as well.
You can also create and use a lot of substitutions here. You may use sour cream instead of Greek yogurt, any bread that you have on hand would work. I simply use pitas as they are lower in carbs and calories and my children find them easier to hold. I personally eat this as more of a salad with a few pieces of pita bread torn over the top to limit my carb intake, so again make it your own!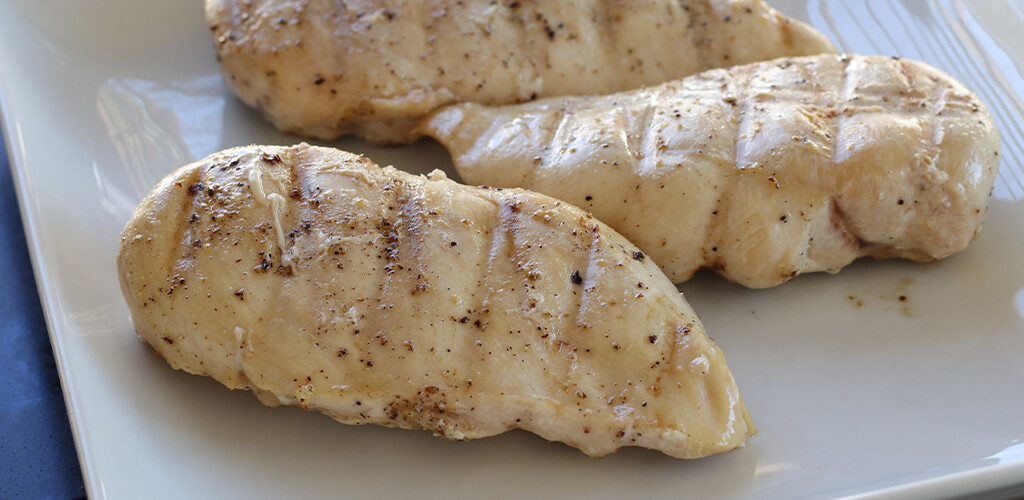 Grilled Chicken Pitas
Prep time: 5 minutes
Cook time: 20 minutes
Total time: 25 minutes
What You Need
3 boneless, skinless chicken breasts (about 8 ounces each)
Salt and pepper
2 tablespoons Extra-virgin olive oil
1 cup plain Greek yogurt
¼ cup chopped green, Kalamata and black olives (whatever variation you may have)
1 cup finely chopped cucumbers, from 1 cucumber
1 tablespoon chopped mint
1 tablespoon chopped parsley
1 tablespoon chopped dill
1 small garlic clove, grated or very finely minced
2 tablespoons lemon juice (fresh or store bought)
Pinch of red-pepper flakes
4 whole-wheat pita breads (8 halves)
A large handful of arugula, watercress or any other salad greens you have available
What You Will Do
First preheat outdoor or indoor grill to medium-high heat, oil the grill or spray with nonstick cooking spray.
Season chicken breasts on both sides with salt and pepper, rub with a little olive oil and 1 tablespoon lemon juice. Bring to room temperature. (If removing from your refrigerator this will take around 10 minutes)
When the grill is hot, add chicken breasts while lowering the heat to medium. Cook gently for about 5 minutes on each side, until firm to the touch or until the chicken has reached 160 degrees as tested by a meat thermometer. (To keep meat moist, do not overcook.)
Once cooked set the chicken aside to rest and cool to room temperature. Once cool slice crosswise at a diagonal to create nice long strips.
Meanwhile, in a small bowl, mix together yogurt, olives, cucumber, mint, parsley, garlic, dill, lemon juice and red-pepper flakes. Season with salt and pepper to taste.
Heat pita breads (on a baking sheet) in the oven at 350 degrees for 5 minutes.
Cut each pita in half to make half-moon pockets. Fill each pocket with chicken, yogurt sauce and arugula. Serve with extra sauce on the side.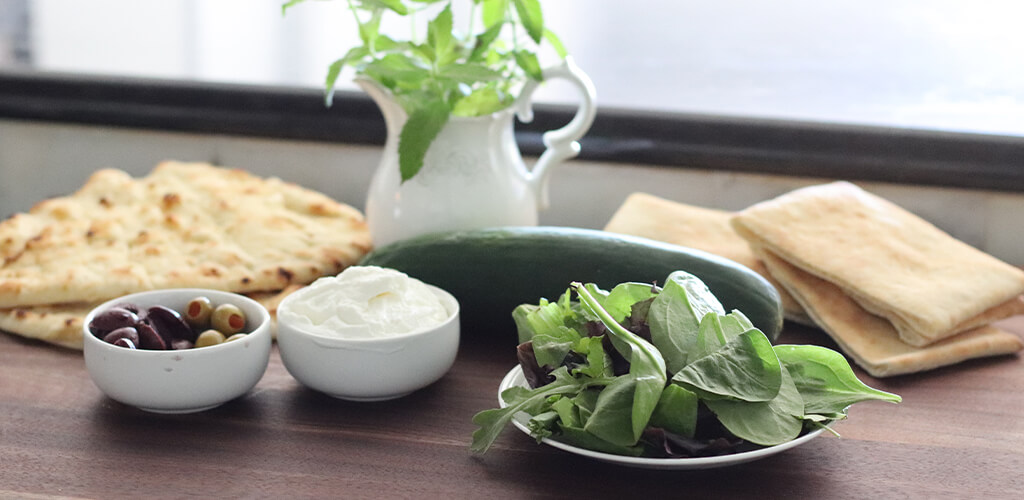 Recipe Tips:
This recipe serves a family of 4 with 3 chicken breasts. If you are serving less people, I recommend only using 2 breasts.
I said this before but it bears repeating I have made this meal with a lot of different breads. Use whatever you have available or is to your preference.
You may add cheese to this meal such as a Colby jack which is soft or a feta cheese which is salty and tangy to really bring out the Greek flavors.
One way I also serve this dish is to still chop the olives but leave them on the side for my family to fill their pitas as they wish.
Now, the last thing you have to do as my daughter would say is "Yay, pocket sandwich" followed by Eat, Eat. Enjoy!!!!
You may also like
White Bean and Avocado Summer Salad Recipe