Simply Sweet Lemon Mint Fruit Salad

I first came up with this fruit salad recipe when my kids were very young because I wanted an easy way to get fruit into their diets and make something we all could enjoy. My daughter loved this salad in its first rendition, as she loves all kinds of fruit, but my son found the lemon and mint too tart and did not want it. I found that adding a touch of agave to the salad was a nice balance for all of us, a little sweeter for my son but not too sweet for the rest of us. This salad is light and refreshing as well as a little pick me up if you are feeling down this winter. I know some of these fruits might be harder to find this early in the year, but trust me – it's worth it.
You may wonder why did I not use honey? Well after speaking to my pediatrician, I was told that babies younger than 1-year-old should not be given honey. Clostridium bacteria that can cause infant botulism usually thrive in soil and dust which is found in honey. To be safe, I was advised that Agave or normal sugar is fine and as I try to limit sugar in my diet Agave was the best option.
Now, let's get into the recipe!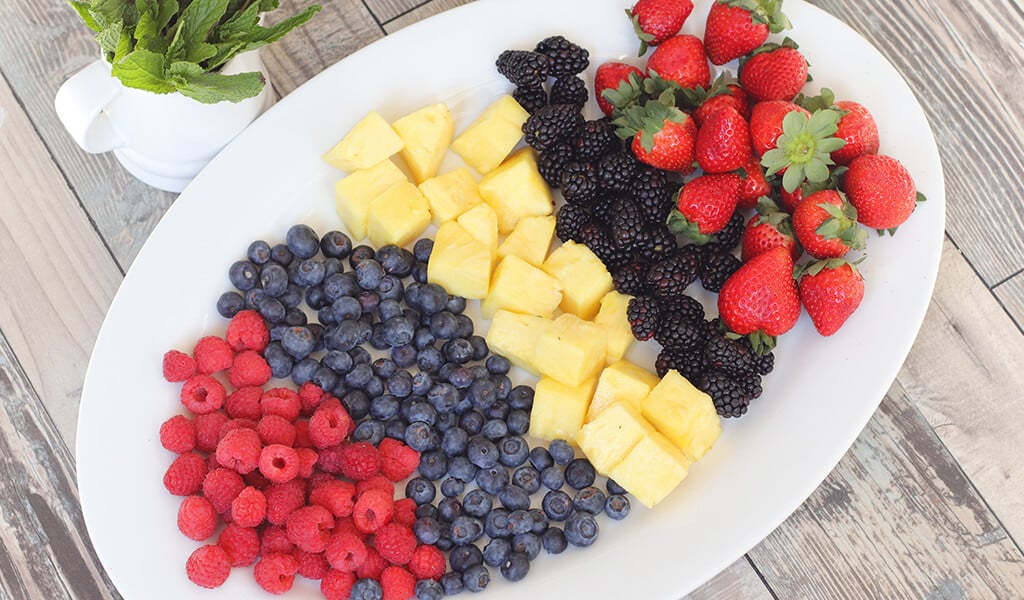 Lemon Mint Fruit Salad
Prep time: 15
Cook time: 0 minutes
Total time: 15 minutes
What You Need
Fruid Salad:
1 fresh pineapple chopped
1 lb. fresh strawberries chopped
1 1/2 cups raspberries
1 1/2 cups blackberries
2 kiwis sliced
6 oz. fresh blueberries
3 ripe bananas sliced
Agave Lemon Mint Dressing:
2 tablespoons light amber Agave
1 tablespoon lemon juice
1 tablespoon (minced) fresh mint
What You Will Do
Add all the chopped fruit to a large mixing bowl. Hold bananas back if not serving within 30 minutes.
In a small bowl, whisk together all of the dressing ingredients.
Pour over fruit 30 minutes - 2 hours before serving, toss and chill in the refrigerator. Toss again before serving to distribute the juices that release and accumulate at the bottom. Gently stir in bananas right before serving.
Recipe Tips:
Chill your fruit for at least 2 hours. You don't need to chop your fruit 2 hours in advance, but at least place your whole fruit in the refrigerator because no one likes a warm fruit salad! This also makes for easy cutting.
You can assemble and refrigerate the salad longer than two hours in advance but the longer it sits, the more the dressing will macerate/soften the fruit. The salad will still be delicious, just not at its peak freshness.
The reason you don't add your bananas till right before serving is as they are exposed to the air they tend to brown.
The reason I prefer the light amber Agave is to not disturb the colors of the fruit.
Now, the last thing you have to do as my daughter would say is Eat, Eat. My son would say BOOBERRIES!!!!!!
You may also like
Weeknight Special: Shell-less Taco Salad