Twist On A Family Staple: Turkey Spaghetti

Every mom has this same dilemma, no matter how many years you have been parenting. What do I make for dinner?
For me on those days that my kids are going "Mad Max Thunderdome" on my beautiful pottery-barn furniture. I know we will need something hearty and comforting to refuel them, and help me feel more relaxed. For me that is my Ground Turkey Spaghetti.
Ground turkey (93% lean) produces much less liquid fat than cooked than hamburger. It has a lighter flavor than hamburger while retaining the meaty, savory quality. It also cooks more quickly and allows the robust flavor of the spices to come through. I love to use this protein in many of my dishes!
Turkey Spaghetti
Prep time: 10 minutes
Cook time: 30–60 minutes
Total time: 40–70 minutes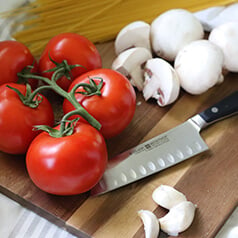 What You Need
At least 1 lb Ground Turkey
At least 30oz (2 small cans) Tomato sauce
Chopped or quartered Mushrooms (yes you read that correctly- I sneak them in).
2 cloves Fresh minced garlic
¼ tablespoon chili powder
¼ teaspoon Cayenne powder
¼ tablespoon Italian seasoning
Salt and pepper to taste
¼ teaspoon Red pepper flakes
What You Will Do
Place olive oil in your pan and allow to heat up.
Add red pepper flakes and garlic and sauté on medium heat. Once you can smell garlic cooking that is enough.
Add and Sauté ground turkey, breaking it up and stirring as it cooks thoroughly. Drain the minimal liquid fat if you prefer, or keep it, like I do, and use it your sauce.
In a large sauce pot add another teaspoon olive oil and lightly warm up the mushrooms.
Then add tomato sauce, chili powder, cayenne powder, Italian seasoning and salt and pepper. A ladle at a time, gently fold in the cooked ground turkey.
Bring tomato sauce to a boil for only 1-2 minutes, so it doesn't burn.
Reduce to a simmer for at least 30 minutes or up to an hour.
Remove from heat and leave covered. Allow to cool 10 minutes prior to serving.
Fill another pot with water and a pinch of salt (*always salt your pasta water). Add your 1 lb of dry spaghetti noodles and cook to preference. I like my noodles to still have a tacky chewy quality to them. However, after having kids we have to cook the noodles to be very soft.
Drain and place noodles in a bowl, apply your spaghetti sauce (a pinch of Parmesan if you like) and as my daughter would say Eat, Eat!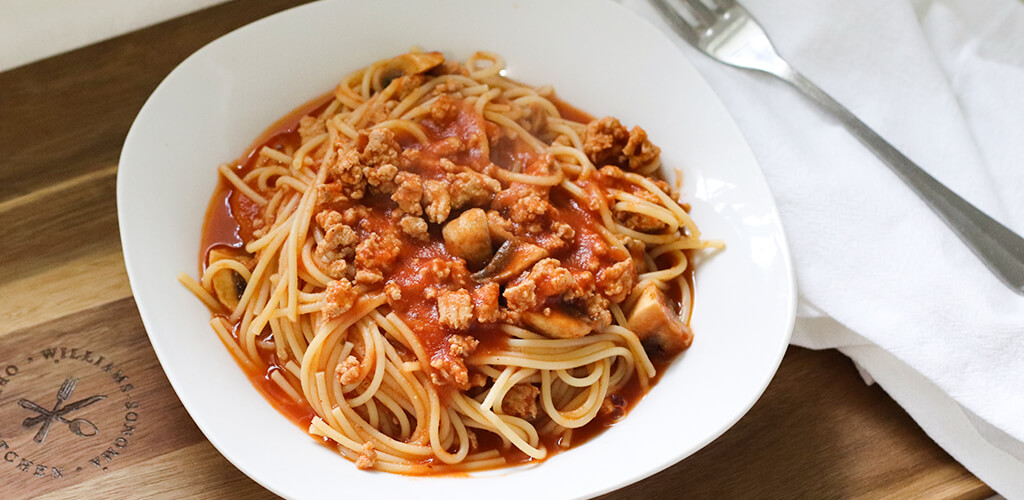 *when cooking any pasta, salting the water allows you to flavor your pasta evenly. The pasta absorbs the salt while cooking as opposed to it just sitting on top on the noodles at the end.
You may also like
Caesar Salad Sans Anchovies And Egg