Kid Friendly Caesar Salad Sans Anchovies and Egg

After 3 years of French classes and a luxurious trip to Paris, I still have only learned 3 things:
How to perfectly say, "I do not speak French."
The word "sans" means "without." As in thinking to myself "I see you've decided to go to preschool sans pants today, Santi (my daughter). Bold choice!"
This Caesar Salad recipe!
When my husband and I went to Paris, it was the second leg of our vacation. We had just been to Rome and we thought nothing could top that. Then, we flew to Paris and I fell in love with the food and people. Right around the corner from our hotel was a small family restaurant where I ate cheese, escargot, and "this" Caesar salad every day. The woman that owned the Bistro always reminded me that it was very family friendly as there were no raw eggs or anchovies. This was a point she made along with hinting that my husband and I should have babies. She was always so sweet and kind that I think of her as the French mother I never had. I asked her for the recipe before we left and she was happy to share. I love this recipe, it's light and fresh and come to find out making the dressing is a lot cheaper! So, touché Mere (mother in French).
I especially like three things about this salad. First, the lack of eggs and anchovies (even just for safety overall not just for kids). Second, the crunchy and light wontons (which I started using because they are not only cheaper then croutons but lighter in flavor, texture, and surprisingly calories). Third, the soft and "fluffy" as titled by my daughter, butter lettuce. I have tried romaine in the past, however every time I washed it my daughter hated it and says it's too wet and cold. Also with the recent scare, seems better to find an alternative. Butter Lettuce has a different texture and seems to wick off water. Once I started using Butter Lettuce my children and husband actually started to eat salads REGULARY!!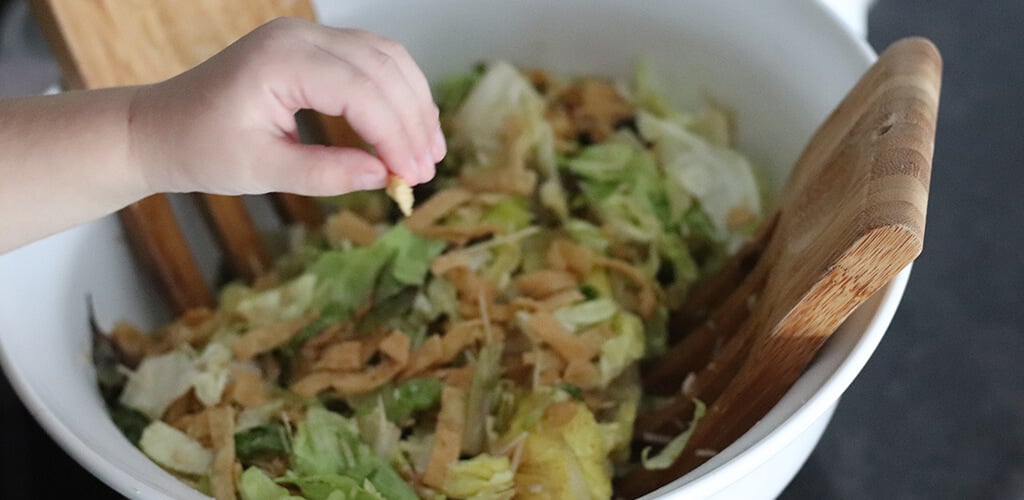 Caesar Salad
Prep time: 20 minutes
Cook time: No cooking needed
Total time: 20 minutes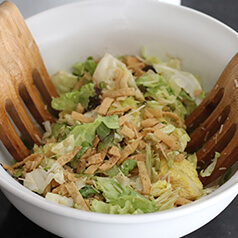 What you need:
1-2 heads (or 2 packages) Butter Lettuce rinsed, dried, and cut.
1/2 tablespoon juice of lemon
1/2 cup Parmesan cheese grated, more to taste
1 cup wontons (substitutes for croutons)
3/4 cup extra virgin olive oil
3 tablespoons red wine vinegar
1 teaspoon Worcestershire sauce (thank you spell check!)
1/2 teaspoon salt
1/4 teaspoon Dijon mustard
1/2 teaspoon minced garlic
salt and ground pepper to taste
What you will do:
Place lettuce in a large bowl.
Whisk the rest of the ingredients in a separate mixing bowl. I recommend doing this the following way:

First mix the base of olive oil, vinegar, Dijon, lemon, Worcestershire sauce, and garlic.
Whisk together until fully blended. You know it's done when the Dijon is emulsified.
Then add a pinch of salt and pepper to taste.
Then gently whisk in half of the Parmesan cheese mixture.

Pour dressing over salad and toss till all leaves are coated.
Add the last half of Parmesan and wontons, then lightly toss 1 or 2 times.
Salt and pepper to taste again. I add an extra dash of Worcestershire sauce instead of salt as I like the savory flavor it offers.
As my daughter would say in precise French "Mange, Mange!" or Eat, Eat!
(Hey, I can dream that my 3-year-old is bilingual in French.)
You may also like
Creamy Tomato Soup With Cauliflower Grilled Cheese Bites Recipe