Monday Night Green and Brown Fried Rice

This meal is the ultimate on-the-go lunch. Even though I call this dish fried rice, it really isn't fried at all. I use just a little bit of sesame oil, lime juice and soy sauce to sauté the vegetables and toss together with some leftover brown or white jasmine rice, and dinner is done! I call this dish "Monday night brown rice" because I normally make a lot of my rice-based-heavier-meals on the weekend. I like to use the leftovers and any fresh vegetables I have on hand to put together a fast meal!
Monday Night Green and Brown Fried Rice
Prep time: 10 minutes
Cook time: 20 minutes
Total time: 30 minutes
What You Need
1 tablespoon toasted sesame oil
4 tablespoons soy sauce
1/4 cup lime juice
1 teaspoon garlic chili paste
1 bunch green onions, chopped
1 shallot, chopped finely
1 tablespoon freshly chopped ginger or ginger paste
2 garlic cloves, roughly chopped
2 teaspoons kosher salt, divided
2 cups cooked brown rice
1 lb. Brussels sprouts chopped in half
2 cups broccoli chopped in half
1 bunch asparagus, diced
1 cup sweet peppers
2 cups white mushrooms, chopped
1/2 cup edamame
1 avocado, pitted and sliced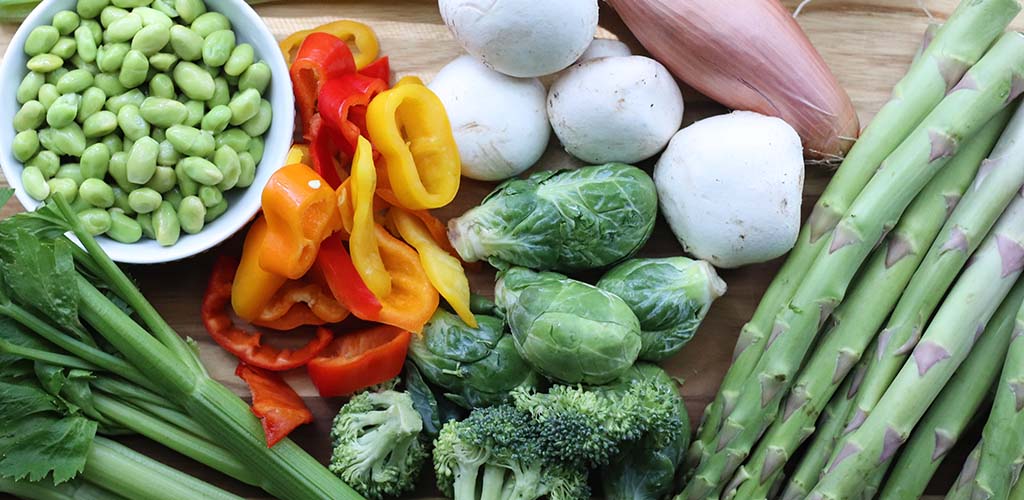 What You Will Do
Cook 2 cups of brown or white jasmine rice according to package instructions. I use a rice cooker.
Heat a large skillet over medium-high heat. Add sesame oil to the pan and continue to heat for an additional minute.
Add the shallot, green onions, ginger, garlic, garlic chili paste and 1/2 teaspoon of salt to the pan. Cook, stirring often for about 5 minutes or until fragrant.
Add in the hearty vegetables: Brussels sprouts, broccoli, asparagus, sweet peppers, mushrooms and edamame and cook until soft; this will take about 8-10 minutes.
Add the rice and toss to coat.
If you like your rice crispy, flatten the mixture evenly over the bottom of the pan and allow to cook undisturbed for 2 minutes.
Remove from heat and allow to cool for 5 minutes.
Place onto a serving platter or in a serving bowl and top with freshly chopped chives, green onions, celery leaves and diced avocado.
Serve immediately.
Recipe Tips:
If you would like to cook the hearty vegetables in the oven, follow these steps below.
Chop up all of your vegetables and mix them in a bowl with the olive oil, salt, garlic powder, and pepper.
Once mixed to your liking, transfer everything to a sheet pan.
Roast in the oven for 30 to 40 minutes or until crisp outside and tender inside. Shake the pan from time to time to brown the hearty vegetables evenly.
Sprinkle with salt to taste.
Continue with the next steps above to mix together.
Now the last thing you have to do, as my daughter would say, is Eat, Eat.
You may also like:
Cilantro Rice Recipe