Kid Approved Turkey Chili

Imagine the terror, you are having a sleep over with multiple children who are picky eaters including a few who have a list of dietary restrictions! Cooking for children, especially not your own is more terrifying than cooking for a president! Not an exaggeration.
Do you order a pizza? NOPE!
Do you drink a ton of wine? PROBABLY!
But then, compose yourself and make them this Ground Turkey Chili. It's a huge crowd pleaser, and leftovers are amazing!!
Ground Turkey Chili
Prep time: 20 minutes
Cook time: 60 minutes
Total time: 1 hour 35 minutes (including cooling time)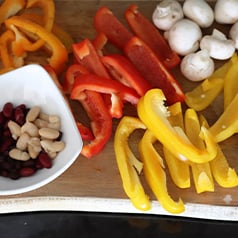 Ingredients
1 lb Tomato sauce
2 lb Ground turkey
16 oz Chopped mushrooms
32 oz Chicken stock
1 can Red beans
1 can Black beans
1 can cannellini beans (White kidney beans)
1 yellow pepper
1 red pepper
1 orange pepper (if you want a zestier flavor substitute with a green pepper).
1 clove fresh garlic
¼ tablespoon Chili powder
¼ tablespoon Cayenne powder
1 tablespoon Garlic powder
½ tablespoon Cumin
Salt and pepper to taste
Dash of Worcestershire sauce
Chili Topping
Sour cream to taste (Could also substitute Greek yogurt here if you are cutting calories)
Shredded cheese (Colby jack preferably)
1-2 avocados (sliced)
Tortilla strips or Wonton strips
Directions
Dice up peppers and chop mushrooms. Also open and drain all of the cans of beans.
Place a tablespoon of olive oil into a large sauté pan and add your ground turkey. Cook on medium heat breaking it up with a wooden spoon consistently so it doesn't burn. Add 1/4 teaspoon of garlic powder and salt and pepper, to your liking, as it is cooking. Once done remove from heat and place to one side.
Meanwhile, in a large pot add 1 tablespoon olive oil and warm up. Add red pepper flakes (to your liking) and fresh garlic, then just sauté. When you can smell garlic, it is ready.
Now add your chopped peppers and mushrooms. Stir until all contents are coated with the oil.
Next, add all of the beans and stir. Add in the rest of seasonings (cumin, chili powder and cayenne powder) while continuing to stir.
Fold in the turkey burger while consistently stirring. Then pour in the tomato sauce and chicken stock.
Bring to a boil. Allow chili to boil for 5 minutes while watching and stirring. Once 5 min has past, turn your heat down and let the chili simmer for 20 minutes or up to an hour. I find the longer its allowed to simmer the better the flavor.
Take off of heat, add just a dash of Worcestershire sauce and stir. Allow to cool for AT LEAST 15 minutes.
Serve with any additional topping you like. I eat it with all of them.
For a child's sleepover/party/play date I loved setting up a topping bar and allowing the kids to top off their own chili with sour cream, shredded cheese, tortilla strips and avocado. I also find this helps the children feel excited about the meal. Your spouse probably will, too!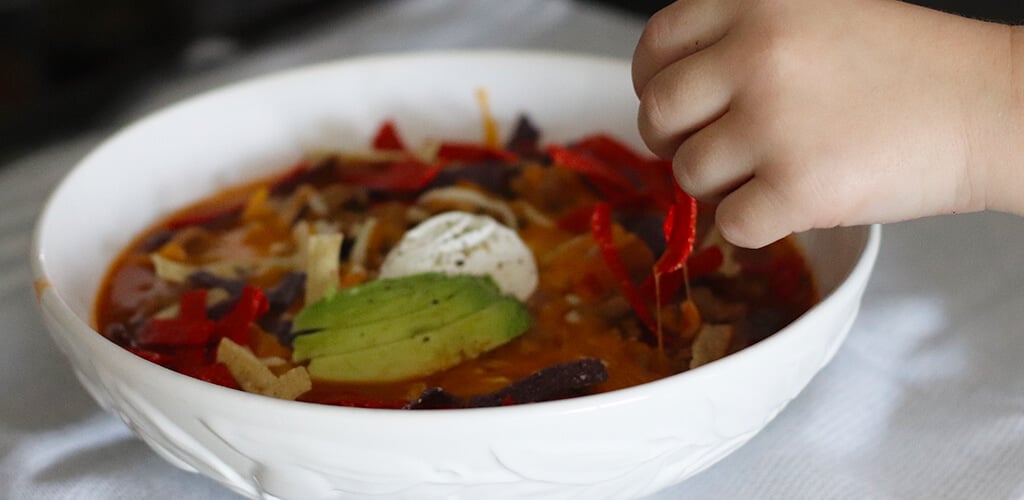 Only thing left, as my daughter would say, is to Eat, Eat!
You may also like
Kid Friendly Caesar Salad Sans Anchovies And Egg