Thai Turkey Lettuce Wraps

I am always trying to find a balance in my diet. It's true, I love pasta. Because of that I like to balance out my other meals with low carb options such as lettuce wraps. There is no way to make these incorrectly. The ground turkey is filling and yet light in flavor and the fresh peppers and diced cucumber add a delightful crunch to each bite. This meal is great warm or cold. I love to use the leftovers as a lunch to take to work. Your family will love these Thai Turkey Lettuce Wraps as much as mine does! I can swear by it!
Thai Turkey Lettuce Wraps
What You Need
For the Turkey:
1 pound ground turkey
4 cloves garlic, finely chopped
1 shallot, finely chopped
3 tablespoons sesame oil
3 tablespoons of lime juice, freshly squeezed
1/2 teaspoon soy sauce
1 teaspoon spicy garlic paste
Salt and pepper to taste
For The Topping:
A few leaves of butter lettuce
Chopped fresh sweet peppers
Diced cucumber
Fresh cilantro
Lime wedges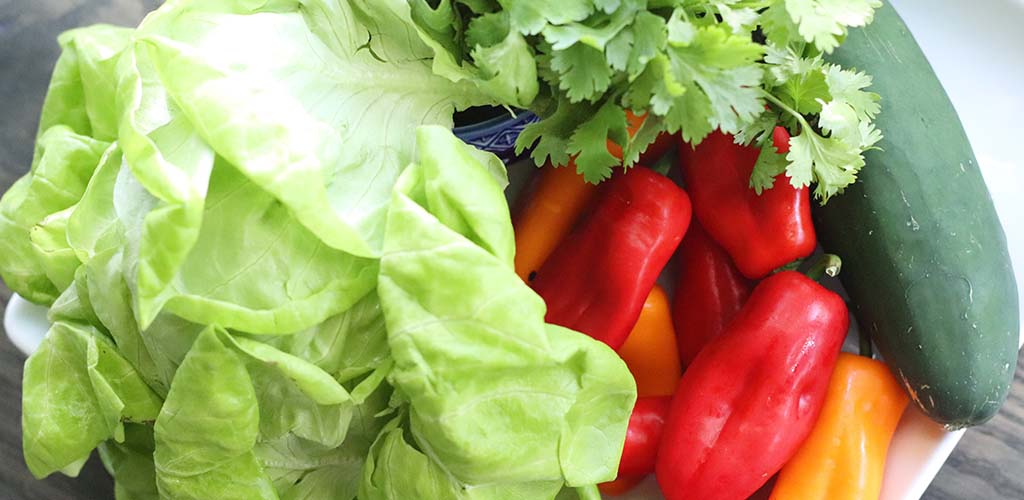 What You Will Do:
In a large skillet, heat 1 teaspoon of sesame oil over medium high heat. Add the ground turkey and using the back of a wooden spoon, break the meat apart and let it cook until no pink remains, about 8-10 minutes, making sure to sauté frequently to ensure even cooking.
Once the turkey has cooked, add the garlic and shallots and sauté for 1 minute until fragrant. Add the soy sauce, the rest of the sesame oil, the lime juice, spicy garlic paste and stir to combine.
Season with salt and pepper as needed and reduce heat to low and simmer until ready to use. Place to the side.
Chop up the cucumbers, sweet peppers and lime wedges.
To assemble, place equal amounts of the turkey larb mixture into a lettuce leaf, about 1/4 cup per lettuce leaf. Top with whatever vegetables and herbs you like.
Recipe Tips:
This will stay in your refrigerator for up to 5 days in an airtight container.
Now the last thing you have to do, as my daughter would say, is Eat, Eat.
You may also like:
Weeknight Wonder: Carnitas Tacos