Summer Fettuccine

I wish I had a romantic story to share on how I love celebrating the change of seasons. Honestly, I love the change of each season especially spring and summer because a lot of produce becomes available and is now ripe and, most importantly, due to its abundance—CHEAP!
This easy pasta recipe really focuses on fresh spring and summer vegetables, including peas (both English peas and sugar snap peas), asparagus, and artichokes. Ricotta cheese brings richness to the dish without it feeling heavy, while lemon zest and juice brighten the flavors.
As you may be able to tell we are a pasta family. I find this to be the easiest way for me to mix vegetables into my children's diets.
If you like, you can substitute boxed fettuccine (which I had on hand) with whole wheat spaghetti or whole wheat penne noodles. If you do this just follow the package directions on how to cook.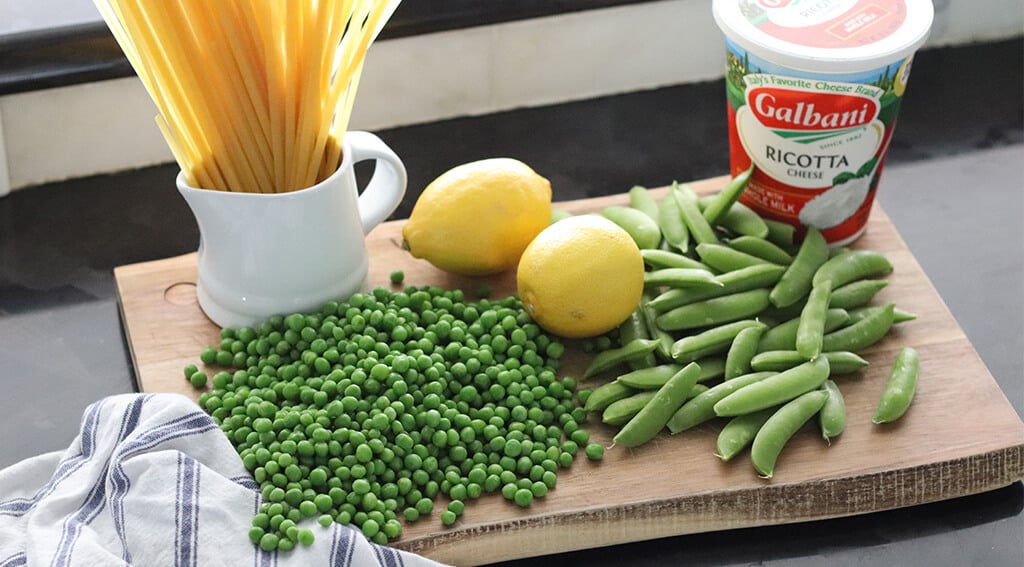 Summer Fettuccine
Prep time: 25 minutes
Cook time: 10 minutes
Total time: 35 minutes
What You Need
8 oz (1 bunch) asparagus, ends trimmed, stalks cut into thirds*
8 oz sugar snap peas
1 cup fresh or thawed frozen English peas
8 oz artichoke hearts (about 12-14 small artichoke hearts) quartered
12 oz boxed fettuccine
Grated zest and juice of 1 large lemon (3 tablespoons)
1 cup grated Parmesan cheese, plus more for serving
12 oz ricotta cheese, drained
2 Tbsp extra-virgin olive oil
1 cup chicken stock or vegetable stock (divided into ½ cup portions)
1 clove of garlic minced finely
1 pinch (1/4th a teaspoon) red pepper flakes (this can be omitted)
Kosher salt and freshly ground pepper
What You Will Do
Bring a large saucepan of generously salted water to a boil over high heat. Add the fettuccine and cook until RIGHT BEFORE al dente, about 4 minutes.
Add the asparagus (already cut), sugar snap peas, English peas, and artichoke hearts (if fresh) to the boiling water with the fettuccine still cooking and cook for 3 minutes.*
After 3 minutes drain the pasta and vegetables in a colander.
Using the same hot pot, over medium heat, add 2 tablespoons of olive oil and allow to warm up.
Add in the minced garlic and pinch of red pepper flakes and allow to sauté for 2 minutes.
Return the drained fettuccine and vegetables to the saucepan and add the lemon zest and juice, parmesan, ricotta and ½ a cup of the chicken stock. Toss the fettuccine to coat with the cheese mixture. If the pasta seems dry, add the other ½ cup of the chicken stock and toss again.
Season to taste with kosher salt and pepper.
Sprinkle with more parmesan cheese (as desired) right before serving.
Serve immediately.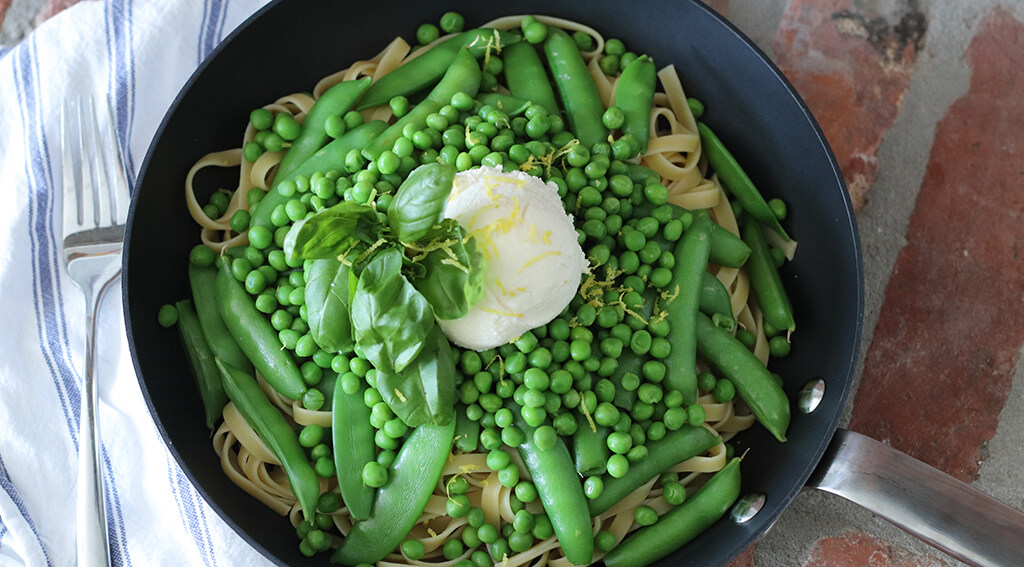 Recipe Tips:
Whether you prefer your asparagus on the thick or thin side, it's important to cut off the pale ends of each stalk because they are woody and tough. No amount of cooking will change that. Always cut off the ends.
If you use canned or frozen artichoke hearts these have already been softened so do not boil or they will break apart. Canned artichokes can be added to the fettuccine and vegetables when you begin to toss with the sauce. For the frozen artichokes, simply defrost and follow the same guidelines as with canned artichokes.
If you would like to have a protein, I recommend either garlic sautéed shrimp, shredded chicken breasts, or bacon. As the sauce is light in flavor it will not be disrupted with the addition of any extra elements.
Now the last thing you have to do as my daughter would say is "Eat, Eat." As my son would say, "MOODLES, YAY!!!!" Like I said, we are a pasta family.
You may also like
Summer Food: Grilled Chicken Pitas