Carefree Chickpea Salad

I love a recipe that you can eat any day and any way, every day of the year. Whew, say that 5 times fast!
Living in Florida, cucumbers and tomatoes are always in season, meaning they are thrifty! Therefore, I make this salad all the time. The flavors in this recipe are so subtle, yet bright, that it makes this meal a great partner to all foods. This recipe serves as a great snack for my children, a lunch for me, or as a great side dish to bring to a BBQ, picnic, or dinner party.
The best part about this salad is it takes just 10 simple minutes to make, and because it uses canned chickpeas, there's no cooking! Not to mention, chickpeas are convenient to keep on hand when you need to add a quick protein to salads. They're a rich source of vitamins, minerals and fiber, and being high in protein, they make an excellent replacement for meat in vegetarian and vegan diets. I swear chickpeas truly are a Wonder Bean. *Cue superhero music.
Enough build up. … Let's get to the recipe, shall we?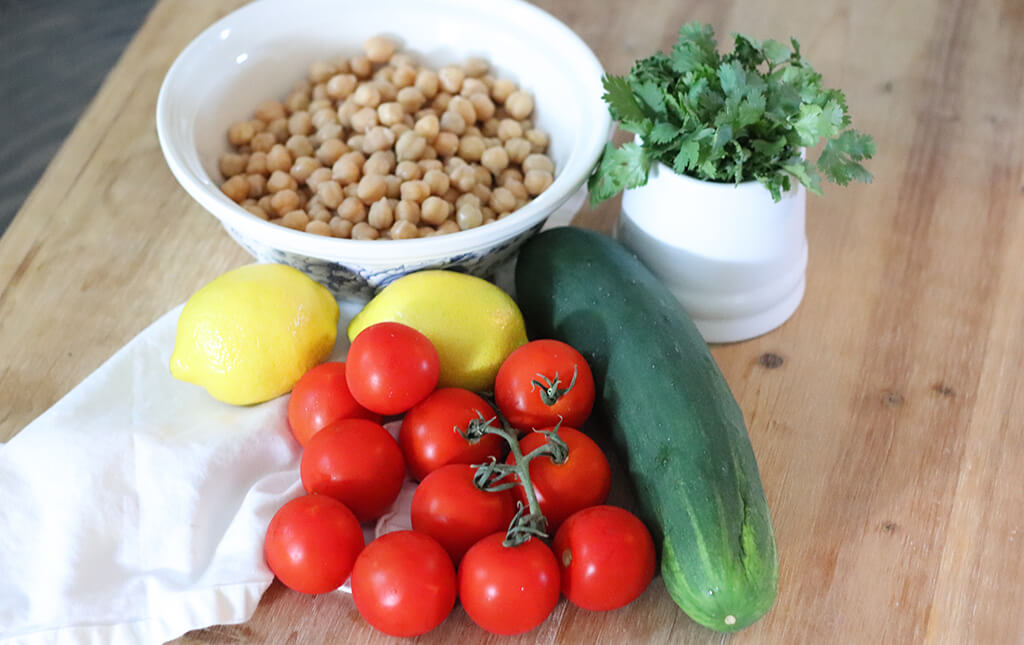 Carefree Chickpea Salad
Prep time: 10 minutes
Cook time: 0 minutes
Total time: 10 minutes
What You Need:
24 ounces chickpeas, rinsed and drained
2 ½ cups diced cucumbers, peeled
2 cups or 6-8 small tomatoes, I prefer Campari, chopped
2 tablespoons fresh lemon juice
2 tablespoons fresh torn cilantro
1 tablespoon extra-virgin olive oil
½ tablespoon garlic powder
Kosher salt and pepper, to taste
What You Will Do:
Peel and dice your cucumber into fourths and place into a large serving bowl.
Chop up your tomatoes and place into the same bowl as the cucumbers.
Drain and rinse chickpeas. Then pat dry with a paper towel and place in the same bowl with the cucumbers and tomatoes.
In a separate small mixing bowl whisk together the extra virgin olive oil, lemon juice, garlic powder and salt and pepper. Then pour the dressing over the salad in the large serving bowl.
Top with fresh cilantro and toss together, add more salt and pepper to taste.
Eat immediately!
Recipe Tips:
You can modify this recipe with any tomatoes you like, the proportions will not throw off this dish.
If you want to add a cheese to this dish, I recommend either a feta cheese, a simple mozzarella, or a shredded Colby jack cheese. All three pair well with the lemon vinaigrette.
This dish is also amazing with some diced avocado as it adds an extra creaminess.
Reminder: This will stay for 3 days in the refrigerator in an airtight container.
Now, the last thing you have to do as my daughter would say is, "Eat, Eat." Or … as my son would say, "BEANNNNNSSSSSSSS!!!!"
You may also like
Garbanzo Bean Football Salad