Seared Tuna with Spinach and Whole Wheat Noodles

I am currently in Week 'What day is it" of our Quarantine journey. I think a lot of people are dealing with this same issue. Because I am losing track of days and times, my meal planning went a little out the window so I am finding myself trying to figure out meals on the fly. One night, when trying to figure out what to make for dinner, I discovered some frozen tuna filets I had forgotten about. Normally I would just grill the tuna and serve on a bed of vegetables. However, I wanted to try something new and use a lot of my pantry items to make a larger meal out of this.
This recipe uses (fresh/frozen) fish. You may easily substitute canned tuna as long as you have sufficiently drained the fish before using it. I recommend draining your tuna and then placing it on a paper towel to sufficiently absorb any residual oil.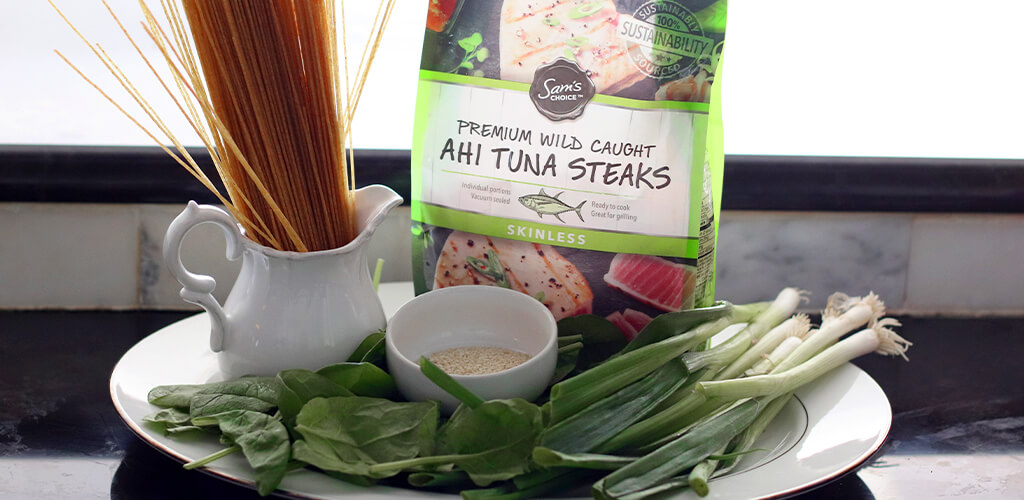 Seared Tuna with Spinach and Whole Wheat Pasta
Prep time: 10 minutes
Cook time: 12 minutes
Total time: 22 minutes
Servings: 4
What You Will Need
For the Pasta Base:
16 oz Spinach (or any amount you have) Kale would be an excellent substitute
1 lb Whole wheat pasta (or any pasta you have on hand)
1 to 2 tablespoons sesame seeds, toasted or you can use peanuts as long as you finely chop them
Fresh Tuna fillets (Four 1-inch-thick fresh tuna steaks) or 10 to 12 ounces canned tuna, sufficiently drained
1 tbsp olive oil
1 tbsp garlic powder
2 scallions (Green Onions), trimmed and thinly sliced
Kosher salt and freshly ground black pepper
For the Dressing:
2 tablespoons sesame oil
2 tablespoons olive oil
2 tablespoons Dijon mustard
1 tablespoon lemon juice
1 pinch red pepper flakes
1 tablespoon soy sauce
What You Will Do
Grilling:
To grill the tuna, get your outdoor or indoor cast iron grill on high heat. Brush the fish with olive oil, and sprinkle with salt and pepper.
Grill each side for only 3 minutes. The center should be raw, like sushi, or the tuna will be tough and dry.
Allow the fish to rest for 5 to 10 minutes covered with tin foil.
Once cooled you may slice and lay on your pasta.
As you will see I serve this to my children with a pink center. Tuna is extremely safe to eat, I did a lot of research and spoke with a pediatrician before serving. This is safe as long as children are not eating large amounts- meaning no more than 1 4oz filet. I do, however, tend to cook their fish for 5 minutes per side vs the 3 min I originally mentioned. I do this mainly for texture as my son likes the texture of a more well-done tuna steak, similar to the texture of the canned tuna.
Pasta and Spinach:
Bring a large pot of salted water to a boil over high. Toss in the noodles and cook according to the package instructions. Just a reminder, whole wheat noodles cook on average 3-5 minutes faster than white pasta.
In a large skillet, lightly toast the sesame seeds, over medium-low heat until fragrant; set aside. If you are using peanuts, simply chop very fine and place aside.
In the same large skillet, add 1 tablespoon of olive and turn on to high heat. Add the spinach (or whatever leafy green you have on hand) and the 1 tablespoon of garlic powder. Sauté for 3 minutes total, just to wilt your spinach. Place aside to cool.
Now let's make the dressing. In a measuring cup or bowl, whisk to combine the sesame oil, olive oil, Dijon mustard, soy sauce, lemon juice, and red pepper flakes, set aside.
Drain the cooked noodles in a colander, and then add them to the same large skillet that your spinach is resting in. Toss together. Add about 3/4ths of your dressing and toss to coat.
Divide the noodles among 4 bowls. Top each portion with tuna, drizzle with the remaining dressing, then sprinkle with the scallions and sesame seeds or chopped peanuts. Serve hot!
The last thing you have to do as my daughter would say is Eat, Eat! My son yells Shark, I think his sister convinced him that is what Tuna is. Oh well, at least they are talking, that's all that matters. Best and Safe wishes from my home to yours!
You may also like
Meal Planning Through COVID-19