Sautéed Spicy Cucumbers, Mushrooms, and Zucchini

This recipe brings together everything I love in a traditional stir fry. However, I remove the meat and the starch, be it rice or noodles. I also cut down on the heavy fat of a traditional spicy mayo and I substitute in Greek yogurt. The texture is fluffier and creates a more balanced base for the sriracha. The Portobello mushrooms are hearty and filling and won't make you miss the meat in this dish at all! This is a perfect option for a healthy vegetarian meal. You just have to give it a try!
Sautéed Spicy Cucumbers, Mushrooms, and Zucchini
Prep time: 10 minutes
Cook time: 5 minutes
Total time: 15 minutes
What You Need
Vegetable Sauté:
2 English cucumbers, cut into 2-inch pieces
2 zucchinis, cut into 2-inch pieces
4 Portobello mushroom caps, sliced into 1-inch spears
1 lb of asparagus, chopped into 1-inch spears
1 large shallot, chopped finely
3 garlic cloves, minced
1 tablespoon ground cumin
1/2 tablespoon paprika
1/2 tablespoon paprika
2 tablespoons extra virgin olive oil
1/2 cup chicken broth or vegetable broth
Siracha Greek Yogurt Dip:
1 cup full-fat Greek yogurt
4 tablespoons siracha
1 tablespoon sesame oil
1/4 teaspoon kosher salt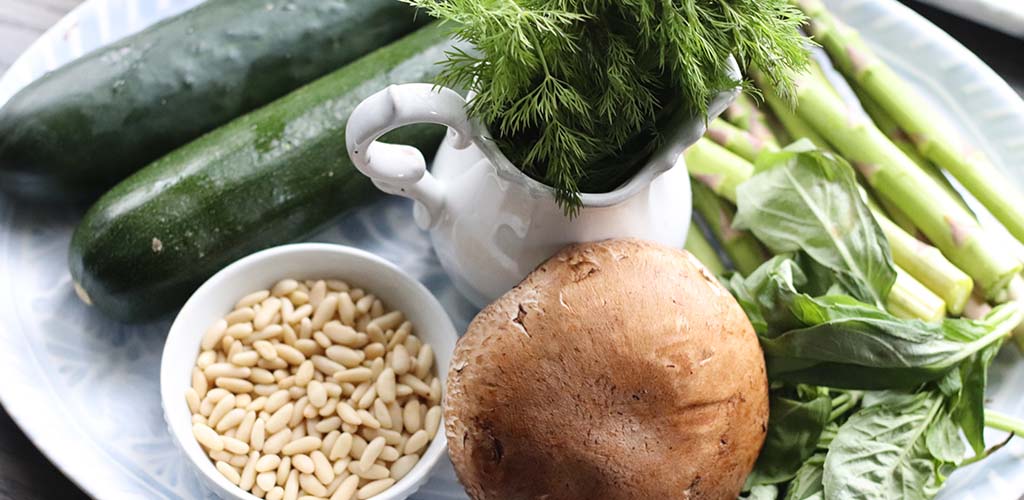 What You Will Do
Place the oven on Broil, high setting. Place the pine nuts onto a baking sheet and place into the oven to toast until brown. This takes 5-8 minutes. Remove when golden brown in color. Leave on the baking sheet to cool.
In a large sauté pan bring the extra virgin olive oil to a warm over medium high heat.
Add in the chopped shallot and minced garlic and sauté until fragrant. This will take about 2-3 minutes.
Add into the pan the chopped asparagus, mushrooms and zucchini.
Top with the cumin and paprika and stir while cooking.
Add in the 1/2 cup chicken broth or vegetable broth and allow to simmer for 10 minutes.
Place in the chopped cucumbers and allow to warm, this only takes about 2 minutes. Remove from the heat and place to the side.
In a small bowl, combine the yogurt, siracha, sesame oil and kosher salt and stir to combine.
Spread the yogurt mixture on a plate or the bottom of a shallow bowl. Using a slotted spoon to drain the vegetables out of the cooking liquid and place on top of the yogurt in the serving platter or bowl.
Top with freshly chopped dill, basil and the toasted pine nuts. I even like to add a little dollop of the spicy yogurt dip on the top of the dish.
Serve immediately.
Recipe Tips:
This will stay in the refrigerator for 3 days in an airtight container.
Now the last thing you have to do, as my daughter would say, is Eat, Eat.
You may also like
Zucchini and Asparagus Clean Spring Salad