Apple Cider Vinegar: Pickled Red Onions

Every once in a while something new is trending in the wellness world and you think to yourself – what is that and how do I use it? Once upon a time, apple cider vinegar fell into that bucket, but its benefits were plenty and it stuck around for good.
There are endless ways you can use it: on your hair, on your skin, and even as a cleaning solution and disinfectant. But the best beneficiary is our bodies, and studies have shown that the list of health benefits are many: lowers blood sugar, reduces belly fat and functions as a weight loss aid, lowers cholesterol, improves the immune system, helps with acid reflux, and more. It's a magical elixir, really.
But if you can't stomach the taste on its own (I personally LOVE the taste – but not everyone does) there are many ways to incorporate apple cider vinegar into your life without having to sip on a shot of it. You can use in vinaigrettes, and it also works as an acid in recipes, making it great for marinades.
Here, these quick pickled red onions use apple cider vinegar as the main attraction and make for a nice tangy addition to burgers and tacos. And they are so darn easy to make, they basically make themselves.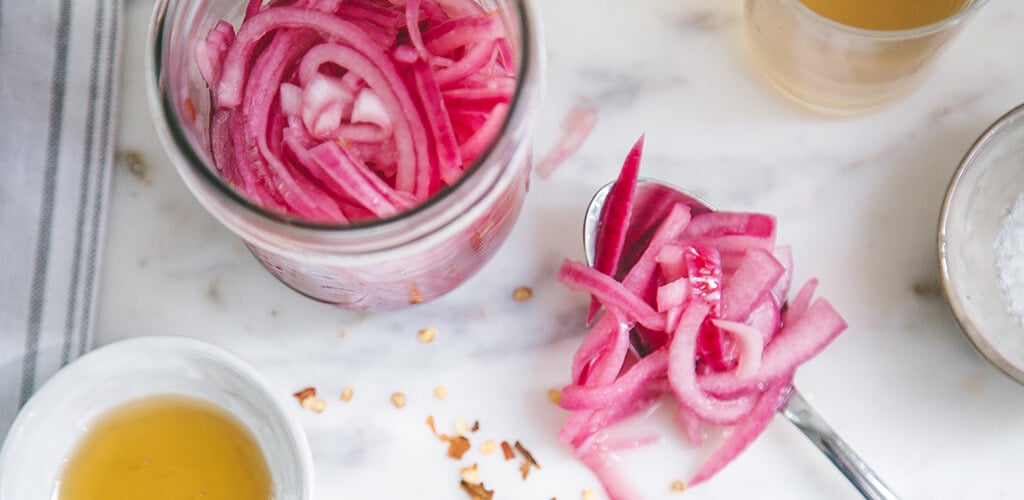 Apple Cider Vinegar Pickled Onions
Prep time: 1–2 hours
Cook time: None
Total time: 1–2 hours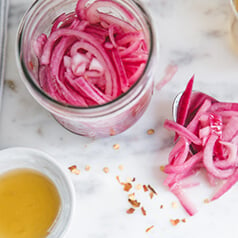 Ingredients
1 red onion, sliced thin
2 tablespoons maple syrup
½ cup apple cider vinegar
1–1.5 teaspoon kosher salt
Pinch of crushed red pepper
Directions
Add the apple cider vinegar, salt, red pepper, and maple syrup to a mason jar. Shake vigorously.
Add the sliced red onion. Leave on counter for about an hour or two and they're ready to eat. Or store them in the fridge for future use. Enjoy!
You may also like
Deconstructed Burger Salad Recipe