One Pot French Onion Soup

Warning: Pretentious travel story incoming.
When I went to Paris back in 2011, I became obsessed with French Onion Soup. I loved the rich flavors and the price point could not be beat, it was always one of the cheapest items on the menu. French Onion Soup was commonly referred to as a "peasant stew" in Paris, as onions are extremely easy to come by. Recently my fiancé and I traveled to New Orleans and I saw French Onion Soup on the menu again and I was so excited, yet this time it was $12 dollars. That is honestly insane! French Onion Soup is extremely easy to cook and very cost effective and so I had to come right back home and make it myself!
One Pot French Onion Soup
Prep time: 10 minutes
Cook time: 60 minutes
Total time: 70 minutes
What You Need:
4 tablespoons unsalted butter
2 tablespoons olive oil
4 cloves of garlic chopped finely
4 large yellow onions, halved and cut into 1/4-inch slices
1 large sweet onion, halved and cut into 1/4-inch slices
2 cups Baby Bella mushrooms
2 large portobella mushrooms chopped
2 large shallots chopped finely
Kosher salt and black pepper
1 large or 2 small leeks, trimmed, halved lengthwise and thinly sliced crosswise
1 cup dry white wine
2 large fresh thyme sprigs
1 tablespoon Herbs de Provence
1 fresh or dried bay leaf
2 quarts chicken stock
Leftover crusty bread, I like to use sourdough
1 cup shaved Gruyere for the topping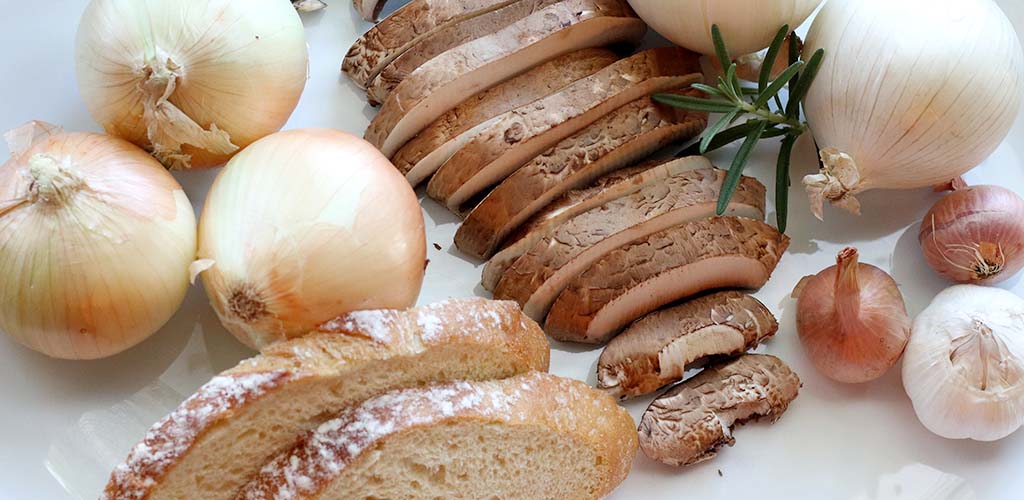 What You Will Do:
In a large soup pot, melt the butter and olive oil over medium heat.
Stir in the garlic and cook until fragrant.
Next add in the onions and mushrooms, cover and cook, stirring occasionally, about 15 minutes. Turn heat up to medium-high, season with salt and pepper and continue cooking, covered, stirring occasionally, 15 minutes.
Add in the chopped leeks, season again, and cook, covered, stirring occasionally, 15 minutes.
Remove lid, pour in the chicken stock and salt and pepper, the thyme and bay leaf and bring to a boil.
I like to pour in the wine at this point. Allow to boil for 30 minutes.
Remove the Bay Leaf and throw away.
Next, I like to scoop out about 3 cups of the liquid and puree in the food processor and pour back into the large soup pot, I love to do this to thicken the soup up and have more of a hearty quality. You can completely skip this step if you like a thinner broth.
Meanwhile, preheat the oven to 375° F.
Ladle the soup into dinner bowls and top with the sourdough and gruyere. Place the bowls onto a baking sheet and place back into the oven to toast the bread and brown the cheese. This will take 5 minutes.
Remove from the oven and allow to cool 5 minutes before serving, as the bowls will be hot.
Serve immediately after allowing to cool.
Recipe Tips:
This will stay in the refrigerator in an airtight container for 4 days. Or you can freeze after the soup has cooled down for up to 3 months.
Now the last thing you have to do, as my daughter would say, is Eat, Eat.
You may also like:
Chicken Tortilla Soup