Fall Special Pumpkin Pecan and Chocolate Granola

My children love granola (they may love the candy and fruit pieces in it more than anything). However, I hate buying it at the store because it can be so expensive, and I do find that it tends to be loaded with a ton of added sugar that is just not necessary. Also, it is so easy to make your own healthy version that your family will love for a fraction of the cost. You have to give this a try!
I love putting the granola into my kid's lunches and serving over vanilla yogurt for myself. I also love when fall arrives because I, and I am sure many people across America, start cooking with more and more pumpkin in their recipes.
Pumpkin Pecan and Chocolate Granola
Prep time: 10 minutes
Cook time: 50 Minutes
Total time: 60 Minutes
What You Need
3 cups old fashioned rolled oats, any kind you like
2 cups raw pecans, chopped or whole
½ cup canned pumpkin
1 teaspoon vanilla
½ cup maple syrup
⅓ cup coconut oil, melted
½ teaspoon raw brown sugar
½ cup chocolate chips
½ cup dried cranberries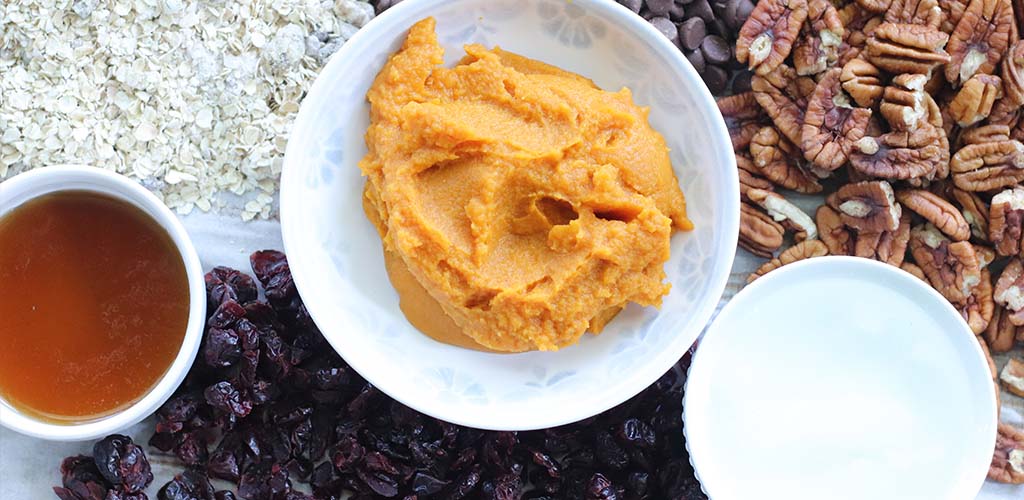 What You Will Do
Preheat the oven to 350 degrees.
Line a rimmed baking sheet with parchment paper.
Mix all ingredients except the chocolate chips in a large bowl.
Spread mixture onto the prepared baking sheet.
Bake in the center of the oven for 40-50 minutes or until oats are golden brown and crisp.
Allow the granola to cool for about 5 minutes.
Sprinkle the chocolate chips over the granola while it continues to cool. The chocolate chips will melt a bit, which my kids love!
Once granola is completely cool you may serve.
Transfer to an airtight container for storing.
Recipe Tips:
I like to store my granola in a glass airtight mason jar in the refrigerator. This will allow the granola to last for up to 2 weeks.
Optionally, you can serve it over vanilla yogurt for a tasty blend of flavors. (As pictured above)
Now the last thing you have to do, as my daughter would say, is "Eat, Eat."
You may also like:
Creamy Pumpkin Pasta