5 Minute Appetizer: Prosciutto, Parmesan, and Honeydew

I think you may have picked up on it, I love Prosciutto, especially as an appetizer. It's easy and pairs with almost anything. The most famous appetizer dish that uses prosciutto is "Prosciutto and Melon" (cantaloupe) to be exact.
One problem though. After trying this and loving the flavor, I rediscovered why I had to avoid it for so long as a child: I have a severe food allergy to Cantaloupe. The combination of the sweet melon with the salty prosciutto, however, was a perfect combination that I just had to recreate somehow.
I changed up the traditional recipe to include honeydew melon, prosciutto, parmesan and fresh herbs and I have to say I don't miss the traditional recipe in the least.
This recipe only takes 5 minutes from start to finish, so there is no stress in the preparation and makes for a beautiful dish as either an appetizer or main meal.
5 Minute Appetizer: Prosciutto, Parmesan, and Honeydew
Prep time: 5 minutes
Cook time: 0 minutes
Total time: 5 minutes
What You Need
1 tablespoon Agave
1 tablespoon olive oil
3 tablespoons freshly torn mint, divided
2 tablespoons freshly torn thyme
1 honeydew melon sliced into wedges and peeled
8 thin slices prosciutto
¼ cup parmesan, freshly shaved
Kosher sea salt and freshly ground black pepper, to taste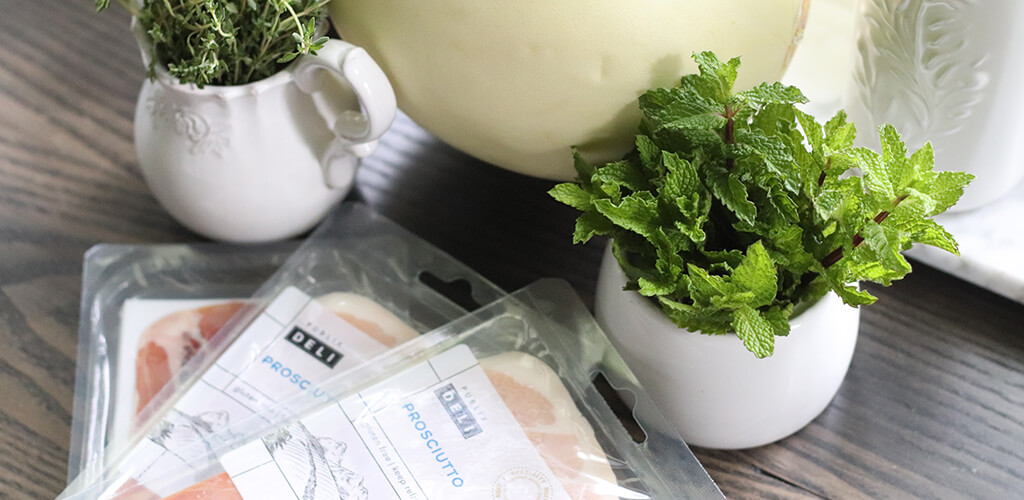 What You Will Do
Cut the honeydew melon in half and scoop out the seeds in the center.
Slice the melon into wedges and using a paring knife remove the rind.
Place the melon onto the serving platter.
Drape the prosciutto over the melon.
Shave the parmesan cheese over the melon and prosciutto.
Tear the fresh mint and thyme and place on top of the melon, prosciutto and parmesan.
Over the top of the dish, drizzle with the agave followed by the extra virgin olive oil.
Lastly season with fresh kosher sea salt and freshly cracked black pepper to taste.
Serve immediately.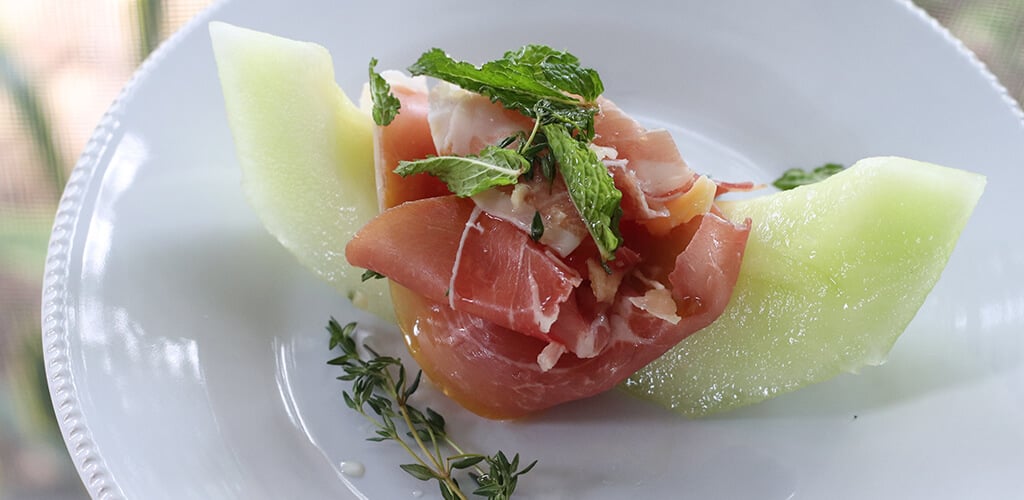 Recipe Tips:
This will stay in an airtight container in the refrigerator, for 2 days.
Now the last thing you have to do as my daughter would say is Eat, Eat.
You may also like
Agave and Herbs de Provence Baked Feta