Agave and Herbs de Provence Baked Feta

I apologize, but I feel so silly even calling this a recipe. This happened as a test that just turned out perfect. I was hosting a small event for my family and I totally forgot to buy cheese for my charcuterie board.
In a panic, I found the Feta in my refrigerator and agave as well. I knew I could make something from this and it worked out perfectly. The agave balances out the salty and tart bite from the feta and baking it makes this the perfect gooey dip.
This appetizer is so simple its only 4 ingredients and its perfect. Bonus, this recipe is perfect for anyone sensitive to dairy from cows' milk and Feta is made from sheep and goat's milk.
I am so excited about the ease and the WOW factor of this dish, and I think you will agree when you cook this!
Agave and Herbs de Provence Baked Feta
Prep time: 3 minutes
Cook time: 15 minutes
Total time: 18 minutes
What You Need
1 slab, Greek feta Cheese, this comes out to about 10 ounces
3 tablespoons light amber agave
2 tablespoons extra virgin olive oil
1 tablespoon Herbs de Provence
Crackers or any crusty bread of your choosing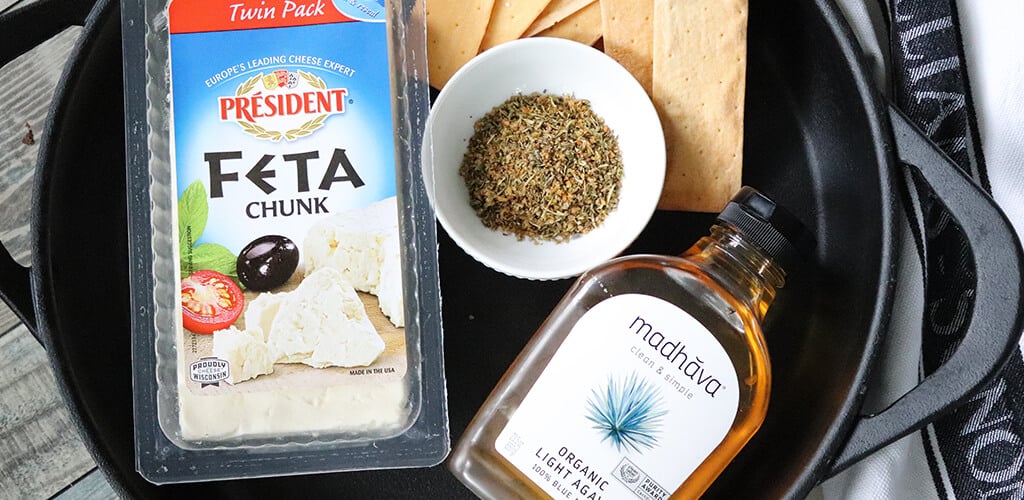 What You Will Do
Preheat the oven to 400° F.
In a cast iron skillet place in the olive oil to coat the bottom of the skillet.
Place the large slab of Feta Cheese on top of the olive oil in the skillet.
Top the feta with the Herbs de Provence first and then pour the 3 tablespoons of agave over the top of the Feta and the herbs.
Place the skillet in the oven, uncovered, on the middle rack and bake for 8-10 minutes until the agave and cheese in the bottom of the skillet start to bubble.
Remove from the oven with a towel or oven mitts and serve immediately in the cast iron skillet, with crackers or any bread of your choosing.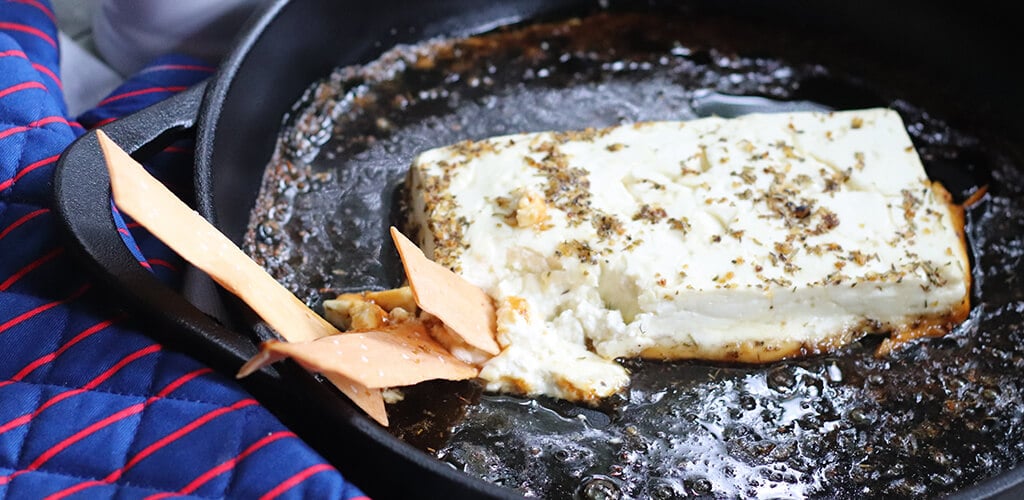 Recipe Tips:
If you want the cheese to have a golden-brown texture on the top, after the cheese is done baking for the 8-10 minutes, change the oven from bake to broil on high and broil for 2 minutes more. Remove immediately and serve.

Caution:

Do not touch the hot skillet without a towel or oven mitts. Or you may remove the cheese from the cast iron skillet and place onto a serving dish.
Now the last thing you have to do as my daughter would say is Eat, Eat.
You may also like
Watermelon, Peach & Feta Summer Salad