Kate's Story: Prioritizing Family and Fitness

After having three kids in two years, Kate Glazer had put on more weight than she realized. When her youngest child was six months old, the Baltimore resident saw a photo from a recent holiday gathering and barely recognized herself among the group.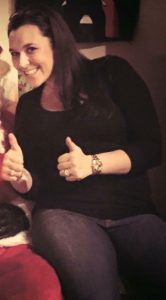 "If I hadn't known what I wore that day and that it was me — I wouldn't have even recognized myself," Kate says. "That was the day I decided that I had to make some changes."
Kate started by making a simple effort to regularly walk around her neighborhood and watch what she ate. As winter approached, the cold Maryland weather and lack of sunlight forced her to stay indoors. Determined to keep up her progress, Kate and her husband decided to purchase a BowFlex Max Trainer® M5. After incorporating the machine into her workout routine, Kate started to see increased results.
"I was losing weight before, but once I started working out on the BowFlex Max Trainer, it started coming off a lot quicker," she says. "I see more results in just a few minutes on my BowFlex machine than I saw after spending an hour at the gym — and I don't even have to leave my house."

Kate's determination to set a good example for her kids and feel better about herself helped drive her weight loss. Today, she's lost 60 pounds throughout the course of her fitness journey.
"When you can get yourself back to a new normal that you can accept and you can look in the mirror and be proud of yourself — that is what feeling good and fitness are all about," she explains.
Kate says her biggest challenge is finding the time to work out. Being a mom means she has to get creative to ensure she carves out time for her workouts.
"Sometimes I don't get on my Max Trainer until midnight, but I know the workout is only 14 minutes," Kate says. "Anyone can do anything for 14 minutes."
Kate's advice for anyone just starting out is to set realistic goals. She suggests starting with one small change at a time and be patient.
"Don't change everything at once. Start with one thing and once you master that, you can add another," Kate recommends. "Every time you hit your goals, you will feel better and more accomplished."
You may also like