Thanksgiving Side Dish: Lemon, Agave, and Ginger Roasted Carrots

My son thinks he loves carrots. Well, until I buy them at his request and try to serve them to him. In reality, he does like them as long as I cook them like this. It has taken me a while to test this recipe out until it was perfect. The balance of the ginger, lemon, and agave somehow gives the carrots almost a sweet potato flavor. The walnuts add a delightful crunch and bite to the dish. I think you will love this recipe just as much as my son does. And it deserves a chance to be featured on your Thanksgiving table.
Lemon, Agave, and Ginger Roasted Carrots
Prep time: 3 minutes
Cook time: 10 minutes
Total time: 13 minutes
What You Need
1-pound of carrots, any kind you like
2 tablespoons lemon juice
2 tablespoons agave
1 teaspoon ground ginger or ginger paste
1 tablespoon extra-virgin olive oil
¼ cup chopped walnuts
Thyme for garnishing, to your liking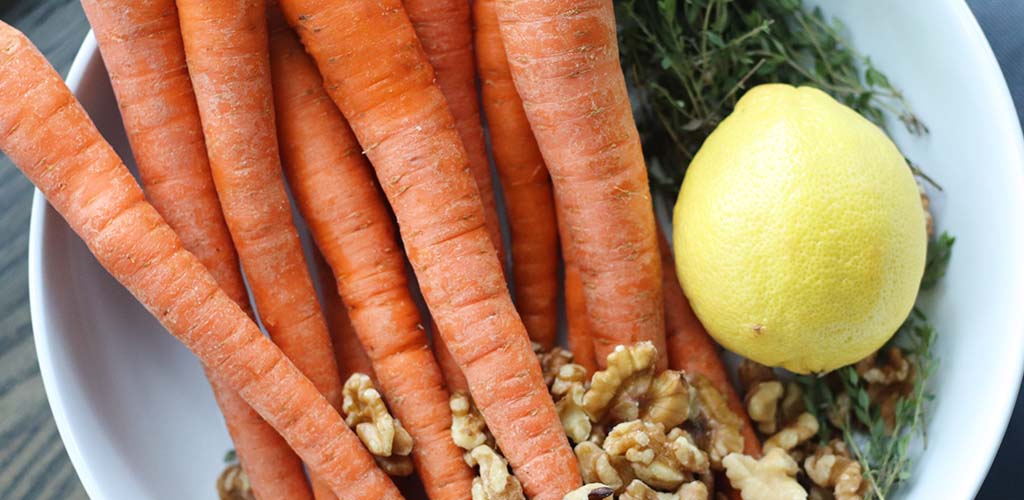 What You Will Do
Bring a large pot of water to a rolling boil.
Clean and cut the carrots in half and place into the boiling water.
Boil the carrots for 5-7 minutes until soft, you will know this by piercing a carrot with a fork.
Once they are soft, then strain.
Bring a large pan up to medium-high heat.
Place in the 1 tablespoon of extra virgin olive oil, ginger, and agave and warm. This will only take 1 minute.
Add in the walnuts and carrots and toss to coat.
Drizzle the lemon juice over the top of the carrots in the pan and toss to coat.
Place into a large serving bowl and garnish with thyme and lemon zest to your liking.
Serve immediately.
Recipe Tips:
If you choose to use baby carrots do not cut in half, they will get mushy extremely fast while boiling.
This will stay in an airtight container in the refrigerator for up to 5 days.
Now the last thing you have to do, as my daughter would say is, "Eat, Eat."
You may also like:
Parmesan Roasted Cauliflower