White Bean and Avocado Summer Salad Recipe

Buttery, ripe avocado, and creamy cannellini beans are a natural combination in this easy summer salad, and a quick oil and lemon dressing adds a kick to brighten the flavors.
This salad is a great option for vegetarians and vegans as it is meaty (but without actually using meat) and filling. Better yet, each serving of cannellini beans offers 6 grams of protein.
I call this my "Johnny Eat Beans" salad. Think of the band "Jimmy Eat World" when I say that, as I do, and I get a bit of a chuckle each time as I think I am killing it at this witty mom thing.
"It just takes some time,
To cut up the avocado,
Before we dine,

Everything,
Everything will be just fine,
Everything,
Everything will be alright…"
Moving on, here are a couple of tips before getting started:
First, less is more for this salad. Don't overdo it with the garlic or lemon.
Second, when working with ripe avocados, skip the standard way of scooping the flesh out of the skin. Instead, achieve beautiful edges (and therefore beautiful plating) by quartering the avocado lengthwise, then gently peeling back the skin to remove the flesh. Next you will want to cube the avocado slices into bite size sections.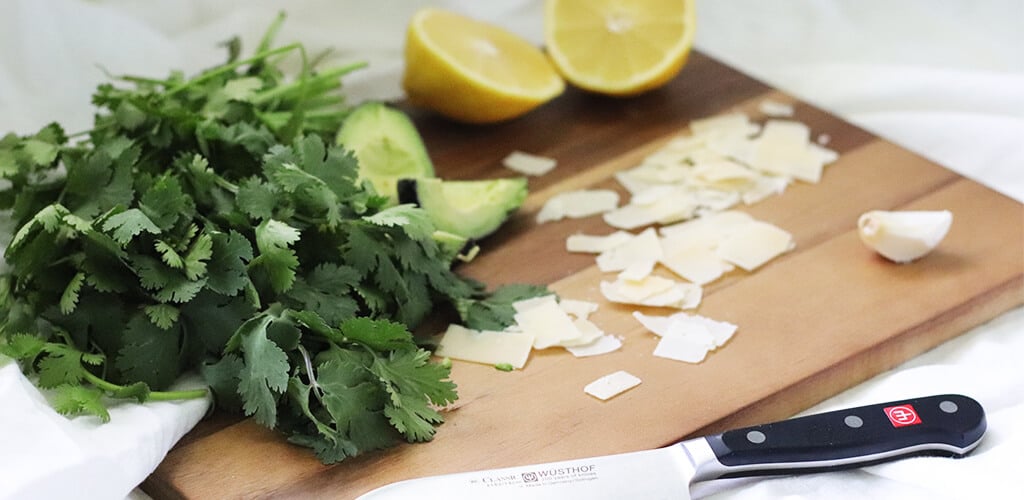 White Bean and Avocado Summer Salad
Prep time: 15 minutes
Total time: 15 minutes
Servings: 4
What You Need
1/4 cup grapeseed or canola oil (a lighter oil here is necessary as you don't want to overpower the other flavors in this dish)
1 large garlic clove minced finely
2 ripe Hass avocados
2 (15-ounce) cans cannellini beans (white kidney beans) drained and rinsed
1/4 a cup cilantro roughly chopped
1 lemon, zested (if you like) and juiced (about 1/4 cup)
Salt and black pepper to taste
Pinch of paprika (this is optional as it doesn't necessarily change the flavor but I do love the color it adds)
Freshly shaved Parmesan to taste, or your cheese alternative of choice if you are vegan
What You Will Do
In a small bowl whisk together your garlic, lemon juice and oil – this will be your dressing. Place to the side.
Halve the avocados lengthwise, pit them, then slice each half lengthwise into two pieces. Peel the avocados, then cut into bite-size pieces. Transfer to a medium bowl.
Add the beans, cilantro, and dressing to the avocados. Gently toss to coat, then season with salt and pepper to taste.
Divide among 4 shallow bowls or plates. Garnish with lemon zest and a sprinkle of paprika, if desired.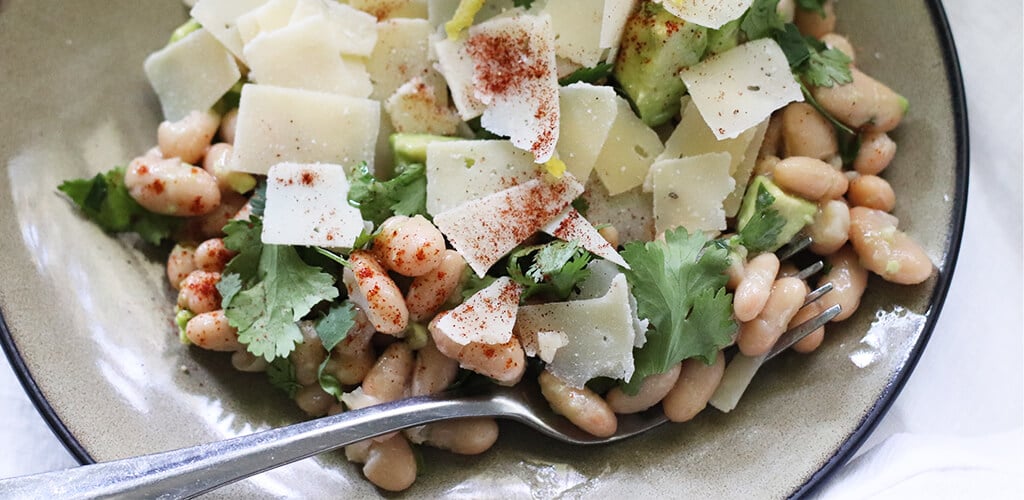 Last thing you have to do as my daughter would say is to "Eat, Eat".
You may also like
The Caprese Salad