Healthy and Delicious Almond Flour and Gluten-free Recipes: Appetizers

These days, there are so many alternatives for baking and cooking for those diagnosed with Celiac Disease or gluten intolerance. One common substitute is almond flour, so we decided to reach out to our friends at the Almond Board of California for some delicious recipes to share with our readers.
In this three part series, we'll share some of our favorite appetizers, entrees and desserts. In part one, we'll share two recipes for appetizers: a sweet potato almond chipotle soup and rosemary crackers.
"Almond flour is a highly versatile and nutritious alternative for those living a gluten-free lifestyle. It not only provides flavor and texture to baked goods, but it can also be used as a binder and a coating for fish or poultry—few all-natural products offer the same variety of uses." – Molly Spence, North America Regional Director, Almond Board of California.
TIP: If you can't find almond flour in your local supermarket, you can make your own by tossing almonds in the food processor.
APPETIZERS
Sweet Potato Almond Chipotle Soup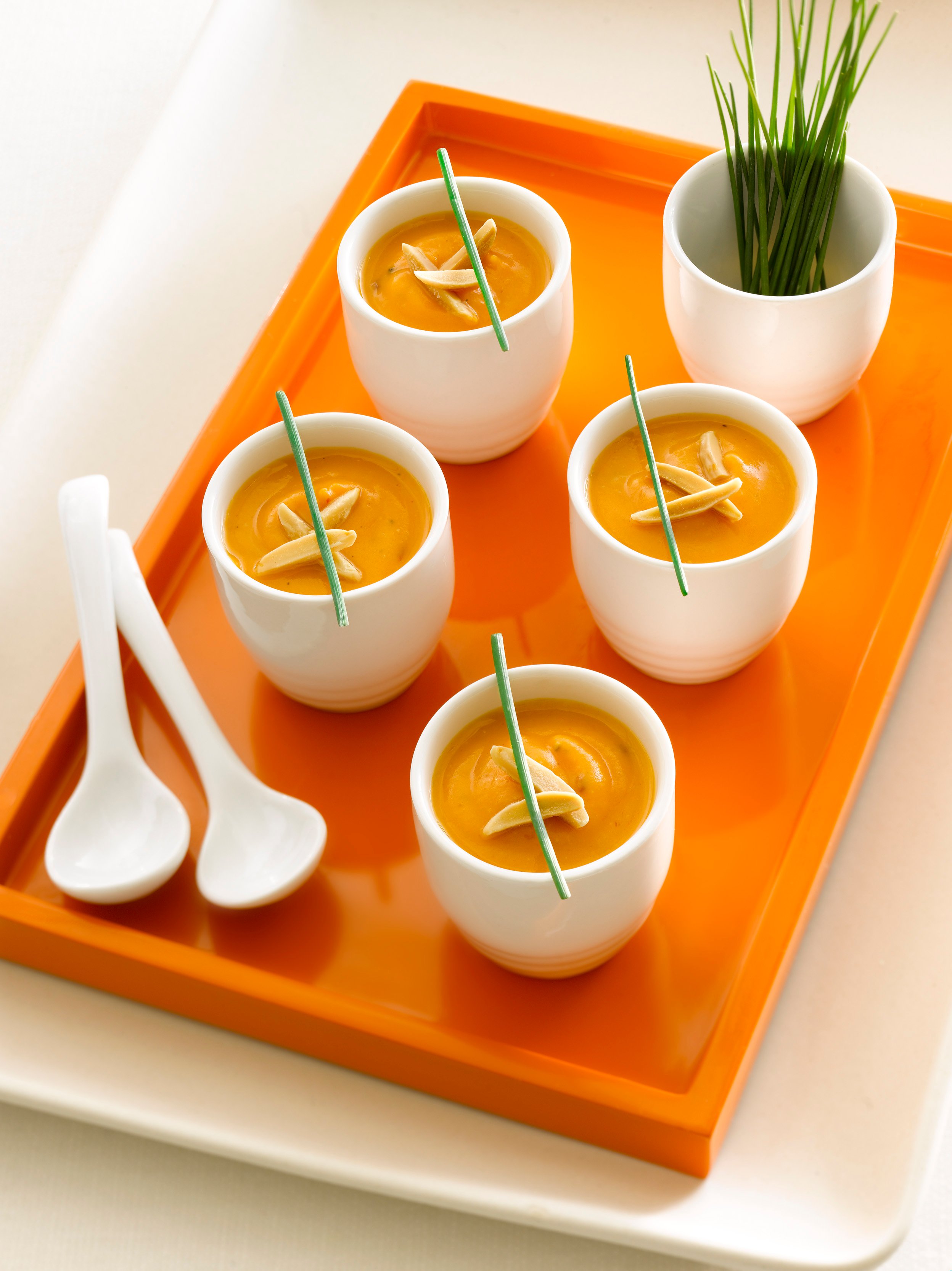 Servings: 8-10 cups
Ingredients
4-5 large sweet potatoes (>3 lb, 1.3 g)
3 tbsp (45 mL) canola oil or butter
2 medium cooking onions, diced
1/2 cup (250 mL) white wine
1 chipotle pepper in adobo sauce, finely minced, adobo sauce reserved
6 tbsp (90 mL) ground almonds
6-8 cups (1.4-1.8 L) vegetable or chicken stock (or water)
¼ cup (60 mL) maple syrup (or honey) or to taste
Slivered almonds, roasted for garnish
Preparation
Preheat oven to 375°F (190°C). Line baking sheet with foil. Place whole sweet potatoes on baking sheet. Bake until soft when pierced with a knife (over 1 hour). Let cool. Peel and discard skin and rough chop.
Heat oil or butter over medium heat in large heavy soup pot. Cook onions 7 minutes, stirring often or until translucent.
Add white wine. When liquid has evaporated, add chipotle and cook 2-3 minutes.
Add ground almonds. Stir. Add sweet potatoes and stir. Add enough cold stock to cover.
Turn heat up to medium-high. Once boiling, reduce, simmer, and cover for 15 minutes or until soft.
Remove from heat. Using a hand blender, puree soup until smooth. Stir in maple syrup to taste and season with salt and pepper. Garnish with roasted slivered almonds.
Rosemary Crackers
These delicious almond flour based crackers are perfect paired with olive tapenade or any soft spreadable cheese for a cocktail party. For a simple snack, eat with cheddar or jack cheese.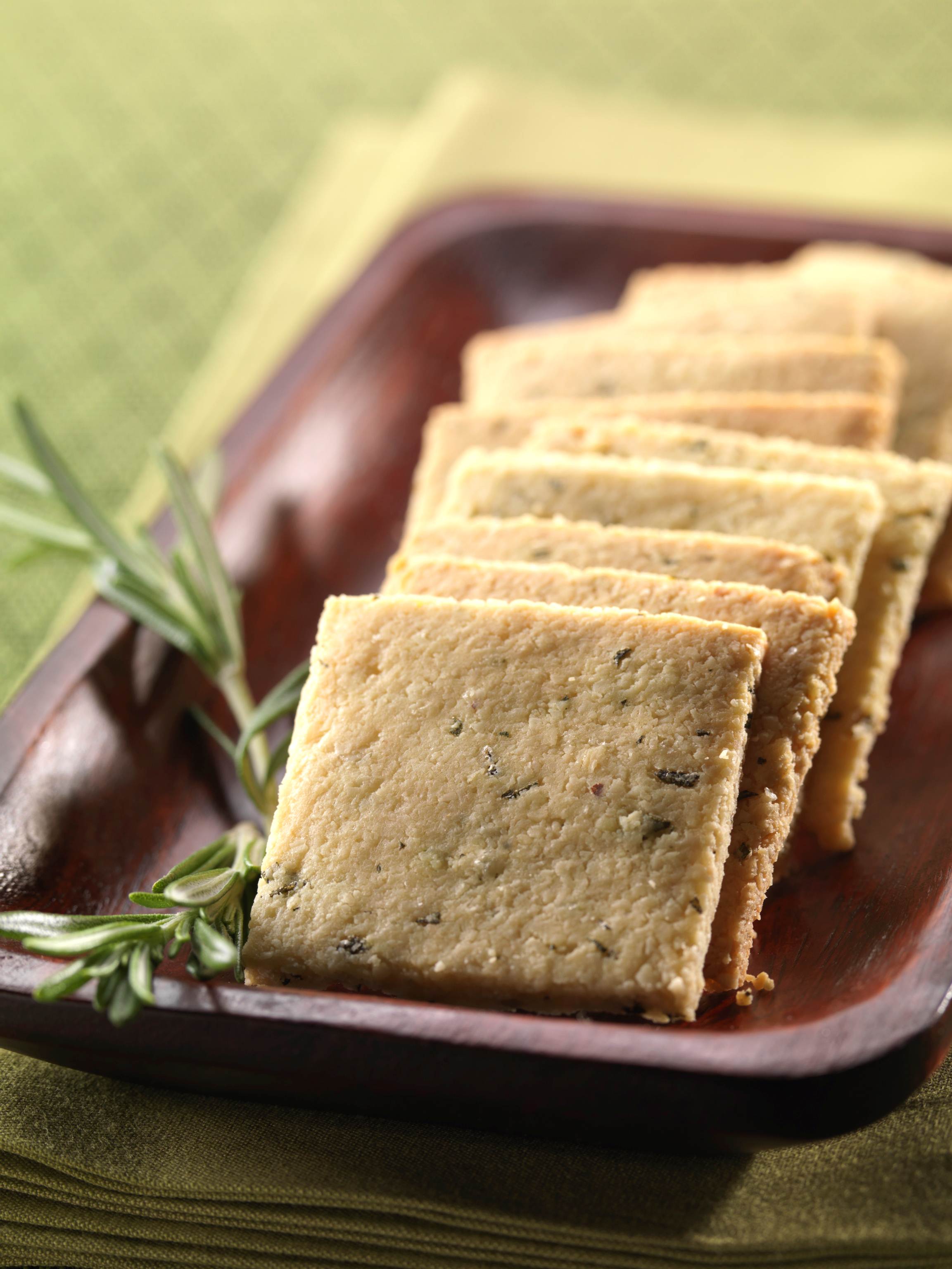 Servings: 24 crackers
Ingredients
1 3/4 cups blanched almond flour
1/2 tsp. sea salt
2 tbsp. finely chopped fresh rosemary
1 tbsp. extra-virgin olive oil
1 egg
Preparation
In a large bowl, combine almond flour, salt and rosemary. In a medium bowl, whisk together olive oil and egg. Stir wet ingredients into almond flour mixture until thoroughly combined. Roll the dough into a ball and press between 2 sheets of parchment paper to 1/8 inch thickness. Remove top piece of parchment paper. Transfer the bottom piece with rolled out dough onto baking sheet. Cut dough into 2-inch squares with a knife or pizza cutter. Bake at 350 for 12-15 minutes, until lightly golden. Let crackers cool on baking sheet for 30 minutes, then serve.
---