The Best Home Gyms From BowFlex: Home Gyms for All Fitness Levels

In 1986, BowFlex set the industry standard for at-home fitness by introducing their home gym equipment during a time when fitness results were only achievable at public gyms. Consumers were drawn to the convenience and privacy of working out at home. There was no judgment – it was just them and their fitness equipment. From there, BowFlex became recognized as the go-to exercise equipment through its television infomercials.
To this day, BowFlex is known for its home gym equipment.
Unique Ways to Build Muscle
Unlike traditional machines, all BowFlex home gyms utilize advanced resistance technology that doesn't rely on gravity. As a result, Power Rod and SpiraFlex gyms eliminate inertia – making it impossible to 'cheat' your way through an exercise, while also reducing strain on the joints and tendons. The combination of these factors make them great options for all fitness levels. For efficiency, safety and results, it's hard to find a free weight system or weight stack machine that can match the BowFlex Home Gyms.
The two BowFlex home gym models, the BowFlex Revolution and the BowFlex Xtreme 2 SE, use either the traditional Power Rod technology or the newer SpiraFlex technology.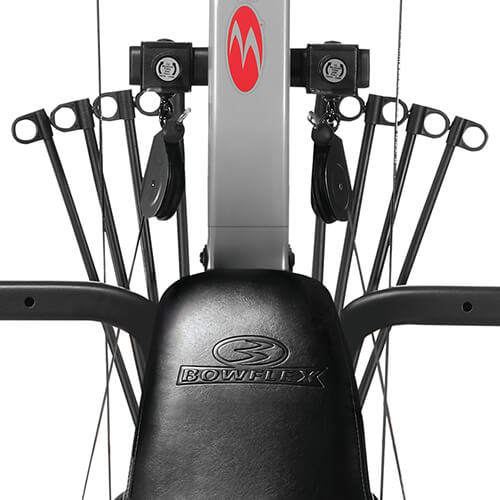 Power Rod technology
Power Rod Technology uses a pulley/cable system, with resistance coming from long, flexible "rods" that extend up from the rear of the BowFlex machine and serves two important purposes. First, it creates less resistance at the start of every exercise to reduce strain on your joints. Second, it gradually increases the resistance throughout each exercise to maximize results.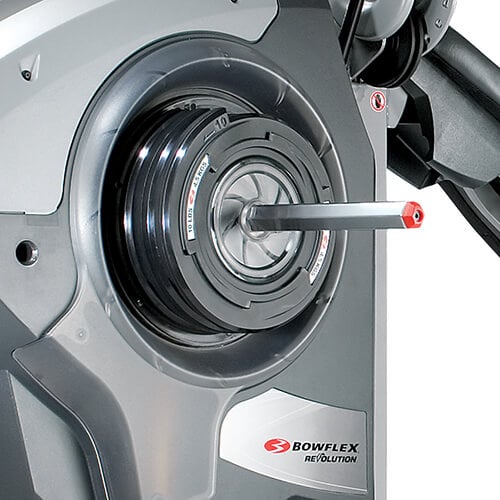 SpiraFlex Technology
In 2006, BowFlex released its "next-generation" source of resistance, SpiraFlex technology. This system, originally designed for use in zero gravity, offers linear resistance that closely recreates the feel of a weight stack in a gym. Resistance begins from circular "cams" that coil against the applied muscular force. As you do your reps, the resistance remains the same from beginning to end. Combined with the Revolution Home Gym's Freedom Arms, it's optimal for both traditional strength training and functional training exercises – delivering an exceptional full-body workout.
SpiraFlex technology is offered in the BowFlex Revolution home gym and allows you to do more than 100 different exercises. And with the Power Rod technology on the Xtreme home gym you can do many different upper and lower body exercises, ranging from 70-plus with the Xtreme, to more than 100 with the Revolution.
Resistance training using a BowFlex home gym can help you build stronger muscles and a leaner body, increase your metabolism and energy, reduce joint pain and reduce blood pressure. Here a few reasons to look into either the BowFlex Revolution or BowFlex Xtreme 2 SE home gyms.
BowFlex Revolution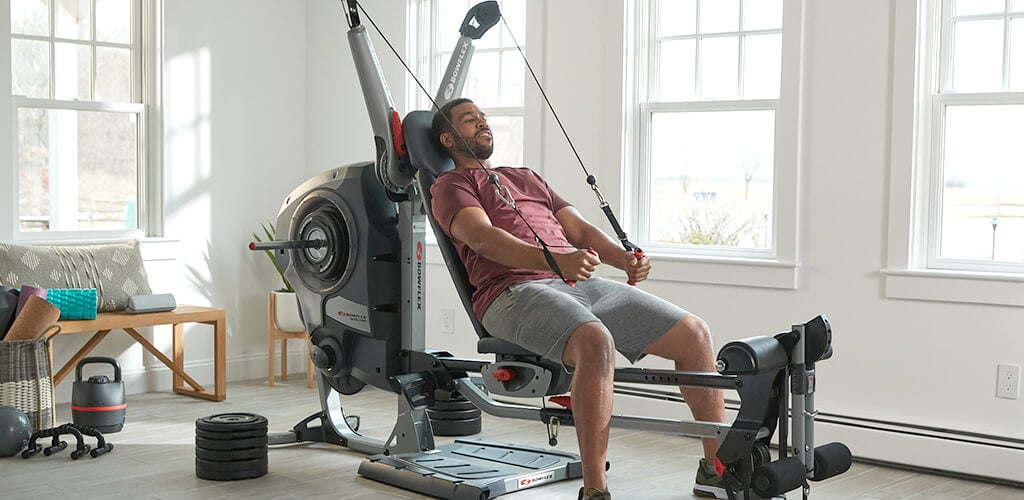 The BowFlex Revolution allows for over 100 exercises with up to 400 variations. It's designed to work every major body zone, and support every workout routine, strength level and fitness goal, and comes with:
Standard 220 lbs of SpiraFlex resistance (upgradable to 300 lbs)
Easy to store and use with a workout area dimension of 10" L x 7" W x 6' 1" H (305 x 214 x 185 cm) and a folded footprint of 4' 7" L x 3' 2" W (140 x 97 cm)
Independently moving Freedom Arms system, capable of aerobic rowing
Incline bench press, allowing you to work the pectoralis major, deltoid and tricep muscles
BowFlex Xtreme 2 SE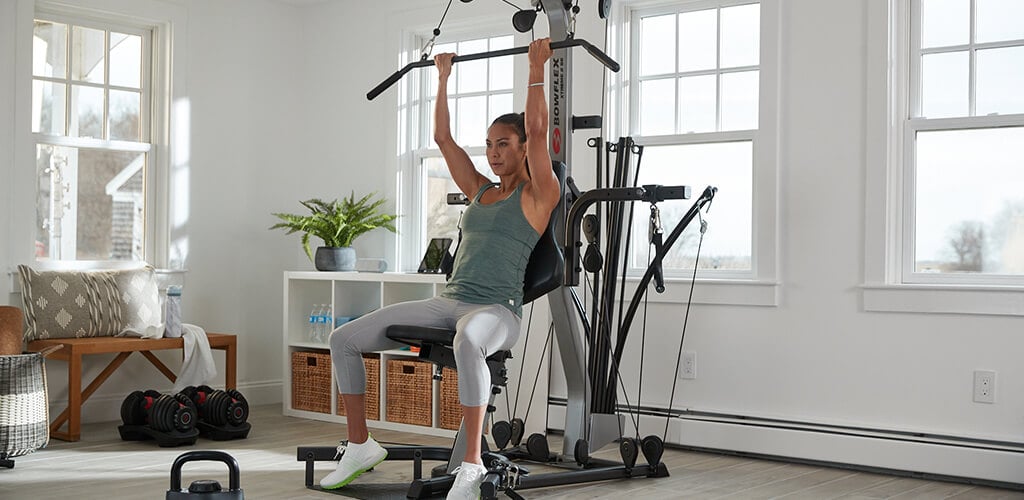 The BowFlex Xtreme 2 SE offers exceptional resistance and quality – with the versatility to perform over 70 different exercises. And with its innovative, easy-to-use multiple pulley system, you're able to maximize every exercise for every muscle group. The Xtreme features:
Standard 210 lbs of Power Rod resistance (upgradable to 310 lbs or 410 lbs)
Easy to store and use with a workout area dimension of 4' 5" L x 4' 1" W x 6' 11.25" H (135 x 124 x 211 cm)
A lat tower with angled lat bar and an innovative no-change cable pulley system – ideal for saving time and optimizing your shoulder muscle workouts (rear deltoids, rear portion of middle deltoids)
An optional gym style ab attachment that targets your ab and core muscles
For more product information and a guide to full-body exercises, check out the BowFlex YouTube channel library. For an in-depth understanding of product and workout offerings look into the BowFlex Revolution owner's manual and BowFlex Xtreme 2 SE's owner's manual.
It's proven that strength training with any type of resistance will improve and maintain muscle strength and size. The American College of Sports Medicine (ACSM) recommends at least 2-3 days per week of total-body resistance exercise for most people who want to increase or maintain muscular fitness.
However, to achieve the best results from exercise requires more than a machine – it requires the desire to grow both mentally and physically. By taking accountability for your health, setting realistic goals and, of course, eating a healthy diet and staying positive, even stronger results can be achieved in the long run.
Other Home Exercise Equipment to Round Out Your Workouts
BowFlex remains a top choice in home fitness equipment, because of its longstanding reputation for quality, innovation and dependability. By expanding beyond the home gym to include innovative cardio and strength products, BowFlex has a product for every type of health and wellness journey.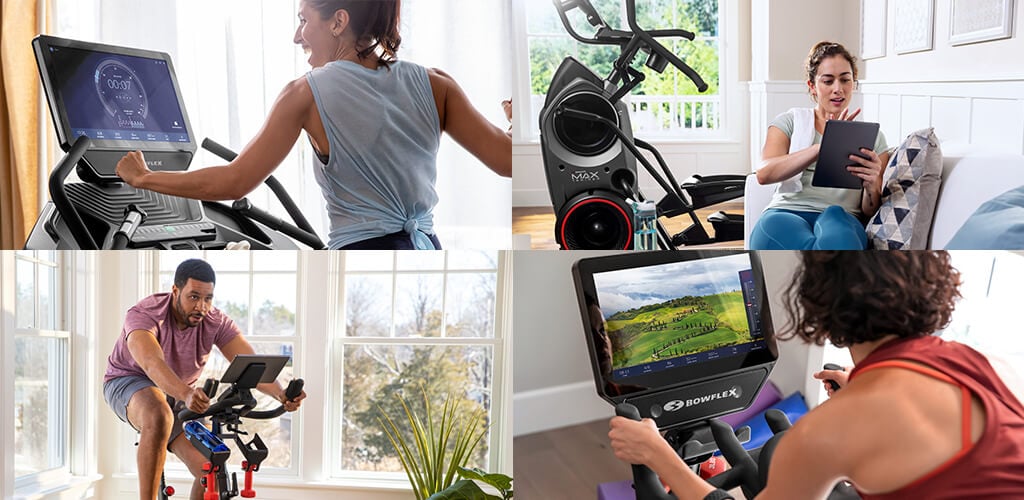 For example, the BowFlex Treadmill 22 offers an HD touch screen, the JRNY digital fitness platform, an immersive console, Bluetooth connectivity, and a -5% to 20% motorized decline/incline.
BowFlex's range of indoor cycling bikes includes the BowFlex VeloCore bike, which is engineered with a leaning mode that lets you sway, lean, and rock from side-to-side for a more engaging and realistic riding experience. Alternatively, for a more traditional ride, the BowFlex C6 bike seamlessly allows you to connect to the cycling app of your choosing by bringing your own device.
The one-of-a-kind BowFlex Max Trainer cardio machine is a blend between a stair stepper and elliptical and provides the ultimate total-body workout experience in a compact footprint. Available in two models – the M9 and M6 – both offer high performance with a low impact, and 15 resistance levels.
Lastly, the JRNY digital fitness platform delivers a variety of features, all on an easy to navigate interface. JRNY will assess your fitness level and recommend personalized workouts based on your abilities, available time, mood, and the workout experiences you like best. It even keeps track of your achievements and personal bests. Take on-demand classes from trainers that inspire you or stream Netflix and Amazon Prime Video during your workouts and keep in touch with your workout through the real-time metrics on screen. With JRNY, you can even run or cycle in over 50 HD destinations from all over the world, all at your own speed. No matter what you choose, or how you use it, the JRNY digital fitness platform keeps you on track for long-term success in health and fitness.
For more tips, advice or motivation join the growing BowFlex Community on Facebook.
You may also like
Connected Fitness: Meet our Newest Cardio Products