Easy Ratatouille Pasta

I feel like this recipe could be an example of, "tell me you are a parent without telling me you are a parent." Long story short, every time I watch my children's favorite movie Ratatouille, I am dying to cook this famous dish. As I am making this meal for my family, I love to add pasta to bulk up the meal and with the addition of the pasta, this makes an amazing Meatless Monday meal option – you won't miss meat at all.
You can use any pasta you like; I choose to use cavatappi as my kids love the fun shape and I find it absorbs the sauce of the ratatouille extremely well. This dish is so easy to make, you will have dinner on the table in 30 minutes, and it makes even better leftovers. You can even serve this cold the next day as a pasta salad.
Ratatouille Pasta
Prep time: 10 minutes
Cook time: 20 minutes
Total time: 30 minutes
What You Need
1 large or 2 small eggplants, cubed
Kosher salt and pepper, to taste
2 bell peppers, chopped, I used red and orange
1 large zucchini, cubed
1 yellow squash, cubed
2 medium shallots, chopped finely
1 pint cherry tomatoes
2 large garlic cloves, minced finely
2 lemons, juiced
¼ cup chicken broth or vegetable broth
¼ cup shaved parmesan, for topping
¾ cup extra-virgin olive oil, divided
⅓ cup capers
1 lb. cavatappi
1½ cups basil leaves, torn if large, plus more for serving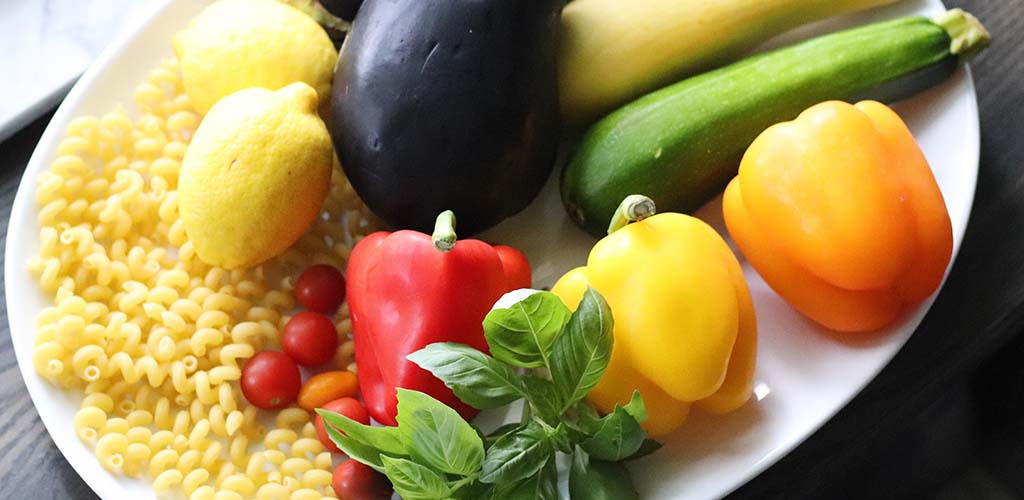 What You Will Do
Cut the eggplant into cubes, any size you like. The smaller the better. Place in a bowl lined with a paper towel to absorb any excess moisture and sprinkle with ¼ of a tablespoon of salt. Place the bowl to the side.
Cut up the bell peppers, zucchini, and squash into small cubes. Place in a bowl to the side.
Peel and chop 2 medium shallots and the garlic cloves, make sure to dice finely and transfer to a small bowl.
Slice and juice the 2 lemons into a small mixing bowl and place to the side.
Bring a large sauté pan to medium high heat.
Pour in 2 tablespoons of extra-virgin olive oil and warm.
Once the olive oil is warm, place in the garlic and shallots and sauté until fragrant. This will take only 2 minutes.
Next place in the eggplant. Cook for 5 minutes to soften through.
Next pour in the peppers, squash, and zucchini and warm through for 3 minutes.
Lastly pour in the capers (strained), the tomatoes, and ¼ cup chicken or vegetable broth.
Bring a pot of heavily salted (at least 2 tablespoons) water to a boil. Add in the cavatappi and cook until al dente. This takes about 7 minutes.
Strain the cavatappi and add into the large sauté skillet with all of the vegetables and toss to combine.
Pour the lemon juice over the entire meal and toss again.
Remove from heat and allow to cool for 5 minutes.
Divide the pasta into your serving bowls and top with freshly shaved parmesan, and torn basil and more capers if you like, I always do.
Enjoy!
Recipe Tips:
This will stay in the refrigerator for up to 4 days in an airtight container.
As I said above, serve leftovers warm or cold.
Now the last thing you have to do, as my daughter would say is, "Eat, Eat."
You may also like:
Creamy Pumpkin Pasta