Cranberry Pear Crisp Recipe

A perfect blend of natural sweetness from pear with tart cranberries for a delightful dessert, festive yet not overly heavy. With a touch of crunchy oat topping, this simple crisp is sure to be a crowd-pleaser.
Cranberry Pear Crisp Recipe
Prep time: 15 minutes
Cook time: 35 minutes
Total time: 50 minutes
Servings: 8
Nutrition per serving:
Calories 215Fat 8 gCarbs 34 gProtein 3 g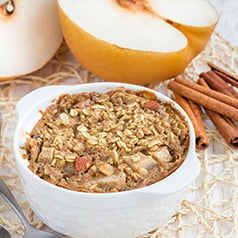 Ingredients
Filling:
2 pears, cored and diced
2 cups fresh cranberries
2 teaspoons cornstarch or arrowroot powder
1/4 cup maple syrup or agave syrup
1 tsp cinnamon
Topping:
1 cup old fashioned rolled oats
1/2 cup almond meal
1/4 cup brown sugar
1 tsp cinnamon
1/2 tsp nutmeg
1/4 tsp salt
2 tbsp. melted butter, coconut oil, or grapeseed oil
Directions:
Preheat oven to 375°. Spray 9-inch pie plate with cooking spray.
Mix all ingredients for filling in a medium bowl. Pour into pie plate.
Mix all ingredients for topping in bowl and sprinkle over filling.
Bake for 35-40 minutes or until topping is slightly browned.
Allow crisp to cool and serve!
Try this recipe next
Guiltless Pumpkin Cheesecake Cupcakes Recipe