Quick and Easy Recipe: Cauliflower and White Bean Soup

Winter seems to be hanging on in most parts of the country. This is awful news for those of us who crave warmer weather like a moth to a flame, but good news for those of us who love to make soup! This is a great last minute dinner or for the occasional cool evening that may pop up through springtime. It warms the soul without being too heavy.
If you don't have an immersion blender, I would highly recommend adding one to your kitchen repertoire. They make soups a snap and other healthy ideas, like homemade baby food, dips, sauces and dressings, accessible and easy. Give it a try and see how simple cooking can be. Not to mention, they save a ton of time on clean up!
Cauliflower and White Bean Soup
Prep time: 20 minutes
Cook time: 15 minutes
Total time: 35 minutes
Servings: 6
Serving size: 1.5 cup
Nutrition per serving:
Calories 248Fat 11 gCarbs 31 gFiber 7 gProtein 10 g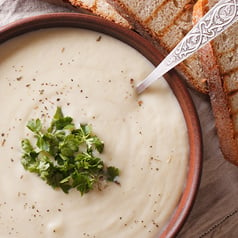 Ingredients
2 tbsp. olive oil
1 tbsp. butter
1 small head cauliflower, chopped
1 small onion
2 cloves garlic
1 can white beans, rinsed and drained
1 quart (4 cups) low sodium veggie broth
1 tbsp. fresh thyme leaves (or 1 tsp dried)
1 tsp. salt
1/2 tsp. pepper
Directions:
In a medium pot over medium heat, warm olive oil and butter until melted.
Add garlic, onions, and cauliflower and toss to coat in oil.
Add broth, beans, thyme, salt, and pepper and bring to a simmer.
Cook for about 15 minutes or until cauliflower is very soft.
When finished turn off heat and puree with an immersion blender or let cool slightly and blend until creamy in a blender.
Add more salt or pepper to taste.
Serve warm and garnished with fresh thyme or lemon zest and drizzle of oil if desired.
You can store leftovers in the fridge for up to a week. I also enjoy this soup at room temperature!
Tip: For a vegan dish, omit the butter or use a vegan butter or nondairy spread.
Try this recipe next