Arugula Flatbread, a Delicious Combination of Salad and Bread

I love pizza. I mean who doesn't. However, I was struggling any time my family wanted pizza if I should order a salad and have a slice of pizza or choose one or the other. With this recipe there is no need to choose. I just put my side salad on top of my flatbread and voila, done!
This is the perfect lunch or dinner. It is salty and tangy, light yet satisfying and everyone will love this dish. You can serve this as a main dish or as an appetizer for a larger gathering. I definitely recommend giving this recipe a try.
Arugula Flatbread "Pizza"
Prep time: 5 minutes
Cook time: 10 minutes
Total time: 15 minutes
What You Need
For The Flatbread Base:
1-2 garlic naan breads
1/4 cup extra virgin olive oil
5 cloves garlic, roughly chopped
2 cups shredded gruyere cheese
1/4 cup shaved parmesan cheese
red pepper flakes and lemon wedges for serving
For The Salad:
2 tablespoons olive oil
2 tablespoons champagne vinegar
1 cloves garlic, minced
1 freshly chopped shallot
kosher salt and freshly cracked black pepper to taste
2 cups baby arugula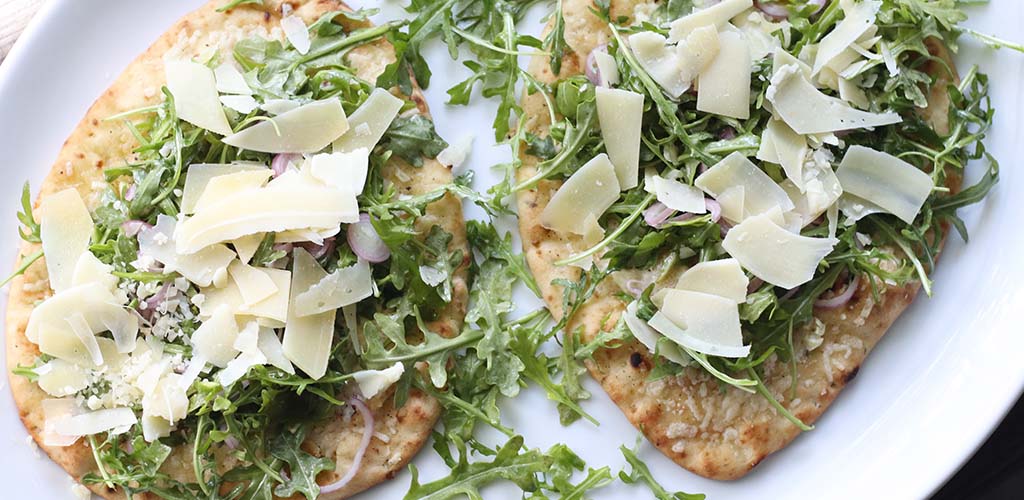 What You Will Do
Preheat your oven to 425 degrees.
Take the naan garlic bread and place onto a baking sheet.
Brush equal parts of the olive oil over the naan bread and sprinkle with equal amounts of garlic, shredded gruyere cheese and parmesan cheese and season with salt and pepper.
Place the baking sheet into the oven and bake until the crust is golden, this will take about 8-10 minutes.
While the naan flatbread is cooking, grab a large salad bowl and combine all your salad ingredients: arugula, chopped shallot, garlic, extra virgin olive oil, champagne vinegar, salt, and pepper. Toss to combine all of the flavors.
Remove the naan bread from the oven. Season with red pepper flakes, and top with the freshly tossed arugula salad.
Top with more parmesan, salt, and pepper, cut into equal slices and serve immediately.
Recipe Tips:
Make sure to use extra virgin olive oil for this entire recipe as this is one of the main ingredients used to flavor this dish.
Now the last thing you have to do, as my daughter would say, is Eat, Eat.
You may also like:
Chicken Fajita Salad