Fit Tip: Embracing Winter Workouts

The end of each year is always a great time for reflection, and this is especially true after the year 2020 has been. One thing I've heard from so many people in my fitness community this year, is that they've discovered how crucial exercise is to our mental health. In addition, they've also found out how important it is to get outside. I couldn't agree more; the simple act of getting outside to exercise is a great way to strengthen your muscles and clear your brain simultaneously. On recent days when my anxiety has been high, or when I needed a break from my "quaranteam," moving my body and getting some fresh air was just what the doctor ordered.
But in this busy holiday season as the weather changes, and the days get shorter, making time for yourself gets harder. We'd rather hit that snooze button and snuggle under the covers, or plop on the couch with a good book or movie at night. Cold temperatures and cloudy days make us feel low energy and tired. But as I always remind my clients, we have to USE energy to GET energy. We think we are "too tired" to work out, but once we start working out, we get that endorphin boost and wake up!
Obviously, there are many great indoor options to get active during the winter months: hopping on your treadmill or Max Trainer, doing a free workout from the BowFlex YouTube channel, or a few sets with your dumbbells or kettlebells. But occasionally finding ways to use the power of the great outdoors can be so beneficial to our well-being as we close out the year, and head into more winter months.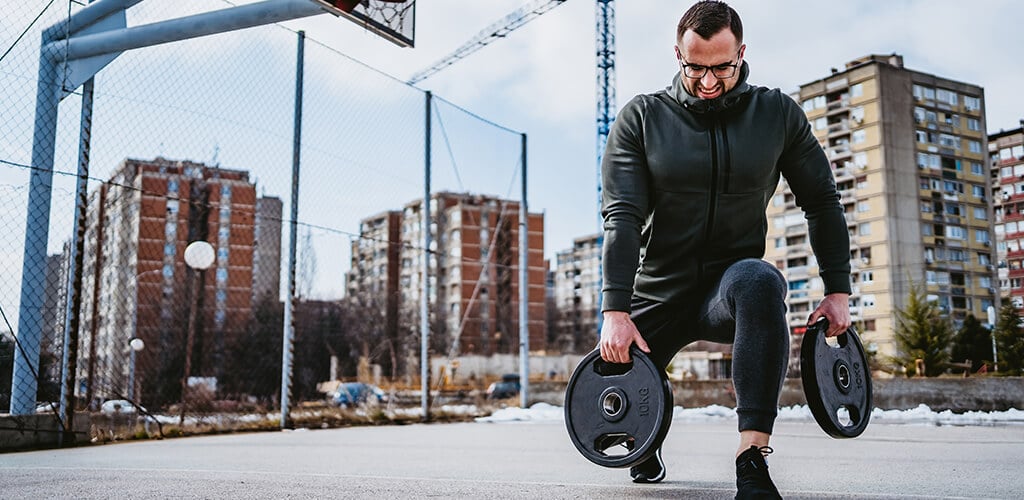 Here are a few ways to embrace your winter outdoor workouts.
Suit up: Dress for the cold to stay warm, but also dress for a workout so you don't end up wet and cold. Layers work best, preferably with moisture wicking fabric to absorb sweat. Wear gloves, especially if you'll be getting down on the ground for pushups or planks.
Switch up your schedule: Darker skies in the early morning and early evening can make typical workout times less desirable or feasible. Take a quick break mid-morning or mid-afternoon, or use your lunchtime to get a brisk walk or jog or climb some outdoor stairs.
Make it short: I'll admit, visualizing a long run or hike or full length workout in the cold is often the biggest road block for me. Remember, something is always better than nothing, and you can still work your entire body for strength and endurance in short bursts. Try a quick circuit like the Backyard Bodyweight Workout Below, and get it all in in just ten minutes!
Remember that sometimes you need to push yourself the first few times to get that new workout routine rolling. But before you know it you'll be feeling stronger and having more energy and looking forward to your next workout of the day. Here's a short outdoor workout to help get you started:
Backyard Bodyweight Workout
Do each for 45 seconds, then repeat!
Walking lunge with twist
Traveling inchworm (optional pushup)
Long jump squat with shuffle back
Plank Press
Speed Skater, Sprint Back
You may also like
Winter Exercises to Keep You Moving Till Spring