3-Ingredient Roasted Cauliflower

I tried roasted cauliflower for the first time recently and Oh. My. Goodness! This method of cooking cauliflower has changed the way I think about this somewhat bland yet versatile cruciferous vegetable. It can be used as a substitute for everything from pizza crust to mashed potatoes to rice. And with just 30-75 calories (depending on how much oil is used for roasting) for 1 cup of cooked cauliflower is a low-calorie, high-fiber tasty option. This will soon be a go-to staple side-dish in my house! Even if you don't normally like cauliflower I encourage you to try this!
3-Ingredient Roasted Cauliflower
Prep time: 10 minutes
Cook time: 40 minutes
Total time: 50 minutes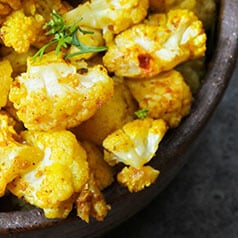 Ingredients
1 head of cauliflower, chopped into small florets
1-2 tbsp avocado oil
Salt and pepper, to taste
Optional: Any seasoning you want (garlic salt or seasoning salt work well)
Directions
Preheat oven to 425 degrees.
Place cauliflower on silicone baking mat on cookie sheet or in a glass baking dish.
Drizzle 1-2 tbsp of avocado, flaxseed, or grapeseed oil over florets.
Sprinkle with seasonings of your choice.
Bake for 35-40 minutes or until tender and lightly browned; flipping florets a few times while baking.
Try this recipe next