Zucchini and Mint Pasta Dinner

This dinner is a true weeknight wonder meal. This is ready in under 30 minutes, it's light yet filling, and the ingredients are relatively inexpensive. This would also fill a "Meatless Monday" meal quota if you are looking for some new recipes. If you are low carb, there are a lot of lower carb pastas, or gluten free pastas that would easily substitute for a traditional white pasta.
My entire family loves this meal, and I think yours will as well.
Prep time: 10 minutes
Cook time: 10 minutes
Total time: 20 minutes
What You Need
1-pound penne or another short pasta
1/4 cup extra virgin olive oil, plus more for drizzling
2 medium zucchini (about 1 pound), sliced thinly in rounds
4 cloves minced garlic
1/2 cup pitted Kalamata olives
2 tablespoons fresh lemon juice
Shaved parmesan cheese
Freshly torn mint leaves, for topping
Freshly torn basil leaves, for topping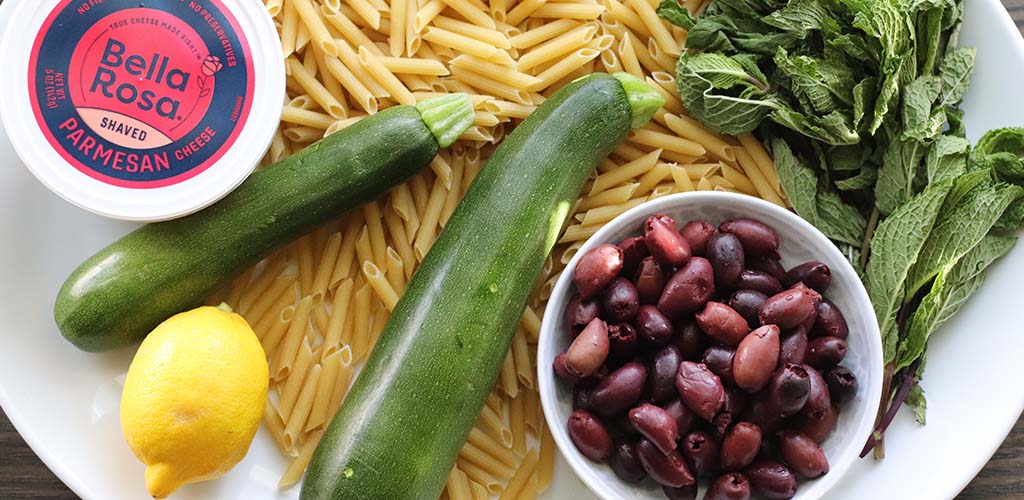 What You Will Do
Bring a large pot of heavily salted (2 tablespoons) water to a rolling boil.
Pour in the penne pasta and cook to your liking. I like my pasta to have a little bite to it, this takes about 7-10 minutes.
Strain and place to the side.
Meanwhile, while the pasta is cooking, heat olive oil in a large skillet over medium-high heat.
Add in the zucchini and season with salt. Cook, stirring occasionally, until tender and golden brown, this will take about 5 minutes.
Add in the garlic and olives. Cook while stirring consistently, until the garlic is fragrant, this will take about 1 minute.
Pour the zucchini and olive mixture over pasta, add lemon juice and extra virgin olive oil, and toss to coat.
Top with freshly shaved parmesan cheese, mint, basil and salt and pepper to taste and serve immediately.
Recipe Tips:
This will stay in the refrigerator for 3 days in an airtight container.
Now the last thing you have to do, as my daughter would say is, "Eat, Eat."
You may also like:
Sautéed Spicy Cucumbers, Mushrooms, and Zucchini