Workout Wherever You Go with the JRNY Digital Fitness Platform

A lot of planning goes into working out: which part of your body will you exercise, how will you exercise it, how long are you going to do that for, and more. On top of that, you have to muster the motivation to make the workout happen and imagination to keep the workouts engaging and new.
How many times have you gone on the same 20-minute run or used the same workout guide from Pinterest? It can be hard to come up with workout routines on your own; which is what leads to repeated exercises simply because you do not have the energy, or time, to research new ones that can push you to the next level. Now's the perfect time to revamp your workout routine so that you're constantly engaged and motivated, without having to worry about all this prep – that's where the JRNY digital fitness platform can help.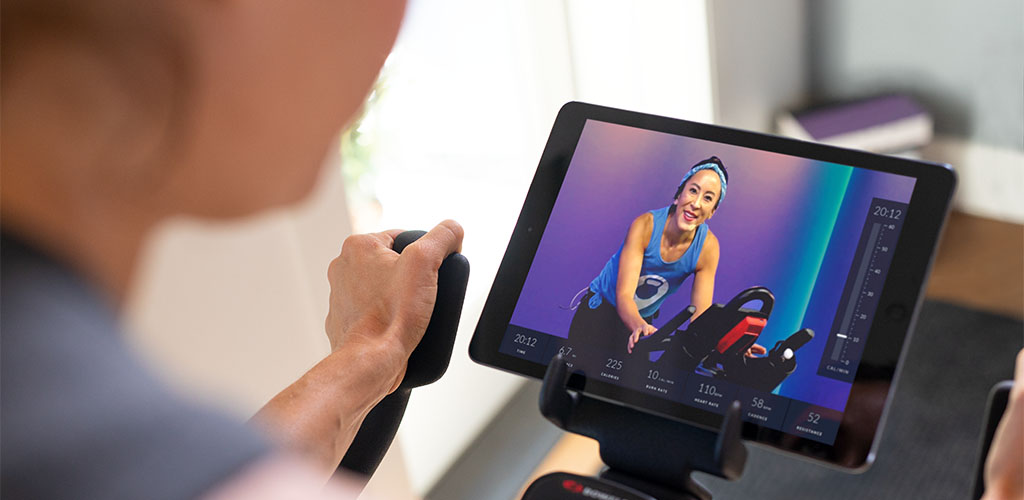 Offering curated, individualized and trainer-led workouts, the JRNY digital fitness platform provides you with a broad range of challenging workouts that target key areas of the body to improve full-body fitness.
No Cardio Equipment, No Problem!
You don't have to be on your BowFlex-connected cardio equipment to reap the benefits and advantages of the JRNY digital fitness platform. JRNY comes with a variety of off-product, whole-body workouts such as Pilates, core, and yoga, as well as strength (using the BowFlex SelectTech dumbbells).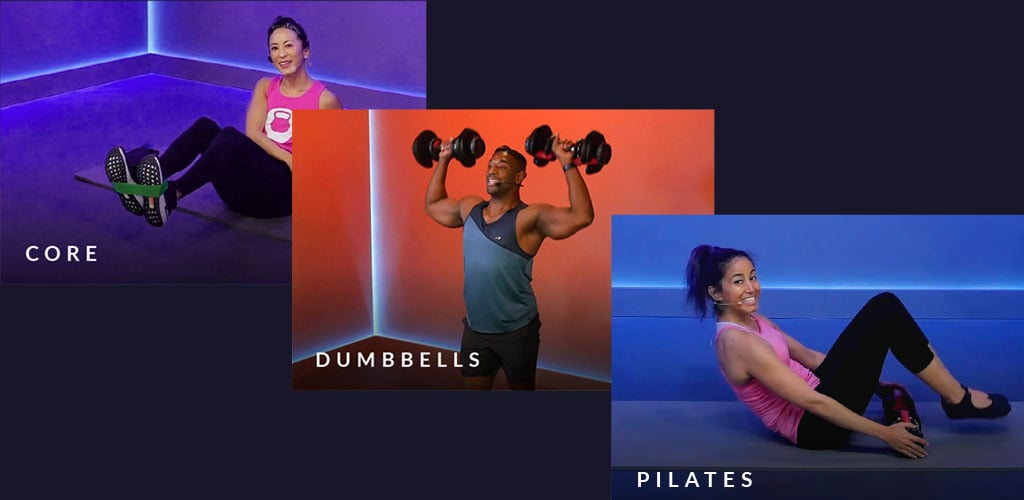 These workouts are accessible wherever you are, whether at home, on vacation or on a business trip (once those are a thing again). Making this flexibility even more adaptable, workouts come in a variety of lengths and intensity levels, so you can easily choose a workout that matches your mood or motivation level at any given moment. They even automatically sync to your JRNY fitness journal, which is available on your BowFlex connected cardio equipment, to give a full view of your fitness profile.
Here are a few of our favorite workouts that can be accessed on your mobile device through the JRNY app:
Shoulder & Back Basic
As the name suggests, the Gut Punch workout gives your abdominals a workout that they will feel for days to come. Lasting just 10 minutes, this workout will not only improve your lower abdomen but according to AXA Health, any physical activity will also increase blood flow to muscles in the digestive system.
Gut Punch
Listening to music helps you work harder, especially if it's a fast-paced song. According to Costas Karageorghis, an associate professor of sport and exercise psychology at Brunel University in England, songs between 120 and 140 beats per minute seem to have the maximum effect on performance.
Mobility Stretch
Flexibility can play a huge role in improving athletic performance. In fact, Harvard Health found that muscles that are well stretched can more easily achieve a full range of motion – preventing injuries. This workout class addresses this need in a quick, 10-minute window.
Bodyweight Core 2
The only equipment you need for our Bodyweight Core 2 workout is you! Give your core muscles the workout they deserve in this efficient 10-minute class.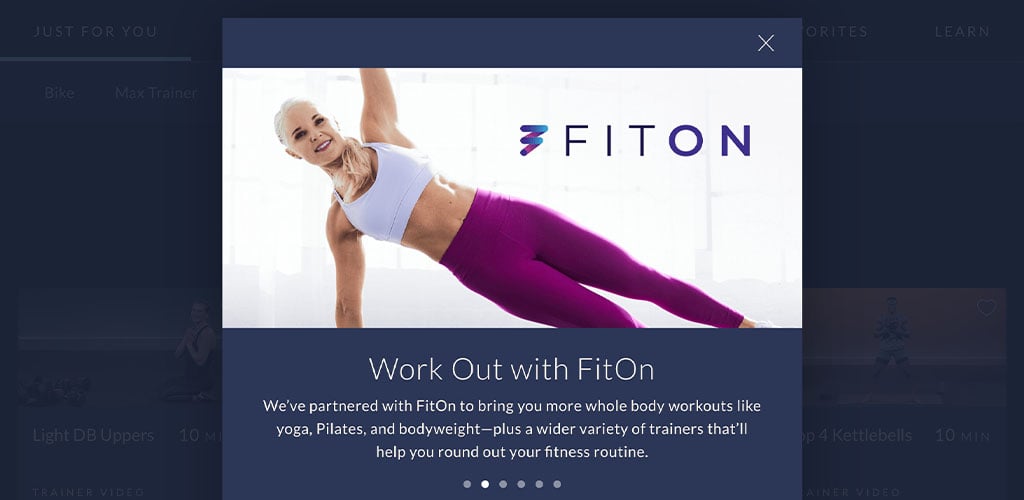 Coming soon, JRNY users will also have access to FitOn's wide variety of popular off-product, whole-body workouts, including cardio, HIIT, strength, yoga, stretch, and Pilates. Further, you will have the ability to choose workouts of various lengths — ranging from three minutes to an hour — and levels plus the ability to cross-stitch your workouts with JRNY Radio.
If you're looking for a more immersive experience, JRNY members can also utilize the Explore the World routes via the app, which allow you to take your workout global by exploring various locations and workouts. This includes running 5K's through the Japanese Countryside, 10K's through the Scottish Highlands or full marathons through Prague.
Level Up with JRNY-Enabled Products
In addition to off-product, whole-body workouts, JRNY offers customized workouts for BowFlex connected cardio machines that consider your abilities, mood and fitness goals to create personalized workouts tailored to your fitness needs.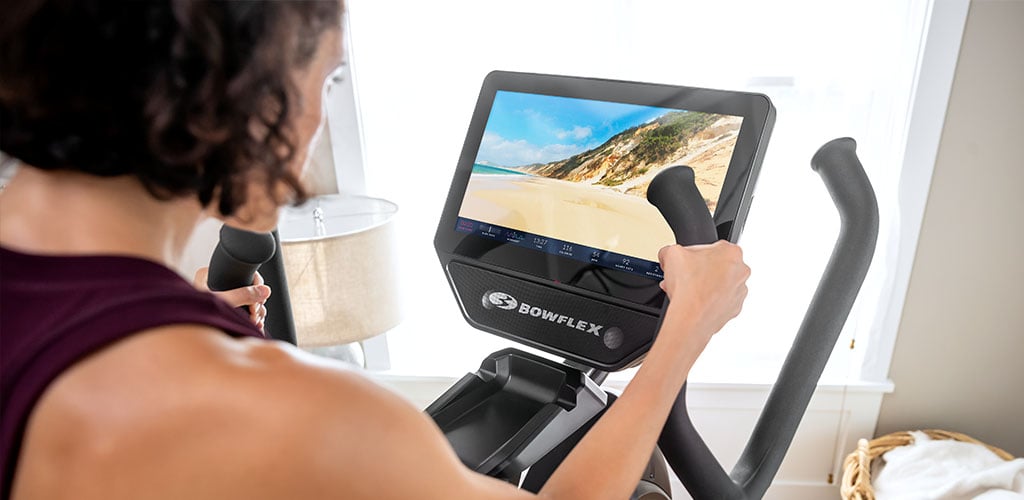 To start, you'll complete an initial fitness assessment on your BowFlex connected cardio machine, such as a Max Trainer, bike or treadmill, which assesses your fitness level and recommends workouts based on your abilities, available time, mood and preferred experience.
The JRNY platform then uses machine learning to cultivate personalized workouts that align with your preferences and continues to learn and adapt as you complete workouts – removing any guesswork from achieving a productive and satisfying workout.
Not only does JRNY provide you with endless customized workouts, but any BowFlex product with an embedded HD touchscreen also enables you to access any pre-existing streaming subscriptions you may have to Netflix and Prime Video – opening the doors for a fully immersive, entertaining workout experience.
The embedded JRNY app also offers the ability to layer adaptive workouts and voice coaching onto your favorite JRNY Radio station, or with a streaming platform of your choosing, so you no longer have to choose between being entertained and receiving a meaningful workout.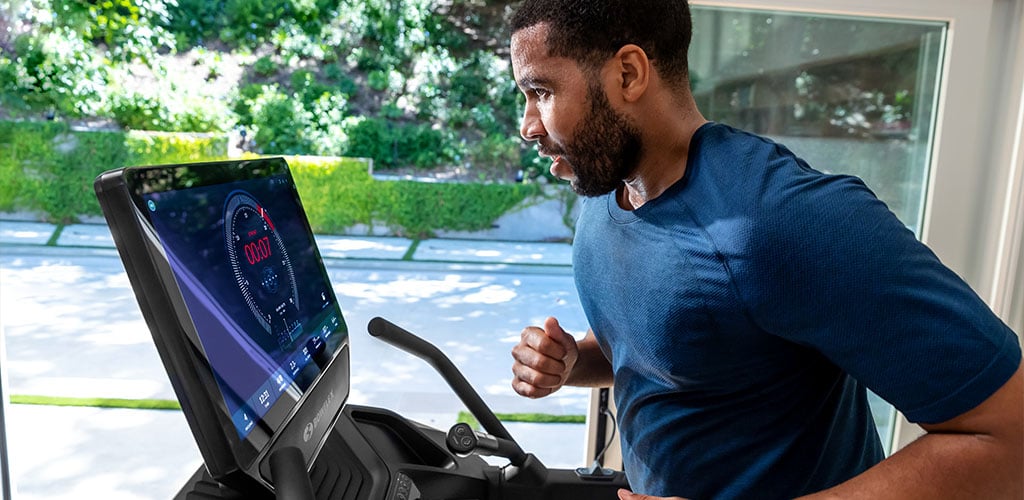 At the end of the day, JRNY is an incredible tool that aims to help you meet your short-term and long-term fitness and wellness goals. Users have already completed over 2.5 million workouts on JRNY, burning over 300 million calories.
Try JRNY for Free for 1 Year
Daily adaptive workouts, on-demand classes & videos, streaming shows, and more.
Start Free Trial
Learn More