Justin's Confidence Transformation

It can take years to feel confident in your body. For Westchester, New York resident Justin Marks, it took putting all excuses aside to transform into the healthiest version of himself and achieve his confidence.
Growing up, Justin always had a slim build, but once he reached high school he felt pressure to put on weight. Justin attempted to bulk up by eating large quantities of food, but what was lacking was the quality of the food and the addition of exercise. Over time, this diet led Justin to gain weight – 70 pounds to be exact.
One year later in the summer of 2019, Justin stepped on the scale to see he had gone from weighing 115 to 195 pounds. He felt self-conscious of his body again, but this time for a different reason. This was the moment when Justin realized he needed to turn his life around for his personal health and longevity, and made it his goal to find self-confidence.
With the help of his family's BowFlex SelectTech dumbbells and BowFlex home gym, Justin chased this goal and was determined to keep up with his workouts in order to make a habit of this new healthy lifestyle. His routine consisted of strength training once a day, five days a week and running outside on Saturdays and Sundays to get his cardio in.
In addition to working out regularly, Justin became more thoughtful about the carbs and sugars in his diet. Now, before and after every workout, he consumes complex carbs and 120 grams of protein. He is diligent in his routine, but allows himself a cheat day from time-to-time.
Flash forward to spring 2020, Justin now weighs 145 pounds, and describes himself as "cut." When he comes home from school and feels tired with limited energy, he reminds himself of his goal – to not just look good, but feel good for his longevity.
Justin's dad, Brett Marks, is beyond thrilled with the results: "The transformation has been unbelievable. The photographs below were taken less than a year apart. My son dropped 45 pounds and became "jacked" (that is how he expresses his current state of fitness). I believe the pictures speak for themselves."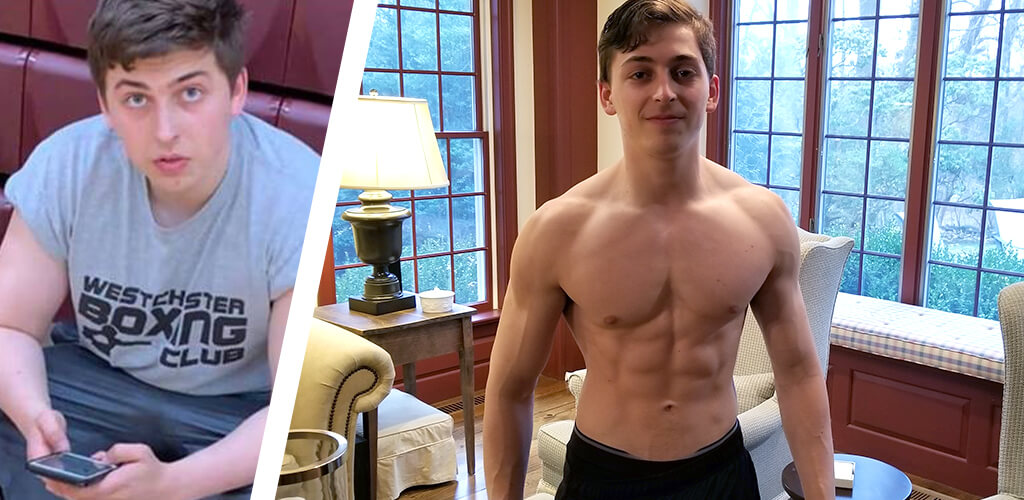 Since the start of his fitness journey, the biggest change Justin has seen in his life, body and health, is his newfound confidence.
His advice for someone who is just starting to work out and diet is to go beyond finding outside motivation and instead focus on your mentality, "To me, you can't just have motivation – you have to be driven, you have to do it for yourself. Motivation happens when you see the results."
More confident than ever, Justin enters adulthood with a new perspective on personal health. Working out and eating healthy are part of his everyday lifestyle and he doesn't plan on stopping anytime soon – Justin says he sees himself in this lifestyle even when he is 80 years old.
You may also like
Rebounding From An Accident: Stronger Than Before