Smart Strength Training: Introducing the Bowflex SelectTech 560 Dumbbells

Did you know that adding muscle means boosting your calorie burn? As a metabolic tissue, muscle not only supports weight loss, but also improves your body's function in daily life. Coupled with a healthy cardio routine, weightlifting throughout the week can help you reap a long list of health benefits.
That's why Bowflex is re-imagining strength training with the Bowflex® SelectTech® 560 Dumbbells. The first-ever "smart dumbbells," this addition to the Bowflex SelectTech line offers a fully interactive experience to help you work out harder and smarter.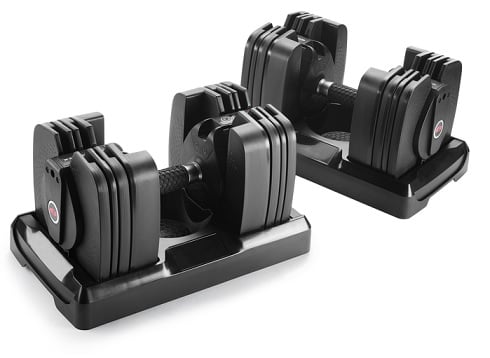 Using a proprietary, built-in electronic sensor, called the 3DT™, the dumbbells record reps and the weight lifted, offering an audible cue when each rep is completed properly — almost like working out with your own personal trainer in your own home. You can see your workout information live on the dumbbell screen or on the connected 3DT app. The free app features pre-loaded workouts and over 70 step-by-step coaching videos. After each workout, wirelessly transfer data from your sweat session via Bluetooth® technology and automatically sync it to your iOS or Android device. The app can be used to track workouts, calories burned and more.
The Bowflex SelectTech 560 Dumbbells let you stay connected to your strength training routine like never before, while giving you the customizable features you need for an at-home workout completely tailored to you. The innovative design reduces the number of separate dumbbells from 32 down to only two — maximizing space for easy storage. You can easily select the right amount of weight for your workout with a twist of the weight-changing mechanism in the handle, which adjusts the dumbbells in 2.5-pound increments from 5 to 25 pounds, and in 5-pound increments from 25 to 60 pounds.