New Years Frittata

This recipe came into being as a last-minute panic meal. I guess at this point that is normal as most "mom" recipes seem to begin that way. Anyway, my friends and I had not had a chance to meet up for Christmas one year, and as a last-minute surprise, they decided we should meet up on New Years Day. As this decision to meet came about on New Years' Day, I ran to my fridge in a panic to see what I had as I always love to provide food and snacks for our hangouts. I only had eggs, a few spears of asparagus, tomatoes, and some mozzarella cheese. And Voila! My New Year's Day Frittata was born. My kids, who aren't the largest fan of eggs, dove right in and ate this with gusto. I think they loved it only because of the gooey mozzarella, but either way, they ate it.
You may be asking what is the difference between an omelet and a frittata. To be honest, there isn't much of one. A frittata is cooked slowly over low heat and most commonly using the oven, while an omelet is cooked quickly over higher heat traditionally using the stovetop. Now to the recipe!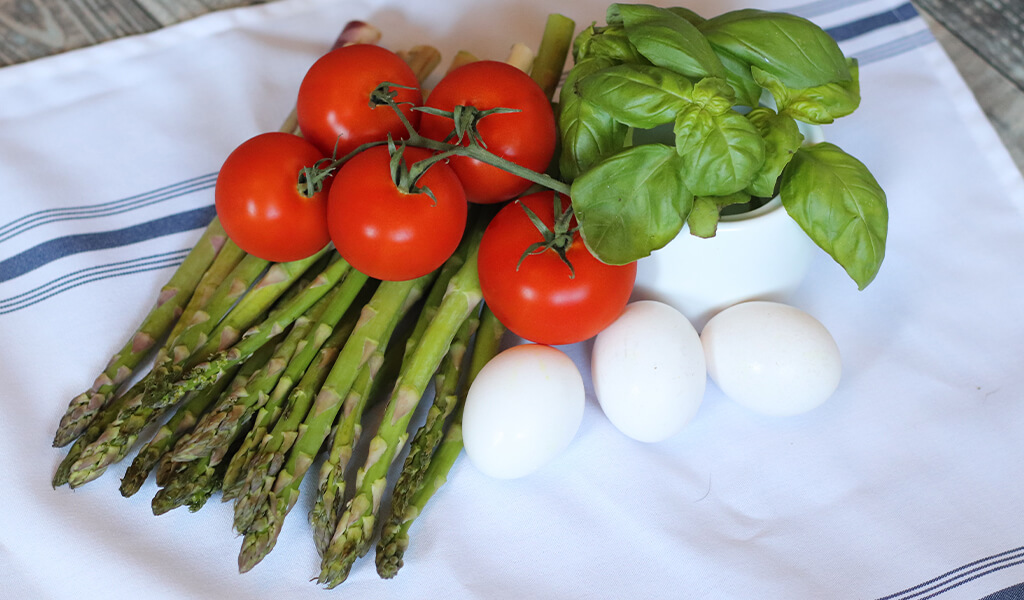 New Years Day Frittata
Prep time: 15 minutes
Cook time: 10 minutes
Total time: 25 minutes
Servings: 4
Ingredients
7 large eggs
2 tablespoons low-fat milk
1/2 teaspoon salt and more to taste
1/3 teaspoon pepper
1 tablespoon olive oil
1 tablespoon butter
12 ounces asparagus, trimmed and diced
3 medium Campari tomatoes, quartered
3 ounces mozzarella
Fresh basil for serving
Directions
Preheat the oven, using the broiler setting, to high.
Whisk the eggs, milk, 1/2 teaspoon salt, and pepper in a medium bowl to blend. Set aside.
Heat the oil and butter in a (at least) 9-inch diameter nonstick ovenproof skillet over medium heat. Add the asparagus and sauté until crisp-tender, about 2 minutes.
Raise the heat to medium-high. Add the tomato and a pinch of salt and sauté 2 minutes longer.
Pour the egg mixture over the asparagus and tomato mixture and cook for a few minutes until the eggs start to set.
Reduce heat to medium-low and allow the eggs to cook until the frittata is almost set but the top is still runny, about 2 minutes.
Sprinkle the mozzarella on top of the frittata.
Place the skillet under the broiler. Broil until the top is set and golden brown on top, about 5 minutes. Let the frittata sit for 2 minutes.
Top with shaved parmesan and freshly torn basil.
Serve immediately.
Recipe Tips:
This item will stay fresh in the refrigerator in an airtight container for 3 days.
To reheat, place in the oven under the broiler for 5-7 minutes on high. Top with fresh basil and parmesan.
Now all you have to do as my daughter would say is Eat, Eat. However, most importantly from my family to yours, Happy New Year!
You may also like
Pumpkin and Brussels Sprouts Brunch