HIIT Workouts for the Holidays with the BowFlex Max Total 16

With holiday preparations in full swing, most people plan to spend their time with family — partaking in celebrations and eating festive goodies, but often also losing sight of what they need for themselves during this busy time. Many choose to give up their workouts in lieu of these activities, because it feels like there just isn't enough time for it all.
While this can be difficult, the key is to find short, yet effective, workouts.
Working out doesn't have to be an hour-long cardio session — it can be as simple as a 15-minute HIIT workout that gets your muscles moving and your blood pumping.
Meet the BowFlex Max Total 16 — the compact cardio machine that offers a high-intensity workout in less than 15 minutes (exactly what the holidays ordered).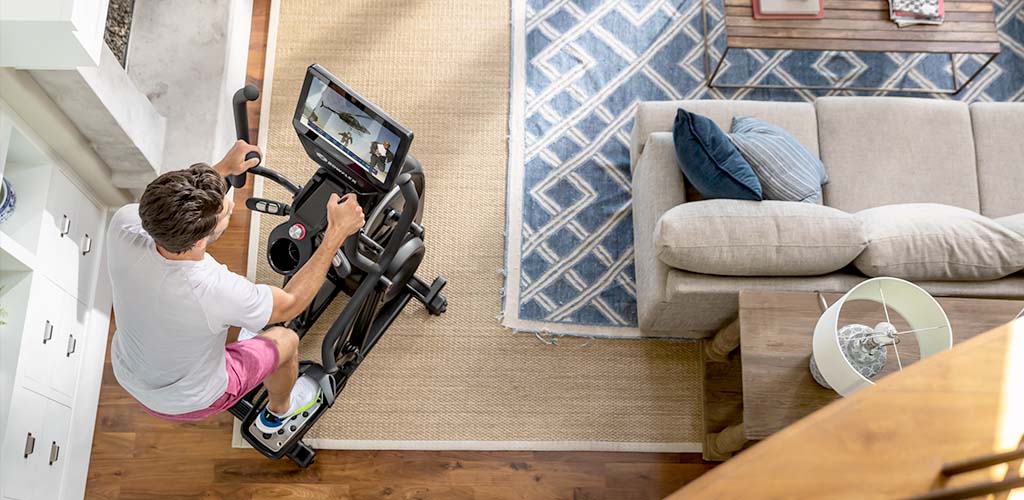 Not Your Typical Compact Elliptical
Unlike the old familiar elliptical in the basement, the BowFlex Max Total 16 is compact, entertaining, and effective – all while being quiet. By blending the low-impact effects of an elliptical with the high intensity of a stepper, it offers short and high-intensity interval workouts — helping you slip in a sweat between ice skating and dinner.
Equipped with a 16" HD touch screen, the Max Total 16 experience is further expanded with the JRNY digital platform, so you can stay engaged and entertained during high-calorie burning interval workouts. Based on an initial fitness assessment, the JRNY platform uses machine learning to create an infinite number of personalized workouts by curating individualized and trainer-led exercises.
Designed for people of all fitness levels, the Max Total 16 features six-hand position dynamic handles, oversized textured foot pedals and a magnetic resistance system with 20 levels that are adjustable with a simple turn of a dial. Additionally, it comes with Bluetooth speakers, a built-in media shelf with an accessory tray, a USB charging port and dual water bottle holders. As if that wasn't enough, it also comes with a Bluetooth heart rate monitor armband and heart rate grips to further enhance your workouts.
While it has a compact footprint, you have the option of transporting it around your home since it has wheels for easy storage.
Needless to say, the BowFlex Max Total 16 is not your typical elliptical, and it becomes an entirely different machine with the addition of a JRNY digital fitness platform membership.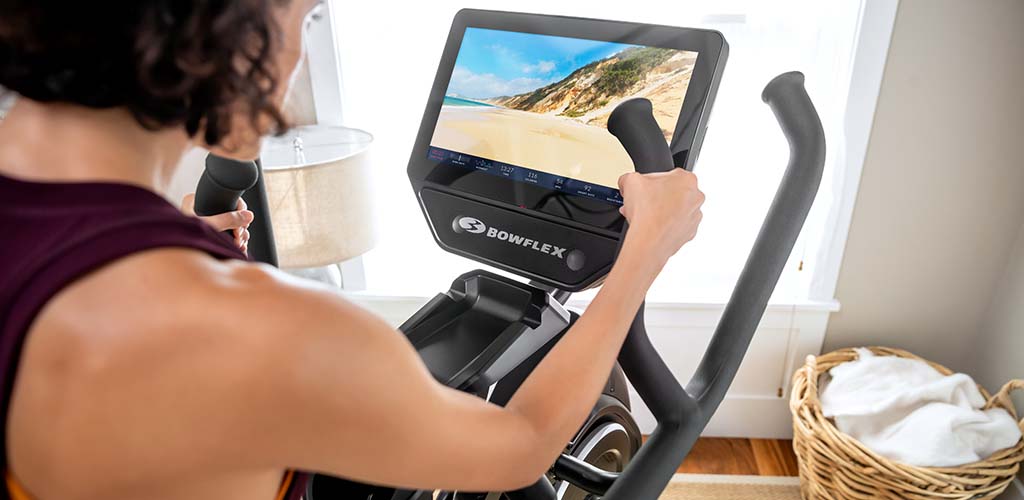 HIIT Workouts in a Winter Wonderland – Literally
One of the reasons outdoor workouts are fun is because they are visually entertaining. However, it's not always easy to find a moment to squeeze in a workout between gift shopping and preparing for the holiday festivities.
If you find yourself missing the scenery of outdoor workouts, but it's too cold to go outside, JRNY's Explore the World routes, accessible with a membership, allow you to virtually travel the globe from the comfort of your home (maybe by a cozy fire).
With access to more than 50 routes from around the world, which auto-adjust to your speed in real-time, you can explore dozens of high-definition destinations and course lengths, including 10K's through the snowy Swiss Alps, 5K's through Tibet or full marathons through Banff National Park.
Additionally, Explore the World tracks time, distance, speed, calories, and heart rate — helping you stay on top of your fitness journey and to achieve your fitness goals as you beat your best course times. If you use the route frequently, you can also see your long-term progress by visiting the fitness journal within the Explore the World route.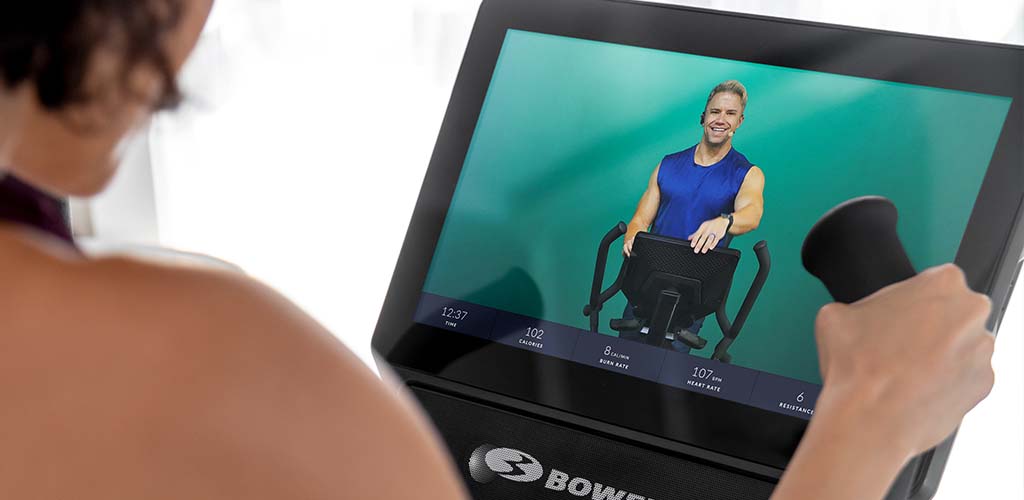 Dashing Through Trainer-Led Workouts
The JRNY digital fitness platform brings the BowFlex Max Total 16 elliptical to life by offering a range of entertainment opportunities that are sure to keep you engaged during your workout. The JRNY platform curates a wide array of trainer-led, full-body and targeted exercises with real-time feedback and tracking, along with a virtually infinite number of personalized activities based on your fitness profile, workout history, and performance, as well as rewards to celebrate your achievements.
The platform assesses the member's fitness level and recommends workouts based on their abilities, available time, mood, and the workout experiences they prefer, and continues to learn and adapt — removing the guesswork from achieving a productive and satisfying workout. With endless structured workout possibilities, you can feel confident about staying on track to meet your fitness goals.
Beyond cardio machine workouts, your JRNY digital fitness platform membership features off-product, whole-body workouts, including strength, yoga, stretch, and Pilates. These workouts vary in length and intensity, and can be overlayed with JRNY Radio.
Workouts logged in JRNY's iOS app can integrate with Apple Health and sync to your digital journal. The digital journal is also available on the Android mobile app or the BowFlex Max Total 16 touchscreen — providing you with a comprehensive way to track your fitness goals and giving you a holistic look at your fitness profile.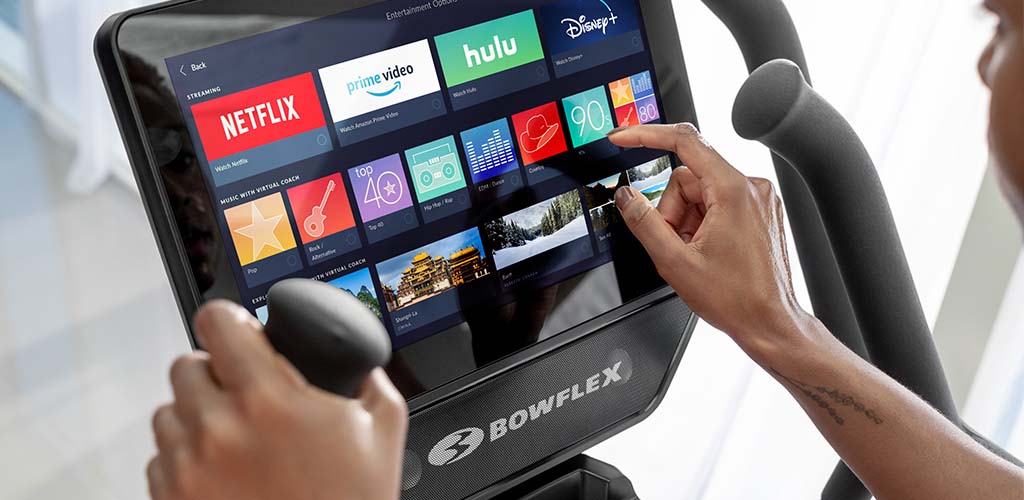 Stream Holiday Movies & Shows Galore
With a JRNY membership, you can access your pre-existing streaming service subscriptions with Netflix and Prime Video, which all host a variety of content to keep you entertained and engaged during your BowFlex Max Total 16 workouts.
Looking for some in-house holiday movies and shows to keep festive cheer alive, while also staying motivated and engaged during your workout? Here are a few of our favorite holiday shows and movies to get you started, accessible through streaming services on the JRNY digital fitness platform:
The Christmas Chronicles – This live-action and kid-friendly movie, available on Netflix, follows a pair of siblings as they attempt to save Christmas with the help of Santa Claus.
The Great British Baking Show: Holidays – This hour-long edition of the long-loved British baking competition show, available on Netflix, is dedicated entirely to yummy holiday treats and other delicacies like cake pops.
New content is frequently uploaded to these streaming services, so be sure to regularly check the latest releases to find content to elevate your workout to the next level.
Happy Holidays from BowFlex!
BowFlex Max Total 16
This compact elliptical, paired with JRNY, will give you an incredible workout in any amount of time. Get 1 year of JRNY free with purchase.
Shop Max Total 16