Garlic and Herb Chicken Burgers

I love substituting lighter and less fatty meat for traditional hamburger. In this case, I used ground chicken to substitute. The best part is that due to the low-fat content, the burgers tend to cook very fast! What's more perfect than a delicious dinner that is superfast to cook?
Garlic and Herb Chicken Burgers Recipe
Prep time: 5 minutes
Cook time: 15 minutes
Total time: 20 minutes
What You Need
For the Chicken Burgers:
1 pound ground chicken
1 large egg, beaten
½ cup Italian breadcrumbs
2 cloves garlic, minced
1 teaspoon Herbs de Provence
1 teaspoon cumin
½ teaspoon kosher salt
½ teaspoon black pepper
1 tablespoon of olive oil
To Serve:
4 brioche buns
1 ripe avocado, thinly sliced (optional)
1 bunch of baby kale (optional)
1 medium tomato, sliced (optional)
4 slices of cheese of your preference (optional)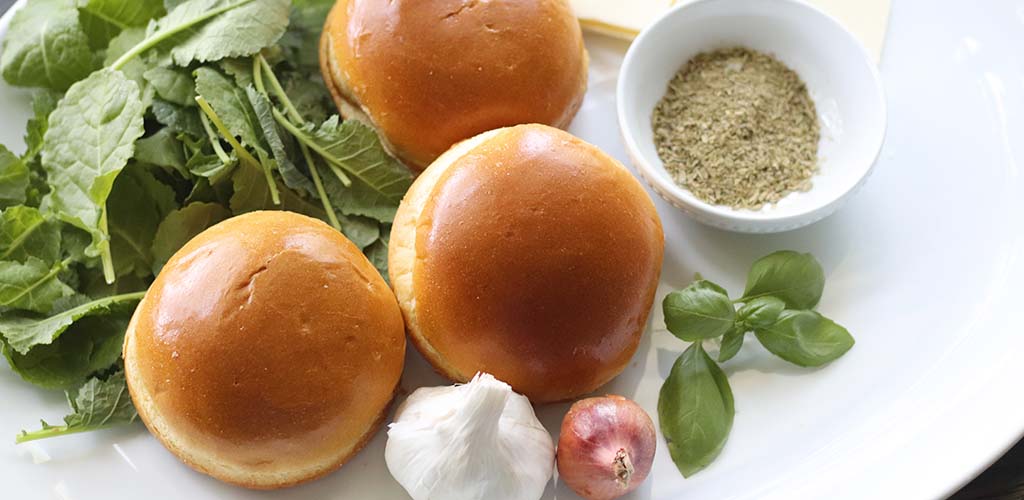 What You Will Do
In a medium bowl, combine the ground chicken, egg, ½ cup breadcrumbs, garlic, Herbs de Provence, cumin, salt, and pepper until thoroughly mixed.
Divide the chicken mixture into four even balls, or smaller to your liking.
Shape each ball into about a ½-inch patty and repeat with the remaining chicken balls until all of the burgers are formed.
Bring a large skillet to medium-high heat.
Place 1 tablespoon of olive oil into the pan and warm.
Place each chicken patty into the skillet.
Cook for about 4 minutes per side, flipping the patties with a spatula, or until they reach at least 165˚F in the center of the burgers using a meat thermometer.
Remove the patties from the skillet and place to the side.
Cut the brioche buns in half and place them into the skillet to toast the inside.
On the bun place the chicken patty. Also add the cheese, avocado, a slice of tomato or kale, to your liking.
Recipe Tips:
Try not to overcook the burgers, as they can quickly dry out. I recommend watching consistently.
The chicken burgers will stay in the refrigerator for 3-4 days in an airtight container. You can simply reheat in the microwave.
Now the last thing you have to do, as my daughter would say is, "Eat, Eat."
You may also like:
Grill Creations: Feta Cheese Kids Burger