Quick and Cool Cucumber and Avocado Salad

This salad tales only 5 minutes to chop and combine. The vinaigrette is just a combination of lemon juice and olive oil and salt and pepper with some fresh herbs. This is the easiest and tastiest salad!
The cool and crunchy cucumbers with the creamy avocado is the perfect combination, in my humble opinion. You will have to give this a try.
Cucumber and Avocado Salad
Prep time: 5 minutes
Cook time: 0 minutes
Total time: 5 minutes
What You Need
2 large cucumbers, skin removed and chopped
3 large avocados, pitted, peeled and sliced
2 tablespoons lemon juice, freshly squeezed from 2 lemons
2 tablespoons extra virgin olive oil
Kosher sea salt, and freshly ground black pepper, to taste
Fresh chives, chopped finely for topping
Fresh cilantro, chopped finely for serving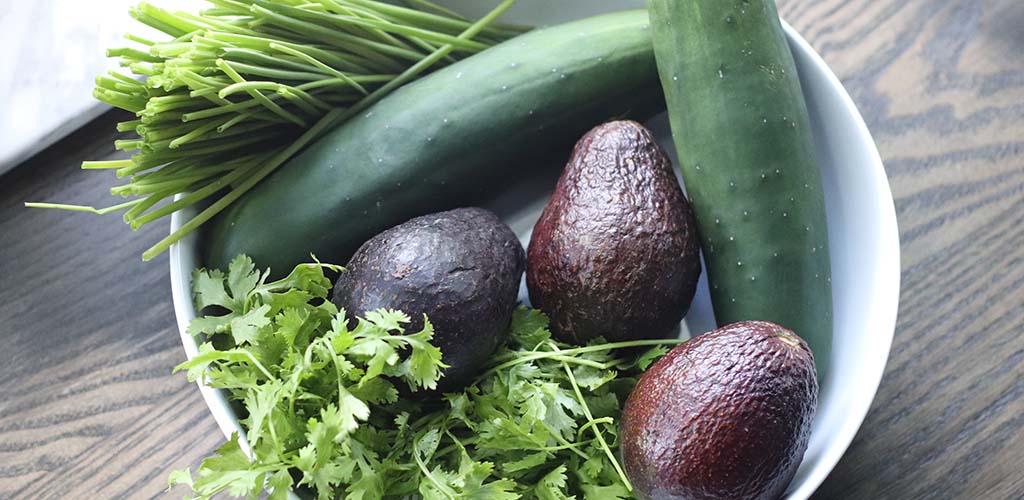 What You Will Do
In a medium salad bowl, combine sliced cucumbers, avocado and chopped freshly chopped herbs. I chose chives and cilantro as I love the zesty combination. However, you can use whatever fresh herb you like.
In a bowl whisk together the lemon juice and olive oil with the salt and pepper.
Drizzle the dressing over the salad and toss to combine.
You may add more herbs and salt and pepper to taste.
Serve immediately.
Recipe Tips:
I do not recommend making this salad ahead of time. I find that no matter how much lemon juice I put on the salad the avocadoes will start to brown if made early.
This will stay in the refrigerator for 24 hours in an airtight container.
Now the last thing you have to do, as my daughter would say, is "Eat, Eat."
You may also like:
End Of Summer Corn and Avocado Salad