Brunch Flatbread

What's easier than bacon and eggs in the morning? Well, prosciutto, eggs, and ricotta baked on a flatbread in the oven!
One pan and easy clean up, means minimal effort. This is the perfect meal in the morning!
I know I say this a lot, but there is no way to mess up this recipe. You can do any combination of protein and I know it will work! The same applies for the rest of the toppings, such as instead of tomatoes, try mushrooms or sweet peppers.
I feel the main surprise in this dish that really comes through is the Chive and Ricotta spread that I use as my white sauce base for this flatbread.
Let's dig in!
Brunch Flatbread
Prep time: 10 minutes
Cook time: 10–15 minutes
Total time: 20–15 minutes
What You Need
1 or 2 Garlic or Original Naan (flatbread)
1 cup Ricotta Cheese
3 tablespoons freshly minced Chives
1/2 teaspoon Garlic Powder
10 oz Prosciutto, about 6 to 8 slices
2 large eggs
8 small grape tomatoes, sliced
Kosher salt, to taste
Freshly ground black pepper, to taste
1/4 cup fresh arugula for topping, if you like
1 tablespoon white truffle oil for drizzling, if you like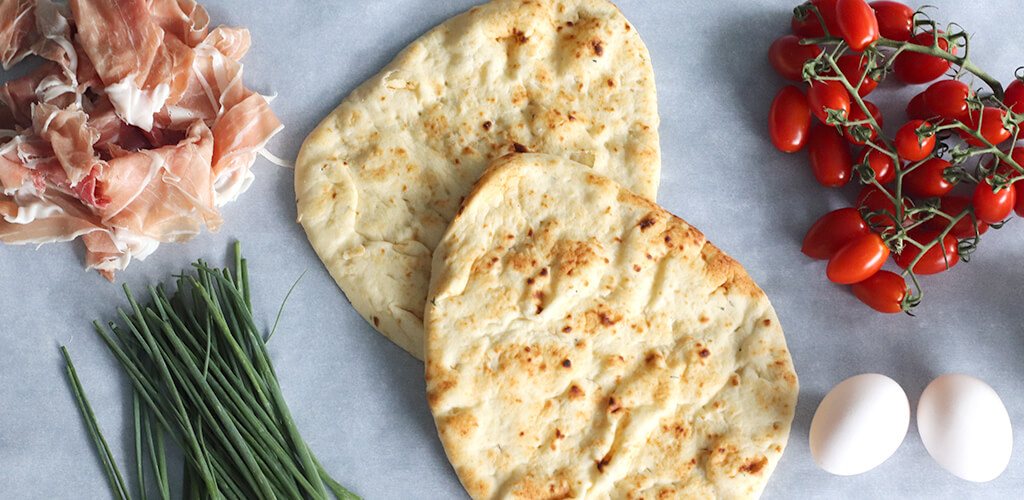 What You Will Do
Preheat the oven to 400° F.
Spray a baking sheet with non-stick cooking spray and place your Naan bread on the baking sheet to assemble. Place to the side.
Chop up the chives and place into a small mixing bowl and pour in the ricotta and add the garlic powder. Stir to combine thoroughly and place to the side.
Spoon the Ricotta and chive spread onto the Naan bread and smooth out to a flat texture.
Crack and egg on each Naan flatbread.
Around each egg lay the prosciutto.
Chop up the grape tomatoes and place on top of the Naan.
Sprinkle with fresh kosher sea salt and freshly ground pepper and place into the preheated oven.
Cook in the oven until the eggs are opaque and cooked through, about 10‐15 minutes.
Remove the baking sheet from the oven and allow it to cool.
Move to a serving tray and top with fresh arugula, more salt and pepper and a drizzle of white truffle oil (if you like- I personally REALLY like the flavor it adds).
Serve immediately!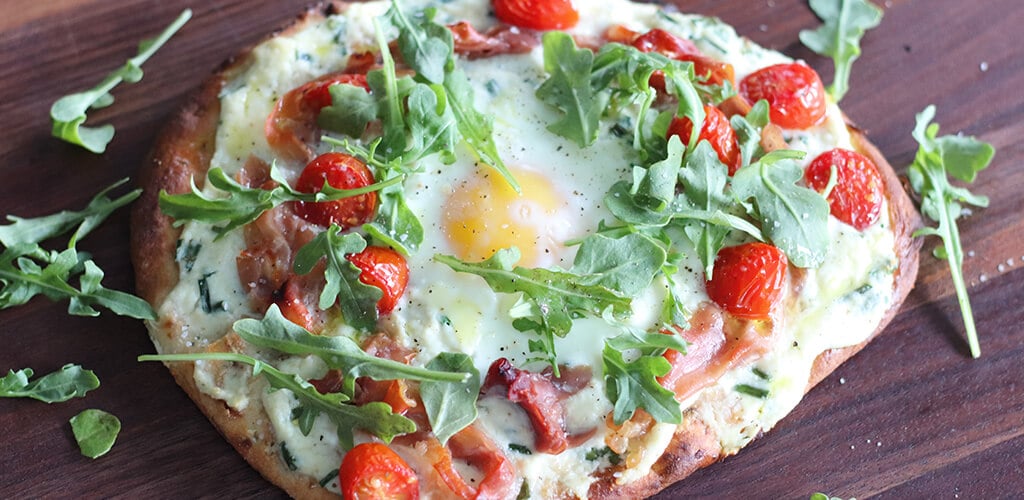 Recipe Tips:
If you like your eggs to be on the runnier side, I recommend adding to the flat bread half way through cooking as opposed to the beginning of the cooking process. If you do this that means to place the Naan in the oven and cook for 5 minutes, then remove and crack an egg on each Naan and place back in the oven for 5-10 minutes more.
If you are not a fan of white truffle oil, simple substitute extra virgin olive oil.
Now the last thing you have to do as my daughter would say is Eat, Eat!
You may also like
Good Egg: Better For You Benny Recipe