The Best Exercise Bike with a Screen for Cyclists: BowFlex VeloCore

As with all athletes, cyclists need to train in order to get into shape for upcoming rides, races and adventures year-round. However, most indoor cycling bikes or bike trainers do not provide a comparable experience to outdoor cycling. That's because outdoor cycling engages your arms and core along with your legs.
It's not as simple as just sitting in the same vertical position on an indoor stationary bike. Because of this, many cyclists may choose not to invest in one because it doesn't feel the same — or at least it hasn't, until now.
Meet the BowFlex VeloCore Bike — the indoor cycling bike that leans. Yes, you read that right.
Redefining Indoor Stationary Bikes
The BowFlex VeloCore bike is the industry's first (un)stationary, dual-mode bike that combines leaning technology with digital connectivity for a dynamic full-body workout. In leaning mode, the bike sways from side to side, simulating the feeling of riding on an open road and replicating the movement of outdoor cycling — all while helping to ignite your core and arms in a high-intensity workout.
The VeloCore bike is equipped with a magnetic resistance system and intuitive resistance knob that includes 100 levels for a smooth, quiet ride while also replicating the experience of biking on various terrains to simulate an outdoor biking experience.
Unlike a traditional cycling experience, which may be deterred due to weather, the BowFlex VeloCore bike is accessible at all times of day, during all kinds of weather — so you can get your workout in even if it's pouring rain, you have a busy day and can't ride until after dark, or you're unable to leave your home.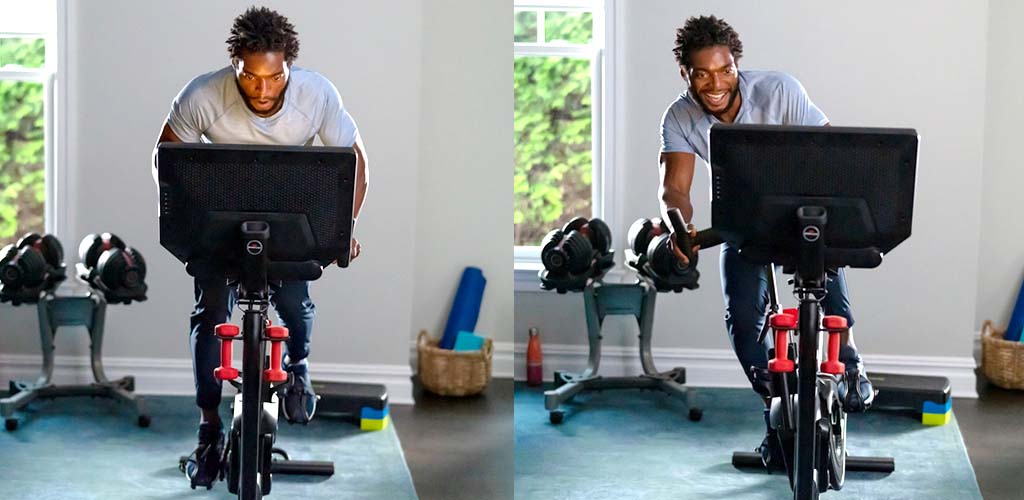 If you decide that you want a more traditional indoor cycling experience, the BowFlex VeloCore bike can also be clicked into place using the bike's patent-pending lock-out feature, which transforms the BowFlex VeloCore leaning bike into a stationary indoor cycling bike. It's the best of both worlds.
In addition, the VeloCore bike is designed to mirror an outdoor cycling bike's design and comfort — right down to the seat and handlebars. Its dipped handlebars feature six hand positions that adjust vertically for versatility and personal preference. Similarly, the bike has a race-style, high-density, adjustable foam seat for added comfort during long rides. You also have the option of using toe cages or SPD clips with dual-link pedals and detachable toe cages for added comfort and versatility. The bike also comes with a Bluetooth heart rate monitor armband and a set of dumbbells to further enhance your workouts.
Needless to say, the BowFlex VeloCore bike is not your typical stationary bike, and it becomes an entirely different machine with the addition of a JRNY digital fitness platform membership.
Tailored workouts, on-demand classes, and streaming entertainment on an indoor exercise bike – oh my!
One of the reasons that outdoor cycling is so fun is the fact that it is visually entertaining. From looking at beautiful landscapes to engaging with your surroundings, there is no lack of mental stimuli. However, when cycling on a stationary bike, it can be hard to focus on the workout alone, especially for long durations of time. This can sometimes create a mundane experience, especially if you're used to riding in a vibrant outside environment.
This is not the case on a BowFlex VeloCore bike because it features a built-in, HD touchscreen that offers trainer-led workouts, streaming services (such as Netflix and Prime Video, using your existing subscriptions), and Explore the World routes; all accessible through the JRNY digital fitness platform. The VeloCore bike is offered with a 16- or 22-inch HD touchscreen and is priced at $1,699 to $2,199, respectively.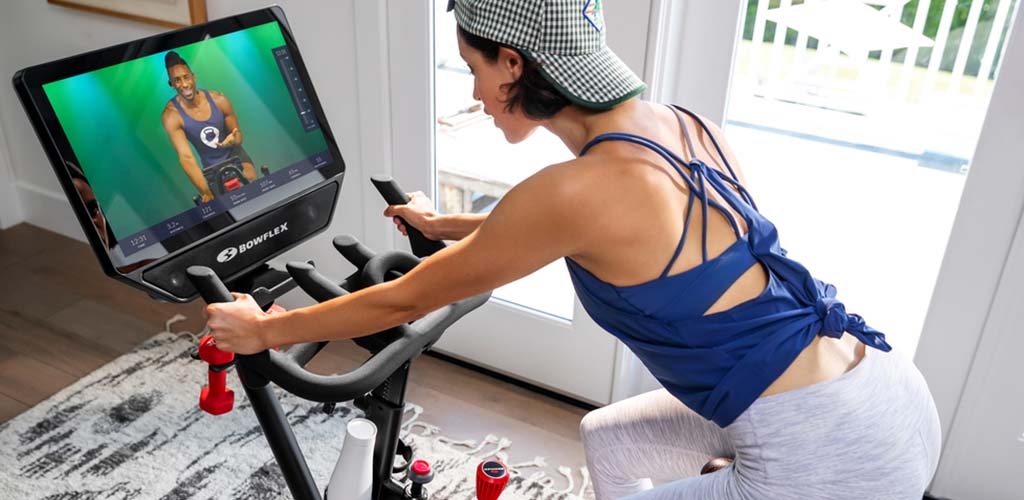 The JRNY digital fitness platform brings the BowFlex VeloCore bike to life, offering a range of entertainment opportunities that are sure to keep you engaged during your workout. The JRNY digital fitness platform curates a wide array of trainer-led workouts, along with personalized workouts based on your fitness profile, workout history and performance as well as rewards to celebrate your achievements.
By leveraging artificial intelligence (AI) to curate workouts based on your ability, performance, mood, and preferences, the JRNY digital fitness platform removes any guesswork. With endless structured workout possibilities, you can feel confident about staying on track to meet your fitness goals.
Beyond cardio machine workouts, your JRNY digital fitness platform membership features off-product workouts including yoga and strength training to provide a well-rounded fitness routine.
You can even take your JRNY membership on the go to access workouts, workout history, and more on the JRNY app with your iOS or Android device.
Workouts logged in JRNY's iOS app can also integrate with Apple Health and sync to a member's digital journal. The digital journal is also available on the Android mobile app or on the BowFlex VeloCore bike touchscreen — providing you with a comprehensive way to track your fitness goals and giving you a holistic look at your fitness profile.
Unlike many other fitness memberships, JRNY members are not limited to one workout experience. You can pick and choose your favorite motivators to create an enhanced, individualized workout. JRNY offers the ability to layer adaptive workouts and voice coaching onto a member's favorite BowFlex Radio station, Explore the World route or streaming entertainment platform.
What to stream on your BowFlex VeloCore smart exercise bike
Looking for some cycling entertainment that is guaranteed to keep you motivated and engaged during your workout? JRNY digital fitness platform has you covered.
With a JRNY membership, you can access your pre-existing streaming service subscriptions with Netflix and Prime Video, which all host a variety of content to keep you entertained and engaged during your workouts.
Here are just a few of our favorite shows accessible through streaming services on the JRNY digital fitness platform:
Pedal the World – This documentary follows cyclist, Felix Starck, as he adventures 18,000 kilometers across 22 countries. It's available on Netflix.
Biking Borders – This real-life story, also available on Netflix, follows two best friends as they bike from Berlin to Beijing, collecting donations along the way to build a school.
Eat. Race. Win. – This series, available on Prime Video, provides a behind-the-scenes look at the largest cycling event on earth: The Tour de France.
The Game Changers – Available on Netflix, The Game Changers is a documentary that follows visionary scientists and top athletes as they look to discover the optimal diet for human performance and health.
Accomplice – This film, available on Netflix and Prime Video for a fee, takes you across the globe with the world's top riders as they trek across some of the best biking locations in the world.
New content is frequently uploaded to these streaming services, so be sure to regularly check the latest releases to see if there is content that can take your workout to the next level.
Use your BowFlex VeloCore smart exercise bike to Explore the World
If you still find yourself missing the scenery of outdoor cycling, JRNY's Explore the World routes, accessible with a membership, allow you to virtually travel the globe from the comfort of your home and automatically adjust your speed in real-time to the speed of your route.
Explore dozens of high-definition destinations and course lengths, including 5K's through the Japanese Countryside, 10K's through the Scottish Highlands or full marathons through Prague.
Additionally, Explore the World tracks time, distance, speed, calories, and heart rate — helping you stay on top of your fitness journey, and celebrating your successes as you beat your best course times. If you use the route frequently, you can also see your long-term progress by visiting the fitness journal within the Explore the World route.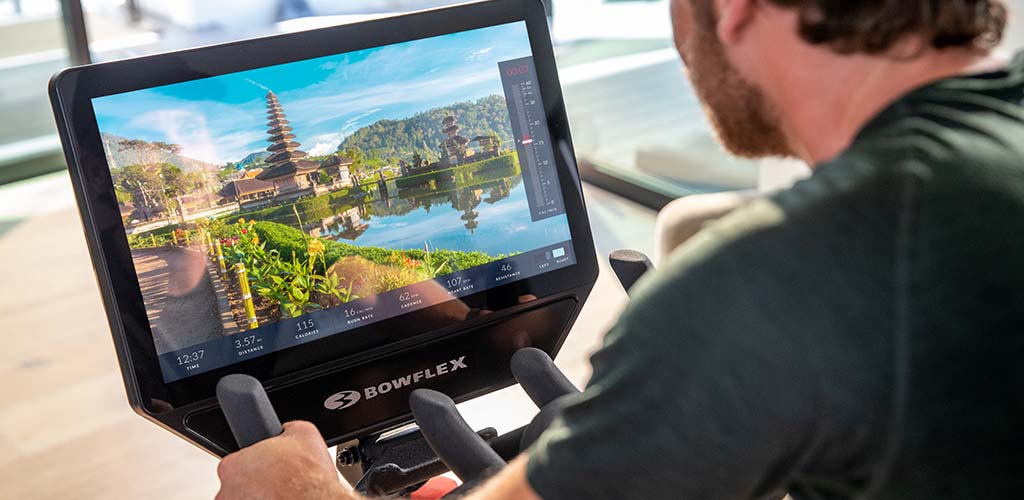 Don't just take our word for it – check out the reviews of this best smart exercise bike
We aren't the only people obsessed with the BowFlex VeloCore bike. Check out what some of the nation's top consumer publications had to say in their reviews about the BowFlex VeloCore bike with the JRNY digital fitness platform:
The BowFlex VeloCore bike was awarded a prestigious CES 2021 Innovation Award, out of thousands of entries, for its innovative design that allows you to ride in both leaning and stationary modes. It also received a 2021 Men's Health Fitness Award for being the "Most Innovative Home Training Bike."
If you're interested in learning more about how others are enjoying their BowFlex VeloCore bike, join the BowFlex Community Facebook Group to hear about their experiences and perspectives.
With the BowFlex VeloCore bike, seasoned cyclists and everyday riders alike will be able to have an at-home workout that realistically mirrors the outdoor riding experience — allowing for a full-body workout and the ability to achieve any fitness goal from the comfort of home.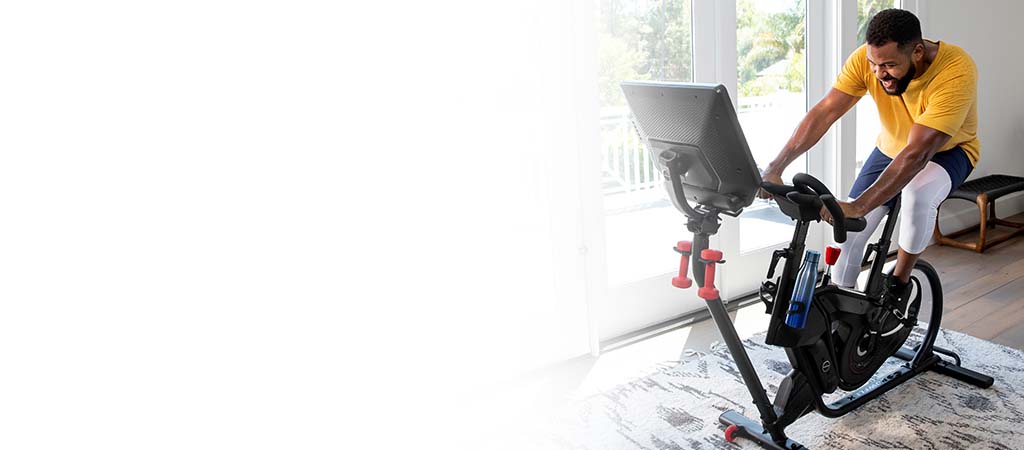 VeloCore Bike
Get an outdoor riding experience in any weather with the BowFlex VeloCore Bike. Choose from a 16" or 22" built-in console and connect with JRNY to stream entertainment, follow on-demand classes, or see new places with the Explore the World routes.
Shop VeloCore