Fit Tip: 7 Tips to Maximize your cycling workouts

You've purchased your stationary bike and it's all set up and ready to go. You're excited to get started and for good reason – Indoor cycling is a fun and effective form of cardiovascular exercise. Although it has been around for decades, indoor cycling has exploded in popularity in the last few years, initially due to the rapid expansion of boutique cycling studios and then as a result of COVID forcing people to work out at home.
Or, perhaps you've had your bike for some time now but you're just not seeing the results you expected. Whether you have the VeloCore bike or the C6 bike here are seven different ways to ensure you reap the rewards of your purchase and continue to do so for many years to come.
1. Correct Fit
Getting the correct bike fit is the very first place you need to start. Both the VeloCore and C6 bikes have three points of adjustment (seat up and down, seat fore and aft and handlebars up and down) to ensure the bike is set up to your specific body. Riding with an improper fit can result in a number of issues including discomfort, reduced power output and decreased overall performance. To learn how to determine your proper fit, watch this short video: BowFlex® VeloCore™ Bike | Getting Started.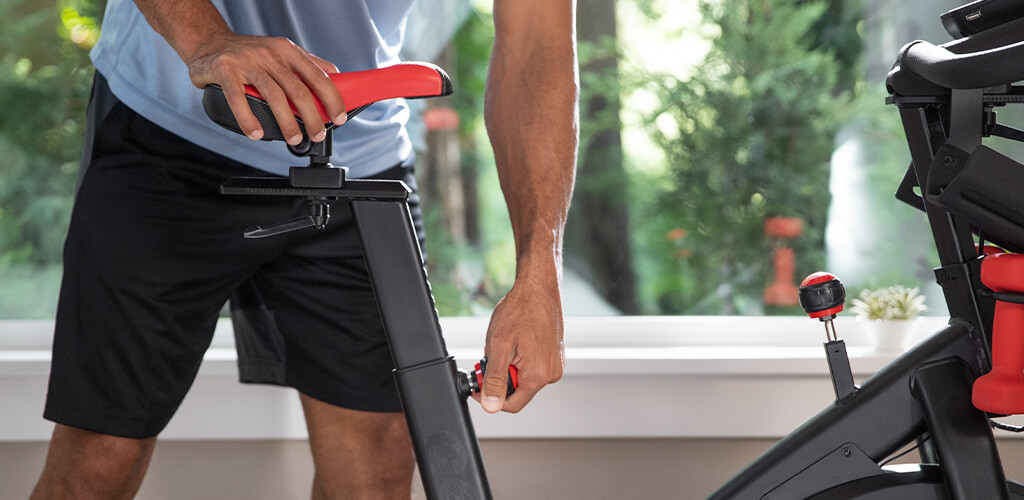 Pro Tip: If more than one family member will be using your BowFlex Bike, once you have determined your individual adjustment numbers you can use different colored tape to mark where your selections are or write them down and tape it where you can see it. This will allow you to quickly adjust the bike to your specific fit after someone else has used it.
2. Comfort
Let's be honest: Indoor cycling can be a little uncomfortable at first. The great news is that it will get better over time as your body gets acclimated to this new form of exercise. That being said, there are a few things you can do to make your workouts more comfortable, whether it is your first ride or your five hundredth:
Use a Padded Seat Cover.
If you find you need a little extra cushioning you can purchase a thicker cover, often filled with a soft gel. You can also buy a more cushioned seat like this BowFlex® Extra Comfort Bike Seat.
Wear Padded Bike Shorts. Cyclists who ride outdoors wear tight spandex shorts with a soft chamois pad for two reasons: To prevent chafing and add comfort. While you might think they are only for competitive, experienced outdoor riders, they are for everyone who sits on a bike seat and want to be comfortable.
A Fan. Riding indoors can be extra challenging due to higher temperatures, higher humidity and the lack of cooling you would normally experience from the air flow while riding outdoors. Riding a stationary bike in still air prevents your body from being able to effectively cool itself through evaporation; a fan will help your body naturally regulate its core temperature and keep you from overheating.
The better you feel, the better you will perform and the more likely you are to use your bike frequently.
3. Content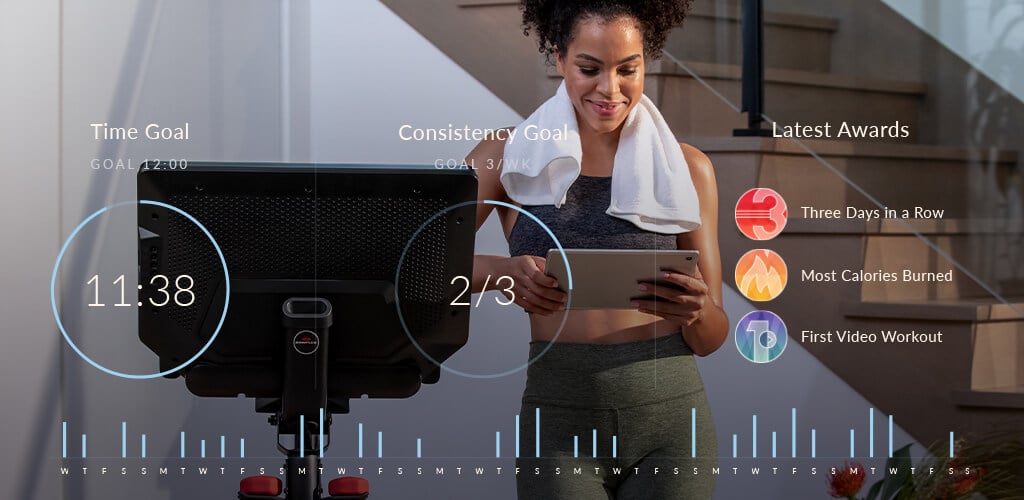 Thanks to the incredible advances in technology in general and fitness technology in particular, there has never been a better time to ride indoors. Whether you want to take an on-demand class, do an adaptive workout tailored to your specific fitness level and goals, ride through virtual courses around the world like the French Riviera, listen to music or binge watch your favorite show on Netflix and Amazon Prime, you can do all this and more through the JRNY app. Following this content will help motivate you, keep you entertained, and provide crucial structure and guidance to ensure you are getting the most out of every indoor cycling session.
4. Make Your Space Inviting and Inspiring
This is your gym. No matter how big or how small your space, decorate and personalize it with things like motivational posters and special lighting to set the perfect atmosphere for your workouts, creating an environment in which you look forward to riding.
5. Mix Up Your Workouts
Just like all with other forms of exercise, variation is crucial to long-term success with indoor cycling. Be sure to mix up your workouts (duration, intensity, type, instructors) to ensure you continue to challenge your body in different ways while preventing mental boredom and burnout.
6. Avoid the "Grey Zone"
One of the best aspects of indoor cycling is the ability to perform true high intensity interval training workouts, ones in which you torch major calories in short amounts of time. You have your own personal coaches and adaptive programs to help guide you through these specific interval-focused sessions, taking all the guesswork out of these challenging-yet-effective workouts. You simply need to follow along and push yourself at the required intensity, alternating between going hard and going easy and staying out of the so-called "grey zone."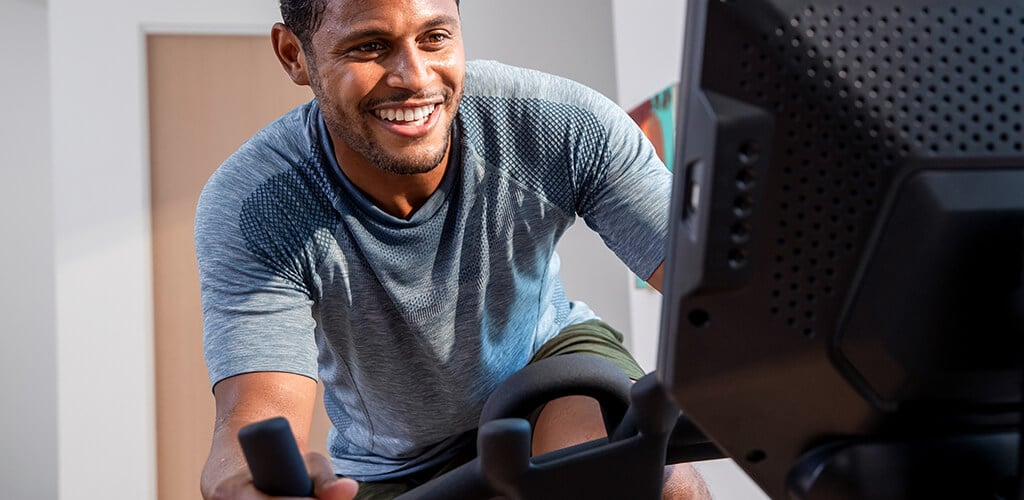 When using as scale of 1-10, with 1 being really easy and 10 being really hard, the grey zone would be an intensity of roughly 6-7. It's not really hard, yet it's not really easy. While you will benefit from performing cardiovascular exercise at any intensity, when doing interval training and especially HIIT, you want to go really hard during the work interval (an 8-10 intensity) and really easy during the recovery (a 5 or below.).
7. Focus on Frequency
Yes, it is true that, in the time it takes you to go to the gym you can be finished with your workout at home. This is especially true when it comes to indoor cycling session. You wouldn't go all the way to the gym to do a twenty-minute HIIT ride, but you can do this effective workout at home whenever you have the motivation and the time. Take the focus off how long you work out and take pride in how many times per week you jump on your BowFlex bike.
You may also like
Why Cycling Is Killer Cardio