The Inspired Kitchen
The kitchen allows you to dream up dishes, adding a little of this and a little of that to arrive at something deliciously new. I find cooking much different than baking in that you really can't mess things up – exact measurements aren't as necessary, and you can taste as you go to adjust as needed.
Now, I know there may be a few of you reading this who think you simply cannot cook, but I'm not letting you get away that easy. I've always said, if you can follow directions, you can cook. The internet is a beautiful thing – recipes are abundant, and inspiration is everywhere. But for me, nothing beats a good cookbook. I love marking the pages and coming back to them later when I'm falling into food boredom, or flipping through and discovering a decadent recipe and finding ways to make it a wee bit healthier.
It's not just about making the recipes, though, and if I'm honest, half the time I don't even make them all. Instead, you might flip through for inspiration (yep, just like a kid who only wants to look at the pictures), or use it as a way to expand your palette with flavors you may not otherwise use in your day-to-day meal making.
So whether you have a deep love for cooking but have found yourself in a rut, yearning for something new, or are just starting to get comfortable in the kitchen and want easy, delicious recipes, here are a few of my favorite cookbooks at the moment.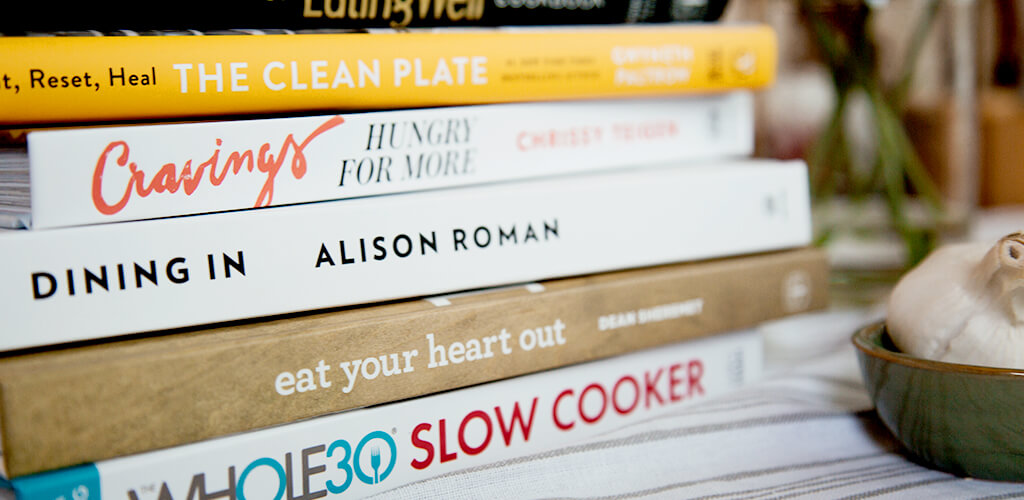 Why I love it: One part educational guidebook and one part cookbook, this book was a complete gamechanger for me. I bought it when I did my first Whole30 as I looked for information on what this new – no sugar, no dairy, no alcohol, no grain, no legume – "diet" was all about. What I found wasn't a diet at all, but instead, an experience that gave me an entirely new outlook on the relationship I have with food. Whether you're interested in the Whole30 or not, the recipe portion of the book is full of healthy takes on delicious food and ways to make everyday meals better for you. You'll find recipes for basics like Whole30-compliant ketchup, mayo, vinegarettes, and sauces, or full on meals like Roasted Pork Shoulder with Butternut Squash, Kale, and Tomatoes (a one-pot meal!) and Shepherd's Pie. Get the book here.
You can learn more about the Whole30 and their full collection of books including the Whole30 Cookbook, Whole30 Slow Cooker, Whole30 Fast and Easy, and more at whole30.com.
Why I love it: Alison Roman might be a food columnist for the New York Times, but don't mistake that as an indicator of complicated recipes you'll never be able to conquer at home. Her new book, Dining In, is all about practical and cookable recipes which she promises (and delivers on) from the very beginning of her book, "I promise that we will never ask you to make something in two skillets if it can be done in one. We will never ask you to buy ingredients you've never heard of unless I can defend it with my life and tell you 20 other things to do with it. I promise that we will never require you to remove all the leaves off the parsley stem because that takes FOREVER and I think you'll like the stem anyway. I promise that if you read this book, you will learn at least one thing that will make you a better and more independent cook for the rest of your life."
Here you'll find recipes for tasty side dishes like Roasted Broccolini and Lemon with Crispy Parmesan or Spicy, Garlicky White Beans and main attractions like Seared Short Ribs with Quick Kimchi and Sesame Salt or Whole-wheat Pasta with Brown-buttered Mushrooms, Buckwheat, and Egg Yolk (I know, this is making me hungry, too). Get the book here.
Why I love it: This book is about all about love and loss and how cooking helped and healed author Dean as he put himself back together again. You'll find healthy versions of classic comfort food (he's a man after my own heart) and easy ways to eat healthy every day. The book gives a nod to healing with chapters like "Food for Fitness and Lunches on the Go: The Best Revenge is Looking Good" and "Fresh Start: Single-Serving Breakfasts."
Recipes include dishes that wow like Skirt Steak with Chimichurri Sauce or Cocoa and Coffee-Encrusted Rib Eye Steak, along with more simple recipes to get you through the day like Grain-Free Protein Granola or Bacon and Egg Baskets. He also includes tips and how-tos you can use for life like "How To: Lobster" and "How To: Spatchcocked Chicken with Smoked Garlic" and "How To: Spaghetti Squash." Get the book here.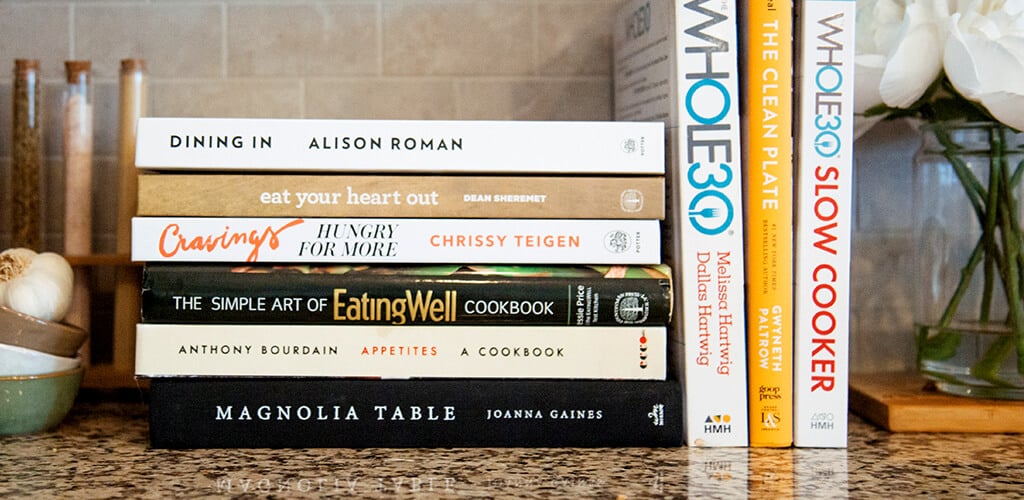 It'd take me all day to talk about all of the cookbooks stacked up on my counter and bookshelf, but here's a rundown of other favorites worth checking out: Cravings: Hungry for More by Chrissy Teigen, The Simple Art of Eating Well Cookbook from Jessie Price and The EatingWell Test Kitchen, Appetites by Anthony Bourdain, and Magnolia Table by Joanna Gaines.
You may also like