Images
Product Video

Bowflex Max Trainer M5
Details
http://www.bowflex.com/max-trainer/m5/100359.html
Promotions
Save $250 - Includes Free Shipping!
Details

Enter the coupon code FALLSALE in your shopping cart to get $100 Off and Free Shipping with your purchase of a Bowflex Max Trainer® M5.

Offer only valid within the 48 contiguous states of the continental U.S. "$250 Savings Value" reflects the total savings received in promotional value when you purchase a Bowflex Max Trainer® M5. We regret we cannot ship to P.O. Box or international destinations. Offer not available with any other offer and is subject to availability and may change at any time. Price is subject to change. Offer is valid once to a customer and excludes previously placed orders. Offer is not valid at retail stores or outlets. Offer valid for a limited time only.
Additional Information
Tough on calories, easy on your joints
Our best-selling model, the Bowflex Max Trainer® M5 machine. Save time with the breakthrough 14-minute Max Interval workout or choose from 9 other pre-programmed workouts for longer sessions. Either way, you'll get a great cardio workout with an ultra-smooth, low-impact motion, and burn up to 2.5X more calories. The M5 has: Computer-controlled resistance, Bluetooth smart technology, premium grips, backlit display, target-zone monitoring and a compact design that fits almost any space!
Console feature

Foot pedals feature

Heart rate hand grips feature
Product Features
16 Resistance Levels

8 Workout Programs

Max Interval, Smart Max Interval, Calorie Burn, Fat Burn, Calorie Goal, Stairs, Steady State, Fitness Test + manual mode

Backlit Display

Syncs with Free Max Trainer® App

Available for Apple iOS and Android devices1

Target-Zone & Burn-Rate Indicators

Heart-Rate Monitor

Integrated contact grips + chest strap

Water Bottle & Media Shelf/Tablet Holder

Bluetooth 4.0 Compatible

Premium Grips
Full Specs
1The app is compatible with Apple devices on iOS 9.0 or greater and most Android devices with version 5.0 or greater.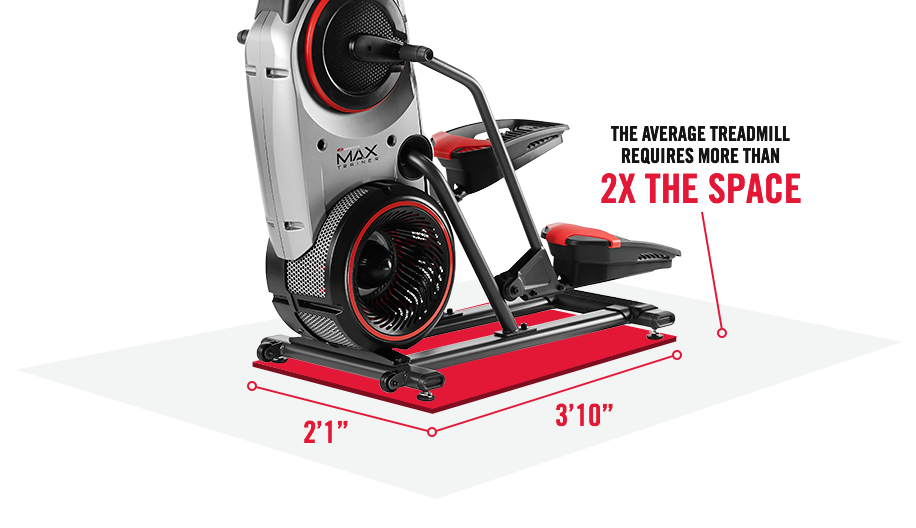 Compact Design
Fits Almost Anywhere
At a fraction of the size of most ellipticals and treadmills, the Bowflex Max Trainer is the epitome of form meeting function. The M5's ultra-small footprint means you can get a gym quality workout in nearly any room of your home.
Real People. Real Results.

Meet Jill

"I thought I was in good shape, but I wasn't lean and toned. I used to run a lot, but my knee was starting to bother me, so I needed something very smooth. I lost 12.5 pounds in just 10 weeks."∞

Watch Video

Watch Video

Real People. Real Results.

Meet Ryan

"I lost 21 pounds in 10 weeks! I feel fantastic. I have more energy. I'm more motivated. My overall health and fitness is completely transformed. Max is a great full body workout. 14 minutes is all it takes."∞

Watch Video

Watch Video

Real People. Real Results.

Meet Erin

"I lost over 8% body fat in 10 weeks thanks to the Max Trainer. The Max Trainer tells you exactly what to do and how hard to work. You're getting your cardio, you're getting your heart rate up, your leg workout, upper body – it does it all."∞

Watch Video

Watch Video