Images
Product Video

Bowflex HVT
Details
https://www.bowflex.com/hvt/hybrid-velocity-training/100551.html
Promotions
Save $500 - includes Free Shipping!
Details

Enter the coupon code HOLIDAY in the shopping cart to get $300 Off and Free Shipping when you purchase a Bowflex® HVT machine.

"Save $500" reflects the total savings received in promotional value when you purchase a Bowflex® HVT machine. Offer only valid within the 48 contiguous states of the continental U.S. Offer not available with any other offer and is subject to availability and may change at any time. Shipping discount applies to Standard Shipping option only. Offer is valid once to a customer and excludes previously placed orders. Offer is not valid at retail stores or outlets. We regret we can not ship to P.O. Box or international destinations. Offer valid through 12/25/2018 @ 11:59 pm PT.
Additional Information
The Power of Two Workouts in One
The NEW Bowflex HVT machine combines both - cardio and strength into one of the fastest, most effective workouts ever designed. In as little as 18 minutes and 20 seconds, Hybrid Velocity Training can deliver a full-body circuit that helps you burn fat and build muscle all at the same time. The Bowflex HVT machine's dynamic coaching console features three pre-programmed workout modes, resistance adjustment at the turn of a dial and an intuitive interface to provide instant feedback while keeping you motivated and on track. It comes with built-in Bluetooth® technology and the FREE Bowflex HVT APP for iOS and Android, giving you access to 50 trainer-led exercise videos that will guide you every step of the way! Whether you're a beginner or advanced, the Bowflex HVT can adapt to your needs, allowing you to customize workouts and start your fitness journey now!
HVT with app (mobile device pictured not included)

Premium hand grips

HVT's resistance fan
Product Features
3 Pre-Programmed Workouts

Sprint (power, speed and recovery)
Circuit (strength, form and range of motion)
Builder (strength and endurance)

Manual Mode

Choose from 50 unique exercises

Dynamic Coaching Console

Syncs with Free HVT® App and Workout Videos

Available for Apple iOS and Android devices 1

Bluetooth® 4.0 Compatible

Total Power Technology

Tracks work rate, intensity and fitness progress

Progressive Fan Resistance

6 Premium Grip Handles
Full Specs
1The app is compatible with Apple devices on iOS 9.0 or greater and most Android devices with version 5.0 or greater.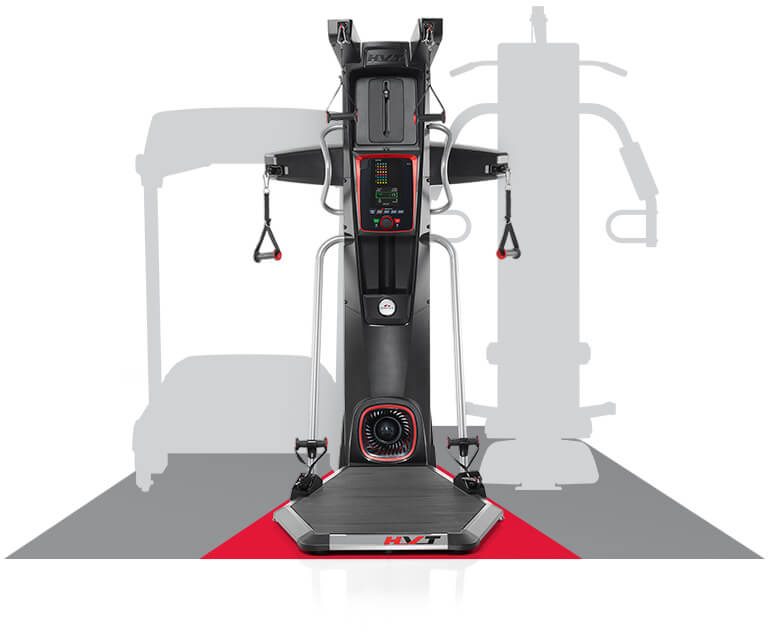 Save Space
Two Workouts in the Space of One
Size is a huge consideration when it comes to home fitness. Not enough space for multiple machines? No problem! Bowflex HVT machine combines an entire set of cardio and strength workouts into one compact design that fits into the corner of any room. Try that on for size!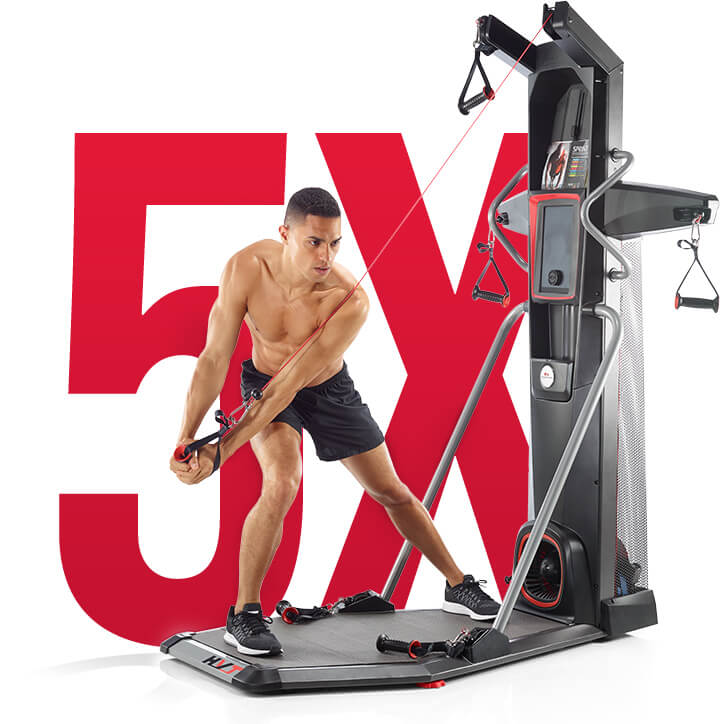 Burn more, Build more
Up to 5X More Muscle Activation
If your goal is to be functionally fit, you've come to the right place! In about 18 minutes, the Bowflex HVT machine could deliver the calorie burn of running 1.5 miles and can provide up to 5X more muscle activation than traditional strength training. ‡
Add to Cart
‡ Source: 2016 University Study.

Buy Back Guarantee
Buy with confidence. If you're not 100% satisfied with your purchase, contact Customer Service within 6 weeks of delivery for a Return Merchandise Authorization (RMA) number. Learn More
Real People. Real Results.

Meet Wade

"I lost almost half my body fat in 10 weeks. You can definitely feel it. It's really easy to transition from one exercise to the next. I got ripped with HVT."∞

Watch Video

Watch Video

Real People. Real Results.

Meet Camden

"I lost 22 pounds in 10 weeks! The HVT is speed and power. It's like a rowing machine for your entire body. Strength and cardio in [about] 18 minutes? Definitely on board!"∞

Watch Video

Watch Video

Real People. Real Results.

Meet Todd

"I lost 68% of my body fat in 10 weeks. It raises your heartbeat up while you're doing resistance training. I'm 41 years old and I got a 6-pack with Bowflex HVT."∞

Watch Video

Watch Video