Images
Product Video

Bowflex SelectTech 840 Kettlebell
Promotions
Additional Information
The ultimate adjustable kettlebell.
Product Overview
Adjusts from 8 - 40 lbs
Replaces 6 kettlebells
Ergonomic handle
Weight selection dial
Product Features
6 Weights in One System
Select the weight you want with the turn of a dial. 8, 12, 20, 25, 35, and 40 lbs.
Space Efficient
Designed with your home in mind.
Total Body Results
Perform a wide variety of total-body flow workouts.
Kettlebell Technique Videos
Access 24 trainer-led exercises.
Dimensions
8.8" L x 7" W x 12.5" H (22.4 x 17.8 x 31.8 cm)
Warranty
2 years
Please be advised that due to tolerances in the manufacturing process, individual weight plates may vary slightly from their stated weight values.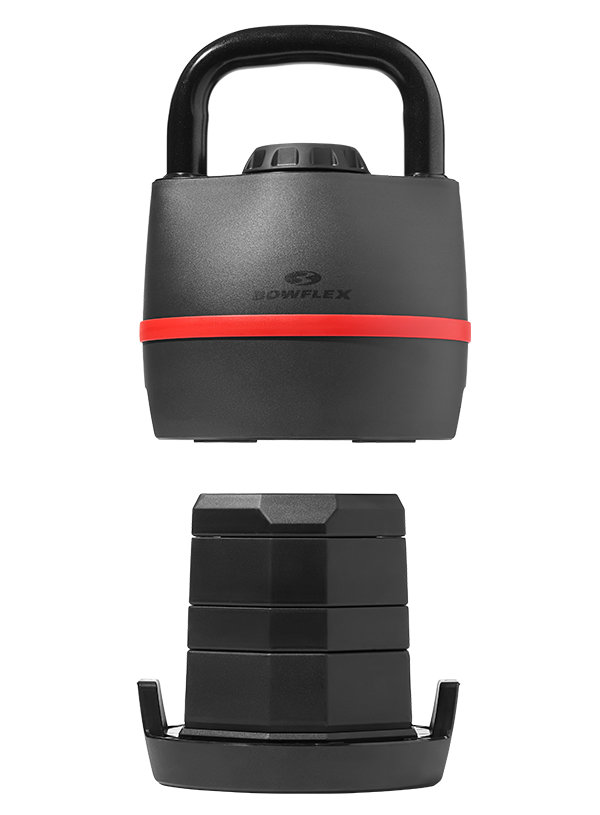 Trainer-Led Technique Videos
Access 24 trainer-led exercises.
Here are a few of our favorite kettlebell exercises to help you get started with your kettlebell.
See More Videos
You Might Also Like
002-4640

Nautilus Complete Yoga and Pilates Workout

Description

Acclaimed instructor Helen Vanderburg shows you how to tone and strengthen your body and increase your flexibility. Includes two DVDs with 5 workouts, yoga mat and block, two Pilates weight balls, flat band, anti-burst ball and foot pump.

005-0027

Bowflex BMI/Daily Calorie Scale

Description

The Bowflex® BMI/Daily Calorie scale features calories needed per day to maintain current weight, measures your BMI (Body Mass Index), calculates the difference between current weight and goal weight, a large 2.44" x 2.36" dual line display with reverse readout, capacity up to 350 lb, super thin ABS/Glass platform, 8 user memories, 4 brand name AAA batteries, included, 5 year warranty.