Additional Information
Product Overview
Elevate your training experience with the SelectTech® 2080 Barbell Stand with Media Rack, providing one convenient place for your 2080 Barbell and Curl Bar. It's ergonomically designed to keep your weights within easy reach and off the floor. The media rack allows for easy access to workout programs and training videos so you can focus on perfect form and leave the guesswork behind.
Compatible with Bowflex® SelectTech® 2080 Barbell with Curl Bar.
Product Features
Ergonomically designed to help protect your lower back
Compact design for a small footprint
Integrated media rack fits any tablet or smart phone so you can follow workout videos or stream your favorite shows
Dimensions
59.3" L x 23.8" W x 32.1" H (150.5 x 60.5 x 81.5 cm)
Product Weight
25.8 lbs (11.7 kg)
Warranty
3 years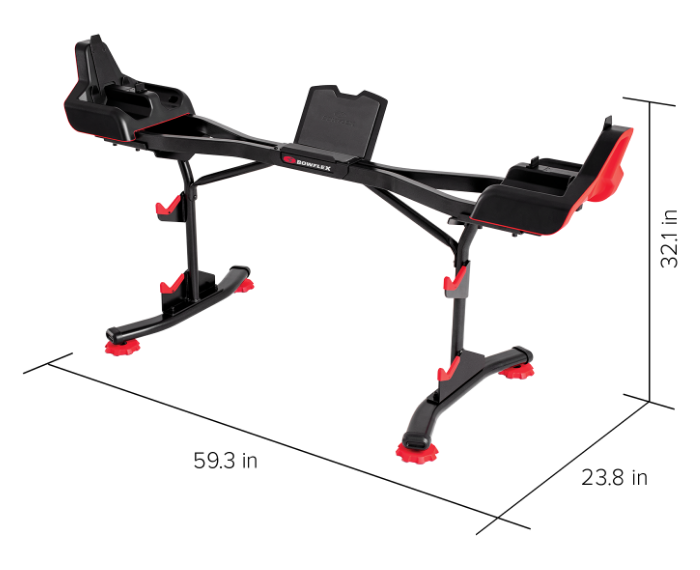 Upgrade to 120 lbs.
Make your workout even more challenging with the SelectTech 2080 Weight Upgrade, providing four extra weight settings that increase your 80 lbs. maximum to 120 lbs. Combined with the SelectTech 2080 Barbell with Curl Bar, the 2080 Upgrade delivers a total of 11 weight settings that adjust in 10 lb. increments from 20 to 120 lbs. More weight. More variety. Same space-saving design.
Shop Weight Upgrade
Trainer-Led Technique Videos
14 Exercises Demonstrating Perfect Form
New to weight training? No problem. Follow along with our exercise library to master perfect form. You'll walk away with a clear understanding of how to properly and effectively use your SelectTech® Barbell and Curl Bar for exercises like bench press, dead lift, biceps curl and more.
See More Videos
You Might Also Like
100675

Bowflex 5.1S Stowable Bench

Description

Introducing our top of the line Bowflex 5.1S Stowable Bench. Built for optimal workout versatility, the 5.1S features 6 different adjustment angles and a 600-pound load capacity. This heavy-duty, commercial quality, steel design was engineered to be stored vertically, reducing its footprint by more than 50% when not in use. Designed with both premium construction and incredible space saving in mind, the 5.1S Bowflex Stowable Bench is our finest bench yet.